By Geoffrey Morris
Stuttgart Citizen volunteer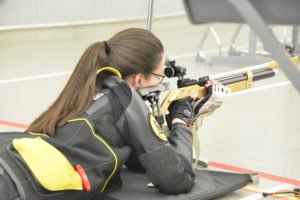 Anyone who visits the Junior Reserve Officer Training Corps room at the Stuttgart High School, will pass several rows of trophy cases, each filled to the brim with awards. The SHS Rifle Team prides itself on putting about half of those hundred or so trophies on the shelf.
"Nothin' but 10s, that's our motto," said Cadet Major Maria Tortorelli, the rifle team's ace shooter.
As reigning East European Champions, the SHS JROTC Rifle Team is the best in the region, but they're also one of the top scoring JROTC Rifle Teams in the world. JROTC Instructor (Ret,) Sgt. 1st Class Raul Pinion has coached his team through 9 seasons and now a pandemic.
"Since Sgt. Pinion first started teaching here, we've won the title nine times consecutively," said Cadet 1st Lieutenant Trinity Lepine.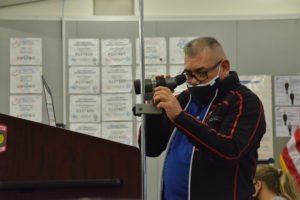 Because of the individual aspect of target shooting, the sport has been largely unaffected by the corona restrictions that ended so many other sports seasons this year. Pinion did implement several safety measures, such as installing large dividers in between each shooting station to protect student athletes from exposure while practicing.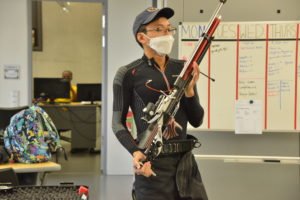 The team's commitment to persevere has shown as they continue to hone their skills in the off-season through virtual matches where they are, so far, sweeping the competition. In their last match, the team earned a total of 2,316 points from their lineup of six sharpshooters.
This season, the rifle team expects to place in nationals and the European championship again, as they have for the past nine years. To do that, they are practicing two hours after school daily. The eight returning shooters will soon have over a dozen new members to mentor and develop. When they're ready, they will compete for a spot on the line to defend their title with precision.