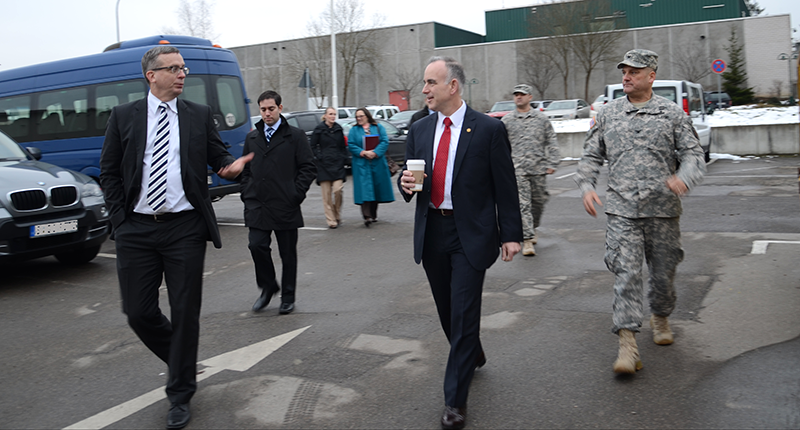 USAG Stuttgart Public Affairs Office
U.S. Army Garrison Stuttgart played host to Installation Management Command Europe senior leadership during a visit here Feb. 10.
Michael Formica, IMCOM Europe region director, and Command Sgt. Maj. Romeo Montez, IMCOM Europe's senior enlisted advisor, met with leaders, service members, family members and civilians of U.S. Army Garrison Stuttgart during Formica's first visit to the garrison.
Formica officially took the helm of IMCOM Europe last month.
As director for the IMCOM's Europe Region, Formica is responsible for management and execution of all installation management programs at seven garrisons in Germany, Belgium, the Netherlands and Italy.
"The visit provided him an opportunity to talk with garrison leaders, get a firsthand look at ongoing construction projects and discuss ways that IMCOM can support our infrastructure challenges," said Col. John P. Stack, the USAG Stuttgart commander.
During his visit, Formica, accompanied by Stack, toured Panzer Kaserne and the construction sites of the new schools. The entourage then went to Robinson Barracks for a working lunch with garrison directors at the RB Club, where Formica stressed the importance of the ongoing mission of the U.S. military in Europe, the importance of IMCOM's support to operational units across Europe and the importance of working to ensure a strong Europe.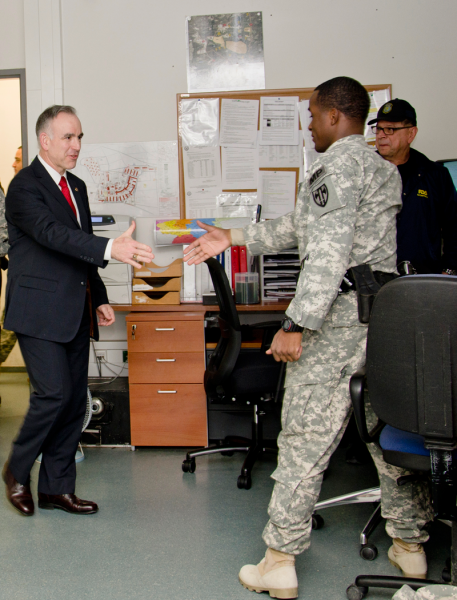 Formica then toured Patch Barracks, where he met with Lt. Gen. William B. Garrett, the U.S. European Command deputy commanding general. He then visited the Defense Information Systems Agency Europe facilities, the Military Police station, where he discussed the dispatch capabilities of the garrison's military police and fire department with Maj. James Ramage, the Director of .USAG Stuttgart Emergency Services, and toured the Patch Child Development Center.
Meanwhile, Command Sgt. Maj Montez was accompanied by Command Sgt. Major Lynice Thorpe, the garrison senior enlisted advisor, on a tour of several Panzer Kaserne facilities. Montez visited the Soldier for Life Transition Assistance Program office, the Education Center, and other service providers in Building 2915, and spoke to newcomers during an in-processing class at the Central Processing Center. Montez also ate lunch with USAG Stuttgart Soldiers at the Panzer Dining Facility.
On Patch Barracks, the senior enlisted advisors stopped at the Warrior Zone, where they met with the advisor and president of Stuttgart's Better Opportunities for Single Service members program. Montez also took time to meet with his counterparts at DISA Europe, EUCOM and U.S. Africa Command.
Kimberly Formica, who accompanied her husband on the visit, spent the day touring several of USAG Stuttgart's Family and Morale, Welfare and Recreation facilities, as well as the Stuttgart Army Wellness Center and the Physical Therapy Clinic.
About IMCOM Europe: The IMCOM Europe Region is headquartered in Sembach. Its mission is to provide the Army installation capabilities and services to support expeditionary operations in a time of persistent conflict and to provide a quality of life for service members and families consistent with their service.