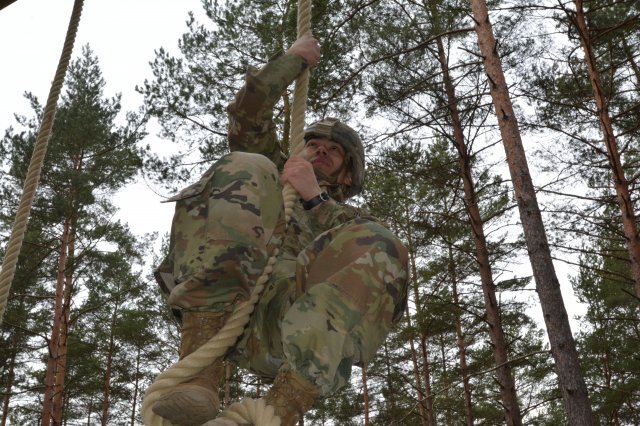 By Andreas Kreuzer
USAG Bavaria Public Affairs 
Installation Management Command-Europe announced the winners of its 2019 Best Warrior Competition during a ceremony here March 6.
Sgt. Nicholas Potter, U.S. Army Garrison Bavaria, and Spc. Joshua Lantz, USAG Stuttgart, earned Best Warrior Noncommissioned Officer and Soldier of the Year honors.
The two, joined by six other competitors from garrisons Ansbach, Bavaria, Benelux, Stuttgart, Rheinland-Pfalz and Wiesbaden, "remind us that the Army is built from the finest men and women our great Nation has to offer," said Col. Todd Fish, deputy director of IMCOM-Europe.
"Without a doubt, they stand ready to meet any challenge," he added. "They know that leading by example is the right thing to do. They know good enough is never enough. They strive to excel."
The three-day competition, hosted by USAG Bavaria, included such events as an obstacle course, rifle, stress shoot, day-and-night land navigation, an eight-mile road march with a 50-pound backpack, and warrior battle drill lanes. It ended with a command sergeants major panel.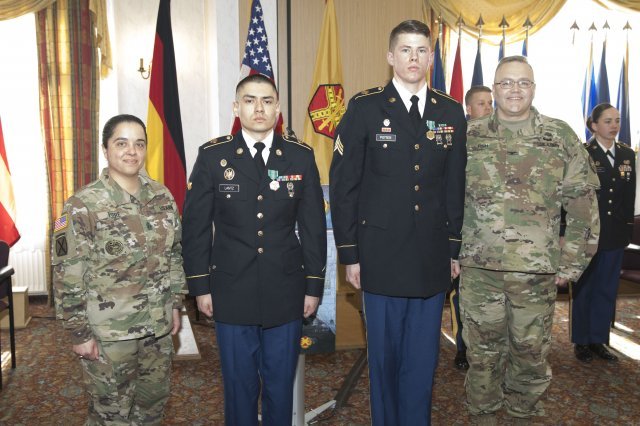 "These Soldiers and NCOs were challenged during tough days … it was a real gut check," said IMCOM-Europe Command Sgt. Maj. Samara Pitre.
"There are eight competitors here, but we have about 250 enlisted Soldiers wearing our patch across Europe," she added. "They are not here. You are. You took on the challenge. Keep that hunger going."
As for the winners, Lantz, the Soldier of the year, said the most challenging part for him was "to push myself and not to quit. It feels fantastic to win."
Potter said hearing his name being called as NCO of the Year "was amazing."
"I feel like I put in a lot of hard work, but I have a lot more to do for the next one," he said, referring to the IMCOM-level Best Warrior Competition, which Potter and Lantz will participate in later this year at Camp Bullis, Texas.
Representing the other garrisons at the Europe-level competition were:
Staff Sgt. Sierra Hopkins, USAG Ansbach
Sgt. Andrew Dobos, USAG Benelux
Staff Sgt. Eric Frantz, USAG Wiesbaden
Spc. Michael Wilson, USAG Bavaria
Pfc. Timothy Moore, USAG Benelux
Spc. Edward Preston, USAG Rheinland-Pfalz