Installation Voting Assistance Office
USAG Stuttgart
As USAG Stuttgart is a joint service community, all service members will be helped by the garrison Installation Voting Assistance Office. The distribution of voter registration/ballot requests, better known as the Federal Post Card Application, is currently ongoing for all members of the Stuttgart military community. The Army requires that an FPCA be delivered either in hand or via electronic delivery to all Soldiers  active and reserve no later than Jan. 15 (the other services have guidance similar to AR 608-20).
Submitting an FPCA to state local election official will register eligible voters to vote, update their mailing address with their state local election office, and request an absentee ballot for all state and federal elections to include primary elections. This is also an excellent opportunity to encourage every service member, civilian personnel and their eligible family members and other personnel serving in the Stuttgart military community to participate in the electoral process and exercise their right to vote.
If you have not received your FPCA, visit the garrison IVOA in Bldg. 2913, Rm. 114, Panzer Kaserne, or call 431-2865/2641 or 07031-15-2865/2641. Electronic versions of the FPCA  are available online.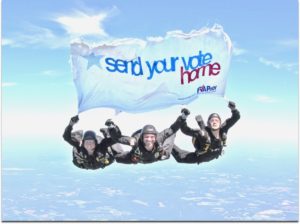 Frequently Asked Questions (FAQs) about absentee voting:
What is UOCAVA?
The Uniformed and Overseas Citizens Absentee Voting Act (UOCAVA) extends federal absentee voting rights to service members, their eligible family members, and overseas citizens.
Who is covered under UOCAVA?
UOCAVA covers U.S. citizens who are 18 or older and active duty members of the Uniformed Services, Merchant Marine, or commissioned corps of the Public Health Service and the National Oceanic and Atmospheric Administration; their eligible family members; and U.S. citizens residing outside the United States.
What is the Federal Post Card Application (FPCA)?
UOCAVA citizens can use the FPCA to register to vote and request an absentee ballot simultaneously. They can also use the FPCA to update their contact information.
What is the Federal Write-In Absentee Ballot (FWAB)?
The FWAB is an emergency backup ballot for UOCAVA citizens who did not receive an absentee ballot from their state in time to participate in the election.
Do I have to register to vote?
Most states and territories require you to register to vote. Fill out an FPCA to register and request an absentee ballot at the same time.
When should I request an absentee ballot?
You should send in a new FPCA every January and each time you move. We recommend that you send in an FPCA at least 90 days before the election in which you want to vote.
Do I have to send in a separate application for each election?
The FPCA allows you to request an absentee ballot for all federal elections in the calendar year. Depending on your state, you may receive a ballot with local or state offices and initiatives as well (e.g., Governor, City Council). We recommend that you send in a new FPCA every January and each time you move.
Can I vote at the embassy or consulate?
No. Elections are run at the state level. You must communicate directly with your state to register, request a ballot, and vote. Most embassies and consulates will help you to fill out the FPCA and FWAB, but they are not polling places.
When will I get my ballot?
Election offices are required to send absentee ballots at least 45 days before a federal election. If you requested your ballot by email, then the ballot should arrive right away. Mailed ballots will take longer to arrive depending on the postal system in the country where you are located.
What if I do not get a ballot?
If you do not receive an absentee ballot in time to return it to your state, you can use the FWAB as a backup ballot to vote for federal offices. If your official absentee ballot arrives after you send in the FWAB, then you can fill out and send in the official ballot as well. Your state will count only one.