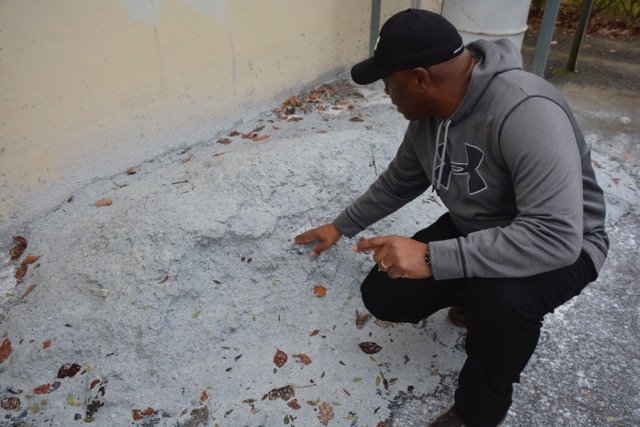 Story and photos by John Reese
USAG Stuttgart Public Affairs
There comes a time when classified documents, hard drives and discs have run their course. As they're classified, they need to be destroyed so they aren't reviewed by unauthorized eyes and ears. That's when you make an appointment to have the 405th Army Field Support Brigade, Army Material Command crosscut, crush, shred, degauss or pulverize them.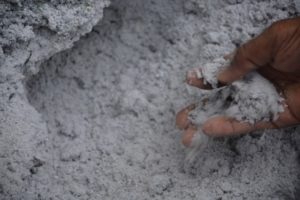 The 405th AFSB Logistics Readiness Center-Stuttgart Classified Document Destruction Facility (CDDF)  is open to all units requiring assistance with the destruction of their official, classified documents and hard drives. The first thing one sees upon entering is a pair of two-story shredders, the biggest in Europe. (The facility is slated to upgrade soon to more efficient, environment-friendly shredders.)
"The CDDF has two large disintegrator paper shredder machines for shredding bulk quantities of classified information," said Curtis Burgress, facility manager. "We serve any customer in Europe," Burgress explained. "We've got people from Munich, K-town, Baumholder, Wiesbaden to shred paper. We are the only unit allowing anyone outside of our command to use this destruction facility: other services, AAFES, you name it. Anyone with classified or PII can use it so long as they're in compliance with their SOP and the National Security Agency, which I follow."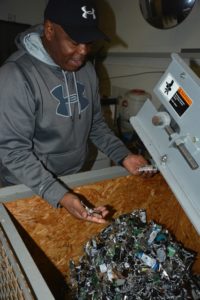 All personally identifiable information (PII) and classified material is absolutely, positively, totally destroyed. Burgress indicated a dense mound of dust behind the building, all that was left after documents – including CDs and medical x-rays, were pulverized by the shredder. What went into the machine would be impossible to reconstruct. The powder is mixed with other recycled wasted to become cylindrical fuel pellets. There's a separate CD shredder if needed.
"After hard drives are degaussed, they go through the hard drive shredder machine, for media shredding," Burgress said.  "Once we degauss your hard drive in accordance with NSA, all the customer has to do is take a sledge hammer and hit it a few times, and throw it into a scrap metal container."
However, customers won't need sledgehammers. After being degaussed to remove any information, hard drives go through a crusher that turns them into scrap metal for recycling.
"The CDDF exists to provide service for the USAG-Stuttgart community for bulk destruction and shredding of classified, PII information and FOUO documents in accordance with national security agency (NSA) policy and guidelines," Burgress said.
The crusher also contains a powerful magnet to ensure hard drives are degaussed. The critical thing is to remove the classification stickers from the hard drives before crushing them, otherwise they're still considered classified.
Burgress himself doesn't do the shredding and crushing. That's up to the customers under his supervision. Facility users must wear dust masks, hard hats, safety goggles and hearing protection.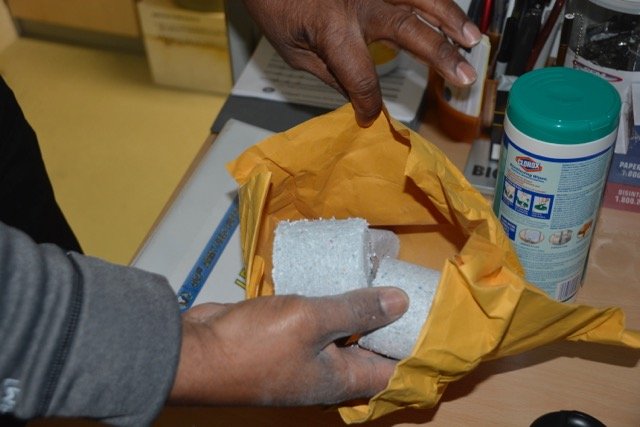 The CDDF, located in Bldg. 2395 on Patch Barracks, can be difficult to find the first time, as the numbers on the ends of the long building are different. After passing the Java Café, you'll see a red and white boom barrier at Bldg. 2323, directly behind the car wash; park near the gate, walk to the CDDF, part of the same long building, and Burgress will direct you from there. The building belongs to U.S. European Command, but the facility belongs to the 405th AFSB.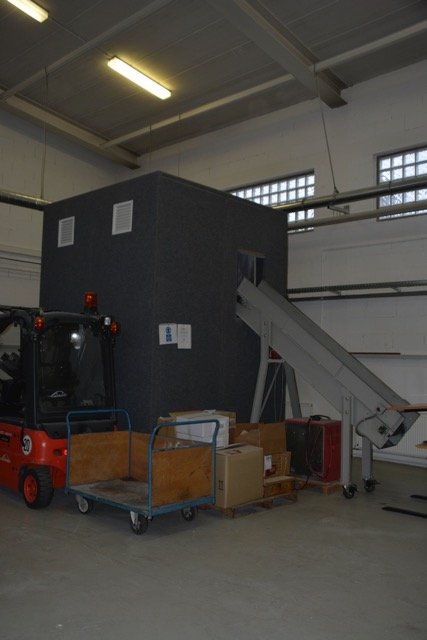 Need to destroy something?
The CDDF is open Monday afternoons, 12–3:30 p.m.; Tuesdays 8 a.m.– noon; and Thursdays 8 a.m.–3:30 p.m. It's closed on Wednesdays, Fridays and holidays. Call DSN 430-5500 to make an appointment.