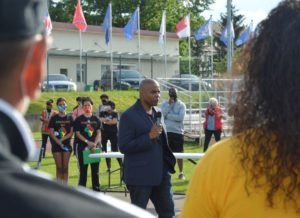 By Rebecca Castellano, U.S. Army Garrison Stuttgart
STUTTGART, Germany – Community members at U.S. Army Garrison Stuttgart came together June 19 to promote equality for all and to show their support for a global movement against discrimination.
In all, roughly 600 people took part in seven coordinated events at four separate locations. That included running and walking five kilometers together, enjoying music and talking together about race and inequality. On Panzer Kaserne, Stuttgart High School Principal Rick Renninger reminded the crowd why their participation mattered.
"We are gathered to run and walk in solidarity to continue the fight to remove the barriers of discrimination for everyone- discrimination based on gender, race, age, color, religion, or sexual orientation," Renninger said. "But we are not alone. We are here in solidarity with the millions of people world-wide who are opening their eyes to what so many have lived their lives struggling against."
Military leaders held the event, "Equality For All" to encourage meaningful dialogue about issues of race, ethnicity, gender, sexual orientation and other disparities in a way that is reflective of the Army's core values, said Col. Jason Condrey, commander of USAG Stuttgart.
In recent weeks, military leaders in Stuttgart held informal discussions on issues of race and inequality, Condrey said. The equality events, planned by garrison equal opportunity staff members, the religious support office, were designed to compliment those talks.
"Like many of you, I sat at home and struggled to explain the inexplicable to my kids as we watched the news.  Those conversations continued at the dinner table, into our places of worship, and into where we work," Condrey told a crowd gathered at Robinson Barracks. "This has given us an opportunity to talk about our experiences, our history, our values and examine how such things continue to happen."
Holding four simultaneous events, similar in nature, kept participants physically distanced amid coronavirus restrictions. Everyone attending signed a health tracking form and wore masks.
At Patch Barracks, Lt. Gen. Stephen Twitty, deputy commander of U.S. European Command, opened the event speaking of the ongoing struggle for equality.
"The first slaves landed in the United States in 1619. Today is 2020," Twitty said. "If you want to know why people are so passionate about protesting in the streets right now, it's because of when these struggles started, and the fact that they haven't stopped."
Twitty, who is African American, shared some personal experiences of discrimination before imploring everyone to unite against inequality.
"We're hurt and we're tired and it's not right," Twitty said. "I need all of you out there to stand up for what is right. Stand up for gender, stand up for sexual orientation. It doesn't matter what religion you are. We are human beings and should be treated with dignity and respect."
Chapels were open for a vigil during the evening. Community members prayed, lit candles of remembrance and posted the names of those they wanted remembered in prayer. At 8:46 p.m., community members were encouraged to pause and reflect in silence, using candles, flashlights or cell phones to shine a unifying light wherever they were. Chaplains were on hand to help people struggling with frustration or grief.
Twitty understands that grief and frustration.
"It is real, I've lived it," Twitty said. "Who would have thought that my daughters would be going through this mess today? And that I would have to explain this to them? I don't want my grandkids to have to go through this."
As participants began to walk and run on Panzer, Renninger reinforced that the right to educational, social and economic equality can be won through a united effort.
"We here are all connected and it is our diversity that makes us stronger," Renninger said. "If we don't lose sight of our goal, we will achieve equality for all."
View full collection of photos here.
Video by Yvonne Najera TSC Stuttgart