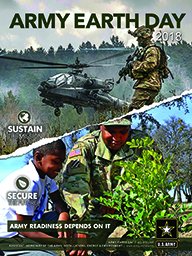 By John Reese
USAG Stuttgart Public Affairs

"I recognize the right and duty of this generation to develop and use the natural resources of our land; but I do not recognize the right to waste them, or to rob, by wasteful use, the generations that come after us." –Theodore Roosevelt
The Army joins the nation in celebrating Earth Day on April 22; locally, the USAG Stuttgart Directorate of Public Works Environmental Division will observe Earth Day with Patch Middle School, May 3-4, and Patch Elementary School, May 7-8. [Editor's update: the school activities have been postponed until fall. Follow the garrison Facebook page for updates.]
The theme for Army's Earth Day 2018 is "Sustain the Mission / Secure the Future." It embodies the Army's commitment to support readiness through environmental protection. The Army has participated in Earth Day since it was first observed in 1970. The day highlights the Army's environmental stewardship achievements and their benefits to warfighting readiness. Army Earth Day supports the Army's mission by preserving the natural environment on Army installations and contributes to the well-being of its communities.
Military readiness is compatible with, and mutually benefits from, sound environmental stewardship practices. Though the holiday was originally designed to bring public awareness to environmental issues, the Army uses it to highlight environmental successes and help people understand how sound environmental stewardship supports the quality of training and the quality of life for families who live on Army installations, and for those who work on Army installations, and neighboring communities. Sound environmental stewardship maximizes the availability of training land resources and reduces environmental constraints, while conserving our natural resources and preserving our cultural resources.
The Army's environmental program works to ensure that natural resources enhance training, testing and operations without restricting Army activities. The air, water and land on Army installations provide the natural infrastructure that enables realistic training so Soldiers can maintain mission readiness.
Environmental stewardship supports Soldiers, families, the Army workforce and our neighbors:
The Army's environmental program enhances Soldier and family quality of life by providing healthy communities in which to train and live, by enhancing outdoor recreation opportunities, and by preserving America's heritage.
Sustainability bridges installations' activities of today to those of tomorrow by transforming business and environmental practices.
Energy conservation is a critical component of Army installation sustainability. It eliminates inefficiencies in existing facilities, increases efficiency in new construction and renovation, reduces dependence on fossil fuels and improves national security.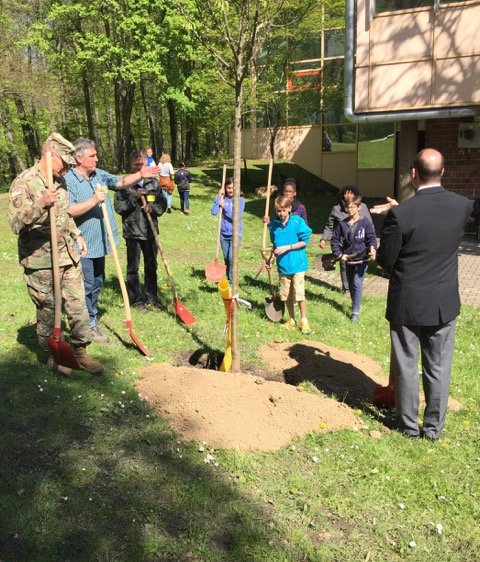 "The ultimate test of a man's conscience may be his willingness to sacrifice something today for future generations whose words of thanks will not be heard." – Gaylord Nelson, founder of Earth Day
Earth Day is a time for everyone in the Stuttgart military community – all service members, families, civilians and contractors – to consider their environmental footprint and the influence they have on natural resources. By wisely using resources, the Army can assure its strength and quality of life now and for generations to come.
(Editor's note: Information for this article came from the Army Environmental Command and the Army's "Stand-To!)
Earth Day provides opportunities to share Army environmental successes:
The Army is a steward to more than 1.36 million acres of land, of which 1.3 million acres are wetlands.
The Army protects 224 threatened and endangered species on 119 installations within the U.S. borders.
Army lands include more than 58,275 historic buildings, more than 84,676 archeological sites and more than 109 Native American sacred sites.
The Army has cleaned up remnants of past practices at more than 11,000 sites.
Army installation environmental activities also include sampling and analyzing air and water, maintaining environmental permits, providing safe drinking water, properly storing and disposing of waste, and environmental analysis of Army actions.