Story and photos by Larry Reilly
USAG Stuttgart Public Affairs
Firefighters from USAG Stuttgart and Böblingen, along with medics and police, gathered in the parking lot of the Panzer Kaserne Main Exchange, June 12, and proceeded to burn up a car, torch a grease pit and tear the doors off an automobile …all in the name of safety.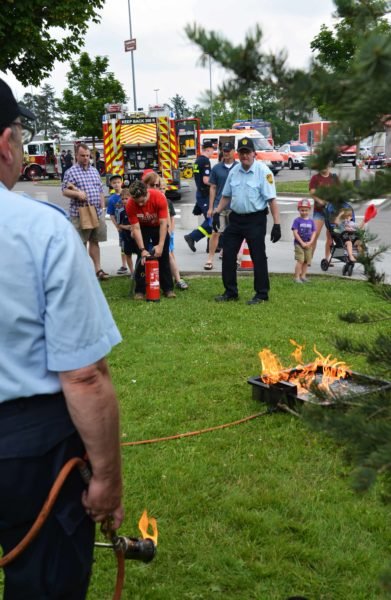 Normally conducted in October, the annual Fire Prevention Week demonstration was held in June and centered on showing and explaining how various types of fires start and the techniques used to extinguish or escape them.
"Bad weather seemed to always put a damper on the demonstrations when we held them in October, so we decided to do the demonstration in June," said USAG Stuttgart fire chief, Karl J. Doersam. "Of course, when we burn up a car or ignite a grease pit, we get everyone's attention, so we wanted to take that moment to thoroughly explain how those fires can start and most importantly, how to properly put them out or in the case of a car fire, get out of the vehicle."
Although Doersam didn't let observers practice getting out of a burning car, he did let them practice the technique of putting out a small, controlled grease fire.
"It was an outstanding demonstration and great learning tool for my three boys," said Leah Kasper, who kept a close watch on her boys, Jackson, Owen and Kayden, as they learned how to use a fire extinguisher to put out a grease fire.
"It was cool putting out the fire, and I was not nervous one bit," said four-year-old Jackson Kasper.
The community members, who ranged in number from 50 to 100 at different times throughout the three-hour demonstration, were treated to a variety of fire demonstrations, a fast working suction pump that quickly drained a pool of water, static displays of ambulances, a hazardous material vehicle and numerous types of firetrucks (none more popular than the extension ladder truck that sent daredevil community members more than one hundred feet in the air).
"It was a pretty breathtaking view from way up there," said Sydney Bullock, who along with her daughters Anne and Daley, climbed in the half-enclosed cage that was attached to the ladder. "The ladder seemed to just get higher and higher and higher; a neat experience."
Along with the members of the German Red Cross, the garrison Safety Office and the AAFES team (host of the event), community members got a look at an international relief and assistance program when members of the Technisches Hilfswerk (THW) rolled out their technically-enhanced relief and rescue vehicle.
"THW is Germany's Federal Ministry's technical relief for civil protection as well as technical assistance in other countries where we provide search and rescue, water purification and distribution and power supply," said Iris Serve, search and rescue specialist with THW. "Most of our members are volunteers and we all have to be able to speak fluently a number of different languages, as we can be deployed to another country to assist in natural disasters."
The Böblingen Fire Department used the "Jaws of Life" to rip the door off of a car and helped a simulated trapped driver get out of his automobile, and then used teamwork to put out a car fire as a crowd of nearly 75 people watched from a distance.
"It was a good day of training for all the fire, police, and medical personnel who participated in the various demonstrations, and hopefully the community members who stopped by and watched or participated in the events learned some safety tips," Doersam said. "Maybe we will stay with this time of the year to do our fire and safety demonstrations."