By Robert Szostek
U.S. European Command Customs Public Affairs Office
Military customs officials want to remind members of the U.S. forces community in Germany to think twice if they're thinking of sending chocolate "surprise eggs" stateside this Easter.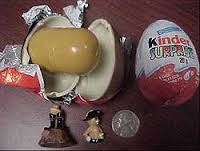 It may come as a surprise, customs experts say, but Kinder Surprise chocolate eggs cannot be imported into the States and mailing them can result in a fine.
"U.S. Customs and Border Protection agents will remove Kinder Surprise chocolate eggs from your baggage or any package mailed Stateside," said Mike Dean of the U.S. European Command Customs Executive Agency. He also reminded people to always declare items they are mailing on customs declaration forms to avoid penalties.
Chocolate surprise eggs are popular treats all over Europe. The hollow chocolate eggs come in a colorful wrapper and contain a plastic capsule with a small toy inside. The U.S. Consumer Product Safety Commission tested many of the toys in the past and determined that they present a choking hazard for young children. In addition, the U.S. Food and Drug Administration issued an import alert for the treats because they are a confectionery product with an embedded non-nutritive object.
According to a Customs and Border Protection release, there have been more than 3,000 seizures of Kinder chocolate eggs at mail facilities, in commercial shipments and from individual travelers entering the United States since 2010.
More information is available at community U.S. military customs offices.