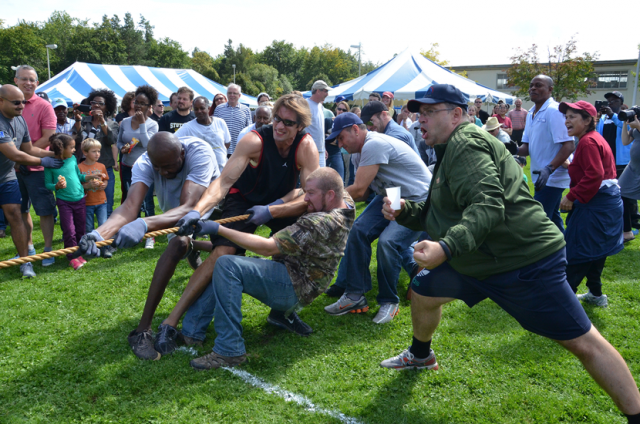 By S.J. Grady
USAG Stuttgart Public Affairs Office
Gregory Holzinger, director of U.S. Army Garrison Stuttgart's Family and Morale, Welfare and Recreation, received the Installation Management Command Stalwart Award in recognition of his leadership and continuing commitment to the organization.
The Stalwart Award recognizes individuals from more than 70 Army garrisons around the world who represent the ideals and values of IMCOM and significantly contribute to the command's success.
Holzinger received the esteemed award March 25 during a ceremony at IMCOM Headquarters in San Antonio, Texas, along with 13 of his peers.
"Mr. Holzinger is the first USAG Stuttgart employee to be honored as a Stalwart Award winner. By focusing on professional development, setting high expectations for performance and being truly concerned for employee well-being, he has created an environment of empowered people and teams committed to outstanding customer service," said Heidi Malarchik, the USAG Stuttgart deputy to the garrison commander.
"I am very honored … but it's really an award that recognizes the greatness of our community," said Holzinger, who has been assigned to Stuttgart since 2006.
He said the award was less about him and more about the team. "The MWR team that I have the honor of leading is truly the best in the Army," he said, adding that they prove it every day.
Holzinger oversees more than 400 employees and 45 activities offering child and youth programs, recreation, sports, fitness, entertainment and leisure activities.
It's a business he knows inside and out, having literally started at the bottom in 1983 as a GS-1 Youth Services recreation aide at the U.S. military community in Bad Kreuznach.
Since then, he has spent much of his 32-year career honing his business skills while advancing through the MWR ranks, with several stints along the way managing garrison operations.
According to garrison officials, Holzinger promotes a vision of being the best by motivating and empowering his employees through education, training mentoring and development opportunities. The outcome? A skilled and dedicated workforce.
That's why USAG Stuttgart has won the IMCOM Family and MWR Exemplary Leadership and Development award for six consecutive years.
As resources continue to dwindle, under Holzinger's guidance Stuttgart's MWR not only continues to deliver high quality programs and services, but develop new ones, as well. Holzinger said his team makes it happen through budgeting, execution and reinvesting.
"We take the money that is generated in the garrison and put it back into community. The new self storage facilities at the golf course, the recent $2 million golf course renovation and the Java Cafe are prime examples of this," he said.
It's all part of Holzinger's formula for success, but more importantly, it's about the people, he said.
"If we didn't have the great people who work in our facilities, who take care of our facilities, and who serve our very important customers, none of this would be possible," he added.