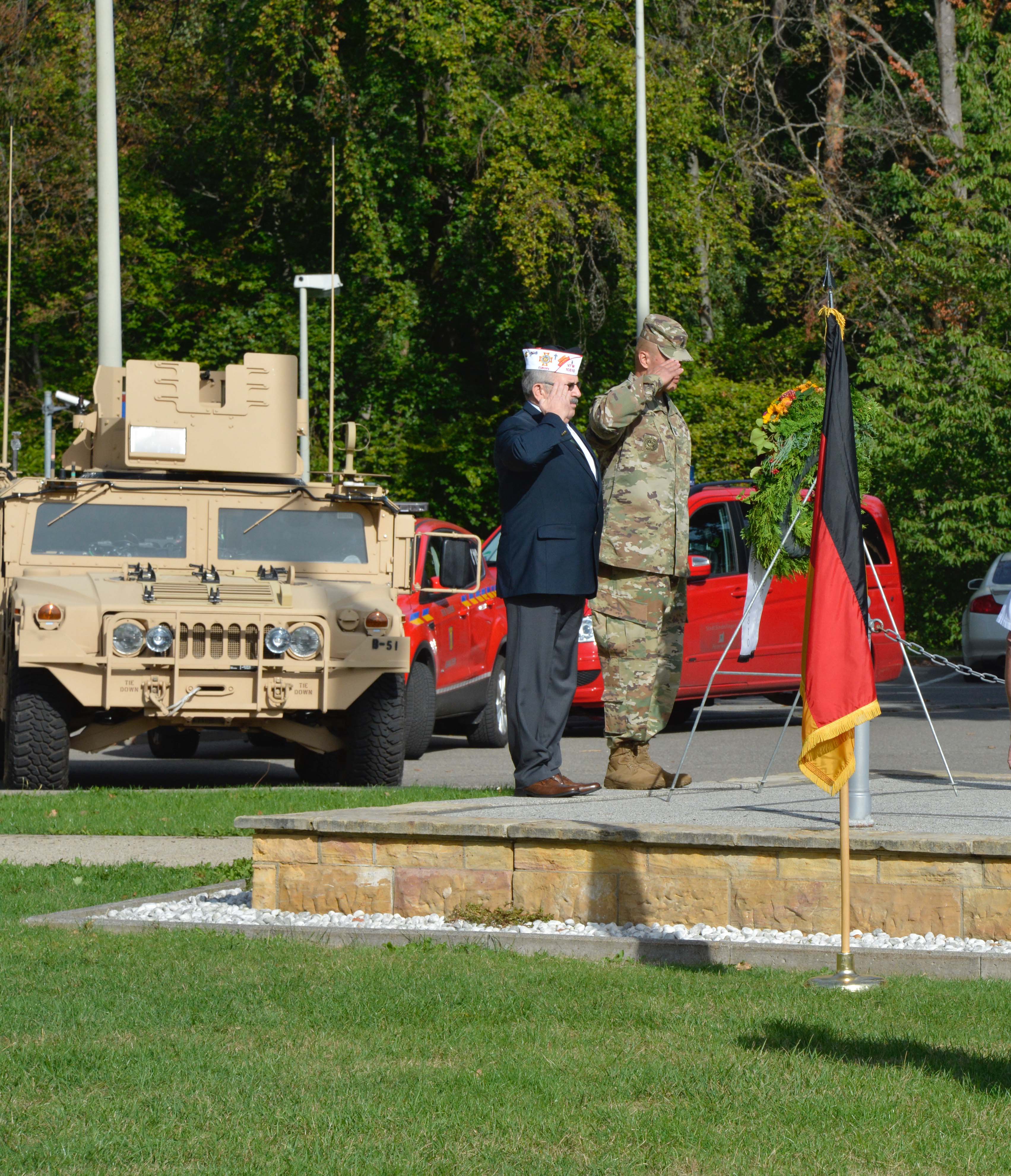 By John Reese
USAG Stuttgart Public Affairs
A 9/11 remembrance ceremony was held, today,  to commemorate the attack on New York City and the Pentagon.
Hosted by the U.S. Army Garrison–Stuttgart and conducted by Veterans of Foreign Wars Post 10810, the ceremony marked the 17th anniversary of the attack. The event was attended by hundreds of uniformed and civilian garrison personnel, German emergency responders, service members from all branches and the Stuttgart High School JROTC. Community members in attendance hailed from across the U.S., Europe and Asia.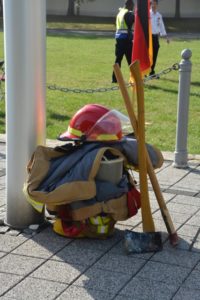 The post flag, lowered to half-mast, was backdropped by firetrucks, a Military Police car and a humvee. A firefighter's turnouts, helmet and boots sat at the base of the flagpole.
Navy veteran, senior vice commander–VFW Europe, and garrison school liaison officer Joe Holder led the observance, supported by fellow VFW members who provided a memorial wreath, conducted a Navy two-bell ceremony and played taps.
"I remember that first image, the shot across the Hudson Bay at the south tip of Manhattan. A bright, sunny day, blue sky much like today, and against that blue sky the skyline of Manhattan … or better, the missing skyline engulfed in that gigantic, greyish, pyramid-shape cloud of dust and smoke," said keynote speaker Chief Karl Doersam, USAG Stuttgart Fire Department, Directorate of Emergency Services. "The sheer dimensions of that cloud and the high rises invisible–not even a blurry image of the familiar silhouettes–this engineer's mind realized the brutal reality at once while the heart still was screaming prayers for another option, clinging to one last piece of hope."
Doersam brought the past into the present by reminding the audience that emergency responders need community patience and passage, and maybe offer the service member, firefighter, EMT or cop a smile and some gratitude.
"That would, indeed, honor the legacy of the 343 firefighters, 23 (New York City) police officers and 37 Port Authority Police who made the ultimate sacrifice on 9-11," Doersam said.
[slideshow_deploy id='40571′]
It was an emotional observance. The playing of taps frequently evokes tears, and as the ceremony concluded, some senior service members, some of whom were serving in 2001, could be seen wiping their eyes as they returned to performing their duties.