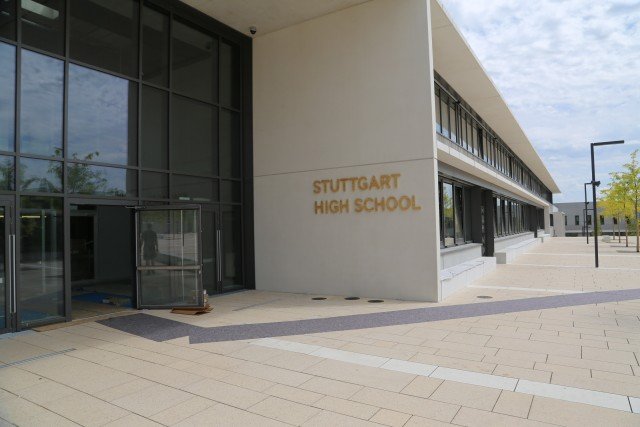 By LT Brian J. Karlo
Defense Information Systems Agency Europe
The Commander of Defense Information Systems Agency Europe, COL Jacqueline Brown – USA, invited DISA Security Specialist, Billy Ray Davis from Ft. Meade, Maryland to Stuttgart to provide important training to the U.S. Army Garrison Stuttgart community.
Middle School and High School students from the Stuttgart Department of Defense Dependents Schools, as well as family members received an eye opening briefing during a series of engagements, Sept. 21 – 24, 2015 regarding the "Dangers of Social Networking" on sites such as Facebook, Twitter, Snapchat, and Instagram.
Davis explained that everyday people are coming up with new ways to hack and exploit information and that not everyone you meet online is your friend. Davis is an expert in the counter intelligence field and showed how an innocent photo posted to Facebook or Instagram might be exploited to find your GPS location, and thus track your movements and habits online. Phones or GPS-enabled devices can record "meta data" such as the location and time you took the photo. Once uploaded to the Internet, it can then be downloaded by anybody (not just those you chose to share it with), and by using free programs, they can view the meta tags hidden in the code of the .jpeg image. Then using a maps program (or Google for that matter), they know your location.
Numerous photos taken in the same location can reveal usual hangouts, and a post of an upcoming vacation can alert them that your place of residency will be vacant. More concerning is that any cluster of photos posted by children can alert predators to their hangouts. There is a simple fix—turn off the GPS features on your devices, and check the camera data settings.
Some of our families have children headed to college. There are going to be parties, friends and activities that, 10 years later, photos might not represent the person they have become and those photos posted to social media never disappear, even if you delete them from your profile. Companies now look at social media as a source of information and could mean the difference in getting the job.
According to High School Assistant Principal, Tessa Moss-Beaman, "Students gained a wealth of knowledge from Mr. Davis's training. They were especially surprised by the impact social networking could have on their future."
Technology can be scary, but knowing how to protect yourself can make the online experience safe!