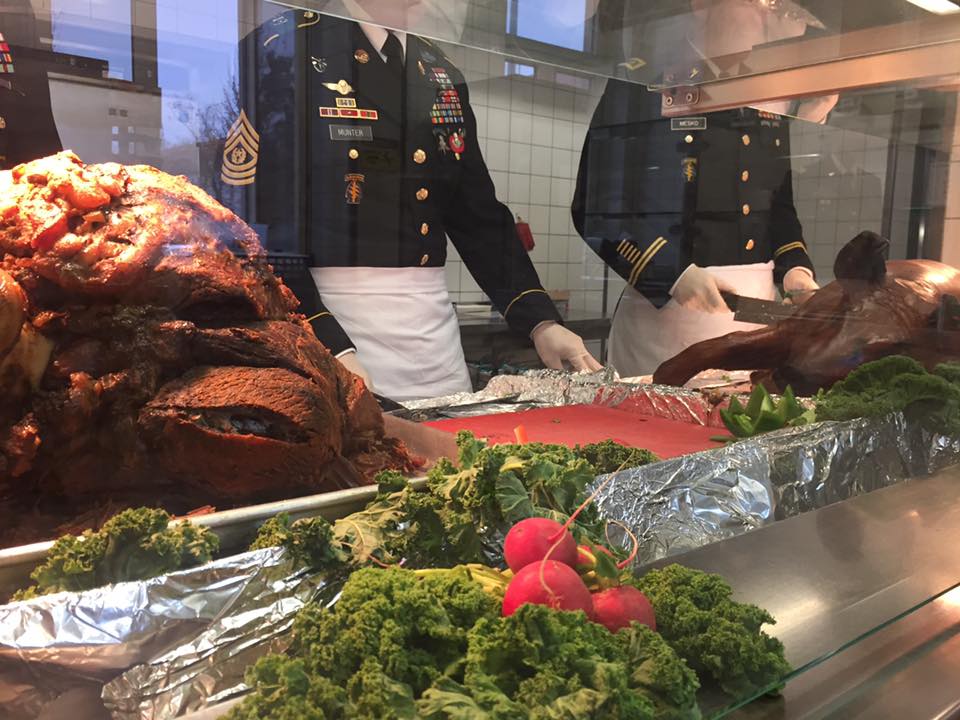 UPDATE, Nov. 19: Reminder, no lunch will be served at the DFAC today in preparation of tomorrow's big meal. According to the 405th Army Field Support Brigade, Logistics Readiness Center-Stuttgart, the cost for the Thanksgiving meal is $9.10 and $6.80 for spouses and other dependents of enlisted personnel in pay grades E-1 through E-4. The meal time is 11 a.m.–2 p.m. 
The 1st Battalion, 10th Special Forces Group (Airborne) dining facility must adjust the DFAC hours and operations to prepare for the Thanksgiving meal on Nov. 20.
Lunch service on Nov. 19 and breakfast on Nov. 20 are cancelled.
Thanksgiving Meal
Maple Glazed Turkey
Herbed Smoked Trout
Roasted Citrus Duck
Slow Roasted Steam Ship Rounds
Apple Chutney Baked Ham
Glazed Suckling Pig With Apple Chutney
Meringue Topped Sweet Potato Casserole
Mac & Cheese
Seasoned Green Beans &  Carrots
Collard Greens
Parmesan Butternut Squash
Grilled Peppers Polenta
Savory Bread Dressing
Grilled Vegetable soup
Lobster Biscuits with Tarragon Butter (Served Cold)
Salad Bar
Cranberry Sauce
Gravies
Cold Smoked Salmon
Fresh Fruits & Jello
Parfaits
Warm Cranberry Apple Cider
Cappuccino Shots
Assorted Baked Cookies, Cakes & Pies
Decorated Unit Cake
The Thanksgiving meal price is $9.10, 6.80 for junior enlisted spouses and family members.