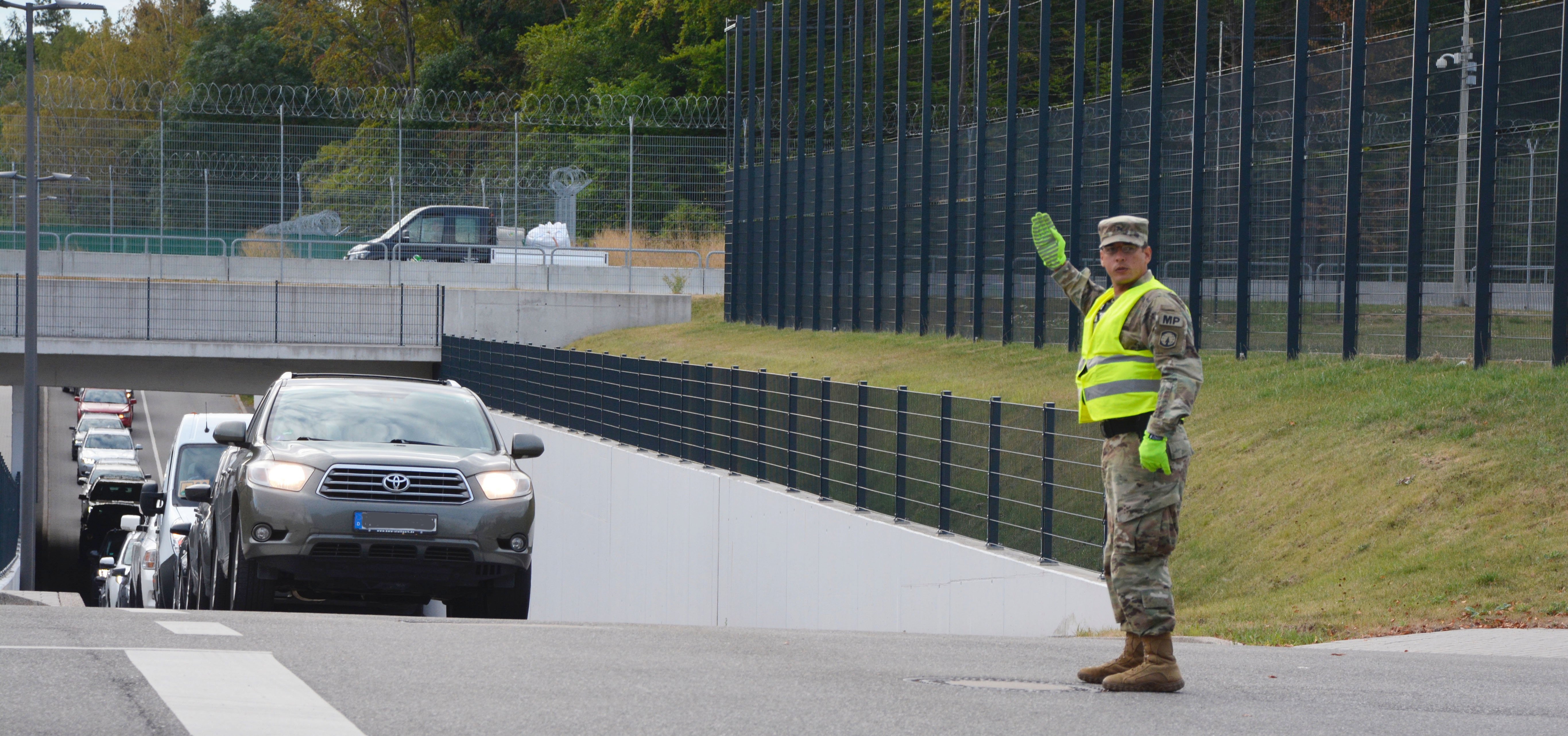 Chief Ruben Santiago
Directorate of Emergency Services
USAG Stuttgart
As the summer season comes to an end, it's natural to think about the fast pace of back to school shopping and all of the things that comes with preparing our children for the new school year. Buses are picking up students, kids on bikes are hurrying to get to school before the bell rings and busy parents are trying to drop their kids off before work.
Which is why it's never more important for drivers to slow down and pay attention than when kids are present – especially before and after school.
Student Drop-Off Point
USAG Stuttgart installations are designed to be walking communities, and it's highly encouraged to use the transportation plans or walkways when possible.
There are various reasons why families elect to drop their children off at school. All Stuttgart Department of Defense Education Activity schools have very specific drop-off procedures for the school year. Make sure you know them for the safety of all kids. Statistics show more children are hit by cars near schools than at any other location.
Sharing the road with school buses
If you're driving behind a school bus, allow a greater following distance than if you were driving behind a car. It is illegal to pass any bus on USAG Stuttgart that is stopped to load or unload children. The area 10 feet around a school bus is the most dangerous for children; stop far enough back to allow them space to safely enter and exit the bus
Be alert; children often are unpredictable, and they tend to ignore hazards and take risks
Sharing the Road with Bicyclists
Bicyclists have the same rights and responsibilities as vehicles, but bikes can be hard to see. Children riding bikes create special problems for drivers because usually they are not able to properly determine traffic conditions. The most common cause of collision is a driver turning left in front of a bicyclist.
Be extra vigilant in school zones and residential neighborhoods. Watch for bikes coming from driveways or behind parked cars. When passing a bicyclist, proceed in the same direction slowly, and leave three feet between your car and the cyclist. Watch for bike riders turning in front of you without looking or signaling; children especially have a tendency to do this. When turning left and a bicyclist is approaching in the opposite direction, wait for the rider to pass. If you're turning right and a bicyclist is approaching from behind on the right, let the rider go through the intersection first–and always use your turn signals. Check side mirrors before opening your door.
By exercising a little extra care and caution, drivers and pedestrians can co-exist safely in school zones.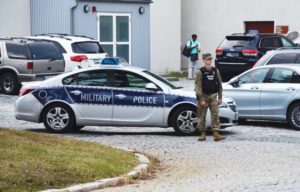 Distracted drivers law (cell phones while driving)
Vehicle operators on DOD installations and operators of government-owned vehicles, on or off the installation, will not use cellular phones or other hand-held electronic devices unless the vehicle is safely parked or they are using a hands-free device.
This prohibition includes text messaging using hand-held devices. Government-supplied electronic equipment that may be used for text messaging or other hand-held uses is prohibited for use by DOD personnel while driving; the only exceptions to this prohibition are emergency responders (such a military police, ambulance, fire emergency, EOD and HAZMAT responders) while in the performance of their official duties.
Army Regulation 385-10, Para. 4-E
The USAG Stuttgart Police Department has been focusing on extra enforcement and reminding commuters about Back to School Safety since Aug. 20. The most common issue people should prepare for during morning commutes is on Panzer Kaserne where traffic will be backed up at the intersection of Harde Strasse and Kassier Strasse (the intersection near the Bowling Alley).  Expect at least a 30 to 45 minute delay between 7-8 a.m. Most of this issue is due to commuters dropping off students instead of using the installation transportation or walking.
The USAG Stuttgart Directorate of Emergency Services is dedicated to keeping our children and community safe and request your assistance in this effort.  If you need additional information on Back to School Safety, please don't hesitate to call on us at 413-3102 or 07031153095
You are about to enter the school zone …
The following applies to all school zones:
•Don't double park; it blocks visibility for other children and vehicles
•Don't load or unload children across the street from the school
•Carpool to reduce the number of vehicles at the school
•Don't block the crosswalk when stopped at stop signs or waiting to make a turn, forcing pedestrians to go around you; this could put them in the path of moving traffic
•Stop and yield to pedestrians crossing the crosswalk or intersection
•Always stop for a crossing guard holding up a stop sign or assisting the flow of traffic
•Take extra care to look out for children in school zones, near playgrounds and parks, and in all residential areas
•Never pass a vehicle stopped for pedestrians
•Always use extreme caution to avoid striking pedestrians wherever they may be, no matter who has the right of way