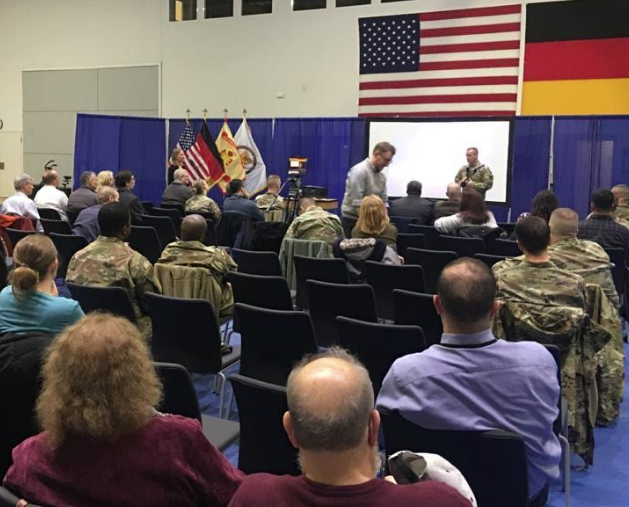 USAG Public Affairs Office
The following is a condensed Q& A from the Dec. 11 housing town hall at Kelley Barracks.
The full video can be viewed on the U.S. Army Garrison Stuttgart Facebook page: facebook.com/USAGarrisonStuttgart
What is the status of the pedestrian pods?
We have two here on Kelley, one that was recently replaced at the back gate. It's currently functioning. The one next to the Kelley Club, we are in the process of finalizing all the different pieces of that connectivity and have identified a fiber connection issue. Late January is a realistic completion date due to the holidays. ESPGs (or pods) are affected by electrical issues, weather, communication, or proprietary software that goes into the biometric identification. We try to fix issues locally, such as communication through 52nd Signal or electrical through DPW. However, when the contractor has to be called in, it can take more time for issues to be fixed.
What is the status of the laundromat, and will there ever be oversized washers dryers in the community?
The short answer is yes, at the Panzer laundromat, we have already put oversized washers and dryers and in talking with AAFES, the one that's being rebuilt here on Kelley, presuming we've built the foundation that supports the weight of oversized there will be oversized washers and dryers. 9 large dryers, 4 large washers and 10 small washers are planned for the new facility.
If I have an issue with my appliances after hours, how is it prioritized?
If it is a refrigerator, it is a priority 1 requirement. So we would redirect maintenance personnel to address that as quickly as we can to get somebody out to your residence to fix that. If it is not a refrigerator, then it could take a couple days to get out there and fix it. We're going to come out there and do an assessment to understand the situation depending on the appliance and the impact on the family and determine the best timeline. If it's not happening fast enough, that's when we need to know. Continue to work up the chain of command, if you're not getting a satisfactory answer.
Can we have more parking at the post office during the Holidays or enforce parking restrictions beyond issuing tickets?
Enforcing parking restrictions by having MPs on location is not a reliable solution due the potential of MPs being called away to other higher priorities. So there would be a lack of sustainability. However, there is additional signage that has been created to notify community members that parking is only available for 30 minutes. Those signs will be enforced and you will see MPs around post enforcing those parking limits with parking tickets.
Is it possible to build a structure in the playground area that creates shade so children do not burn their hands on metal?
We will look into it and see what solutions might be available and how quickly we could install the fix. We will also look to see if there are other locations in the community that have the same need will try to see how we can make the funding for such structures feasible.
As you go up to the post office or to the backside of AFRICOM, the one way traffic is not being followed, can that be enforced better?
The road leading up to the post office parking lot is designed for 2-way traffic. For those driving the wrong way further up Maple Str., we will need to have MPs observe and enforce the direction of travel. We recognize part of the problem may be a result of changing traffic patterns resulting from construction. There is a period of re-conditioning after the construction.
Is there a way to increase parking, so that workers do not utilize parking spaces intended for patrons of facilities or also potentially causing safety issues?
We are still trying to find a way that can optimize and maximize the parking situation everywhere in USAG Stuttgart. Commands are relooking their allocation of reserved spots, we are working toward a removable resident marker for vehicles for our family housing and barracks residents and we will continue to refine and enforce the time limit parking in front of services to ensure customer access.
Reference the priority road designation on Kelley; can there be more signs added to designate right of way?
The short answer is let me look at it. German traffic laws apply and we have to see what our options are to add signage. We will have our traffic engineer review Kelley Roads to ensure we didn't remove signage during recent construction.
Do you know when the Auto Skills Center will be moving to Kelley Barracks?
The Garrison Commander is aware of the impact on the community; however, currently there is no exact date available on when the Auto Skills Center will open on Kelley Barracks. We hope it will be open by Mid-February.
Where are we with the issue of busses being late to pick up children going to and from school? Why is there no communication about the lateness of busses? And also, where are we on the issue of assigned seating not being regulated?
The high demand for busses in the metropolitan area has had an impact on who we are able to contract to drive our kids to and from school. This issue is not unique to Stuttgart. We will continue to work with the contractors on the communication with the dispatch, however, we don't want bus drivers to use a cell phone to contact the dispatch to inform someone that they are going to be late for safety reasons. About 40% of our buses have a monitor. Their job is to keep the children safe from threats outside the bus. factors and not to communicate lateness. We will continue to find ways to enable responsive communication between families and the bus office when there are delays or breakdowns that require the combining of students on buses.
Additional measures related to school buses to address community concerns:
Clearance of buses in the morning and afternoon to ensure there are no threats before children are picked up or depart school
Polizei have conducted monthly safety inspections that ensure drivers have the proper certifications and any maintenance issues that prevent the safe operation of the bus results in the replacement of that bus.
Investigations into unsafe driving practices or incidences with drivers by the school district. Privacy and labor laws prevent the disclosure of those results, but misconduct has led to termination.
Did we decide what we are going to do with the Middle School and the High School busses in regard to the new location and the safety issue of crossing the crosswalks?
We asked the district to look at moving the bus stop and they decided not to move the location of the busses and there were several reasons, why, which made sense. However, we will engage with the office again, especially given the concern of children entering a crosswalk not being visible to oncoming traffic.
There is a lack of family support in the community and resources are being focused on areas that are not geared toward families. This is causing some frustration among large families with a wide range in ages of children that do not have as many options available to them for activities in the community. What can you say about this?
Space implications on Kelley make this issue difficult to resolve. Placing a skate park on Kelley would be great, but what gets taken away? The new Kelley playground is smaller than the previous one, and that limits the age range and number of kids that can utilize it at any given time. With respect to programs and events, MWR makes every effort to balance Garrison events with those sponsored by commands on each installation. They focus on programs that do not have a cost to maximize community participation – such as Frosty Fest and the Army-Navy Football Game/Tailgate. However, the timing doesn't always work for everyone. I can tell you that we will continue to try to do things that are family focused where families reside.
Can we have more facilities open on the weekends, such as Subway, the Commissary, or food trucks?
I will reach out to DECA and AAFES to see if there are some opportunities to do that. They have some of the same resource limitations that everyone across the Department of Defense has. It might not be feasible to open Subway, if only two people will visit Subway on a weekend. However, there is also a need for the community, so we have to find a balance. Based upon this comment, The Spudz food truck (baked potatoes) will operate on Saturday the 4th and 11th of January from 1100-1700 on Kelley.  If customer traffic supports the business we can look at continuing the weekend trucks.   We have engaged DECA leadership about weekend hours at Kelley and an additional hour in the evenings on Panzer. In both instances, the community will be voting for additional hours with their patronage!
Why does the Army still allow smoking in housing? And what is the process to change this policy?
The first thing I would recommend is to talk to your neighbor. They may not be aware that their smoking is affecting you and your family. Please find a way to talk to them in a way that does not create more conflict. Limiting smoking in housing can be difficult to enforce and a more pragmatic solution might be to communicate with your neighbors.
Why was the current watch care contract stopped without a bridge in place? What are parents to do with their children during Sunday service?
That was a deliberate decision. We have extremely high standards for the care of our children. There were no incidents; however, the contract in place did not meet the same standards we have at our other childcare centers. In order to avoid a situation, we stopped the contract and until we can get a contractor that can meet the standards we will have a gap in childcare during worship services. Hopefully we will have a replacement by this summer.
Some parabolic mirrors were requested on Arkansas Strasse and were promised by the last Garrison Commander. Can you provide an update on the status of these mirrors?
We will add this question to the list of Q and A that will be placed on theCitizen.com and via the App.
Is it possible to charge for parking? Maybe a yearly permit fee and these funds could go toward a new garage or paving open areas for additional parking spots.
I love the idea; however, in short, the answer is no due to legal issues. We will continue to look at options as we do future construction to mitigate the traffic problem. This task will take time and traffic issues will not be remedied in a short time.
When will the speed bumps on Vermont Strasse be fixed? Requests have been submitted in the past three years. The issue is that the speed bumps are too rough to go over.
The intent of the speed bumps is to protect kids, not damage vehicles. We will go back to see what we can do to change the speed bump to meet the needs without damaging vehicles.
Is there an update on the big commissary being built? And the impact it will have on the little commissaries?
The short answer is we are waiting to get started on cutting trees to begin construction. There are some concerns in the German community about putting a big commissary next to the big PX and the additional traffic that it would create on that road. The German community has stated that we can do this project, if we improve the road outside of the gate. So we are working toward some cost sharing since it will benefit our community and the community of Boeblingen. We have provided those funds and now they are working on gathering theirs. The other side is that you can only cut down trees between October and February to meet German environmental laws. A guess would be that it might take another two years before construction begins. After the construction, the consolidation of the commissaries can begin. Keeping these commissaries has an impact on future renovations of those buildings into operational space for both COCOMs.
In regard to MP ticketing for illegal parking, why are they ticketing when we have an obvious parking situation, specifically on Patch Barracks?
We acknowledge that construction has taken some parking. However, we cannot allow commuters to fill spaces at the post office during peak mail season or at the Commissary.   Guidance provided by Garrison leadership to the MPs patrolling Patch, Kelley and Panzer to not ticket a vehicle parked in an un-marked space as long as it does not prevent emergency vehicles from getting to where they would need to respond to in an emergency.
Is there anything that can be done about making childcare available on weekends and holidays?
This is a question that has been looked at in the past. The reality is that we don't have the ability to provide 24 hour childcare operations at our child development centers like they do at our basic training posts where you have drill sergeants that work 24 hours a day. In-house childcare, which are certified childcare providers from their home that meet the same standards as the child development centers, this might be an option for those seeking childcare on weekends and holidays.
What can people do in housing when their neighbors leave full trash by the door or by the basement landing, especially when they do not have a building coordinator and they do not want to create a confrontation?
It should not happen that there is no building coordinator. Send us an e-mail and let us know what building doesn't have a building coordinator. However, that does not mean I want to push that responsibility on the building coordinator. From a commander's perspective the Garrison has limited options that start with a strongly worded letter and then jump to an eviction notice. There is not much middle ground. Where I cannot provide satisfactory assistance, I will involve the chain of command to address concerns.
How can we get more bus transit between RB and Kelley?
We are currently at the max capacity for buses and drivers. We are attempting to hire more drivers and are awaiting the renewal of our bus fleet. RB and Kelley are at the ends of our routes, so the large gaps between installations occur. However, we will check to see if we can make changes to provide more transit between RB and Kelley without negatively impacting bus wait times or other routes. The short answer is I don't know but we will ask the question and see if we can get some feedback.
Safety concerns about the intersection at the Patch back gate. It seems very dangerous during peak hours.
We open the K&K gate for inbound traffic in the morning and outbound traffic in the afternoon. It can be difficult to make the turn, since it is contrary to the main ACP. That has created a new problem. Parabolic mirrors come into play and we will continue to look into ways to increase the safety of that specific area. However, drivers need to make sure to let priority road traffic pass.
There was some significant flooding in the buildings in the summer. Do the engineers come out on a regular basis to check on the foundation?
It is the first that I am hearing of that. Let me get some feedback.