The Personal Property directorate at Military Surface Deployment and Distribution Command manages the Department of Defense's Privately Owned Vehicle shipping program and wants service members to know there are several changes in the program starting May 1.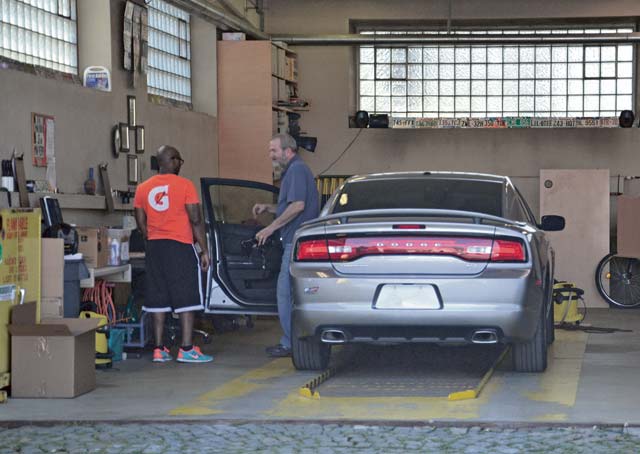 Changes occurring with the global privately owned vehicle contract include a new contractor managing daily vehicle processing at vehicle processing centers worldwide; new VPC addresses for vehicle drop offs and pickups; a new website, www.pcsmypov.com, for service members to request and track their POV shipments; and eight VPCs closing U.S. and overseas.
Starting May 1, International Auto Logistics will assume the contract from American Auto Logistics to manage the daily activities associated with the GPOV contract for processing service member's vehicles worldwide.
"Our goal is for a seamless transition between providers, and we are engaged in daily meetings with International Auto Logistics to ensure as smooth a transition as possible," said Navy Capt. Aaron Stanley, director of the Personal Property directorate for SDDC. "Likewise, we don't foresee the need for any major changes in the process used to ship/store privately owned vehicles."
With the exception of eight cities (domestic and overseas) that will close their VPC locations, many others will remain in the same city, but provide services at a different location and street address. Others, primarily overseas, will continue to operate at the same address and location, simply under new management.
The following are new U.S. VPC addresses for IAL vehicle processing centers starting May 1:
Atlanta, Ga.: 3025 Sylvian Road, Atlanta, Ga. 30354
Baltimore, Md.: 17079 Midway Road, Odenton, Md. 21113
Charleston, S.C.: 3601 N. Meeting St., North Charleston, S.C. 29405
Dallas, Texas.: 957 Heinz Way, Grand Prairie, Texas 75051
Los Angeles, Calif.: 14611 S. Broadway St, Gardena, Calif. 90248
Norfolk, Va.: 1215 Executive Blvd, Chesapeake, Va. 23320
Seattle, Wa.: 840 Industry Way, North Algona, Wa. 98001
St. Louis, Mo.: 13918 St. Charles Rock Rd, Bridgeton, Mo. 63044
San Diego, Calif.: 11433 Woodside Ave, Santee, Calif. 92071
The following are new overseas VPC addresses for receiving vehicles starting May 1:
Anchorage, Alaska: 300 LaTouche Street, Anchorage, AK 99501
Fairbanks, Alaska: 5250 Airport Industrial Road, Fairbanks, AK 99709
Bahrain: Al Musaskar 940, East Riffa Industrial Area, Bahrain
Brandon, UK: Field Road, Mildenhall, Suffolk IP28 7AL, UK
Aviano, Italy: Via dei Longobardi 49, 33080, San Quirino PN
San Juan, Puerto Rico: 45 Calle 1 Parque Indust., San Miguel, San Juan, PR 00936
Rota, Spain: Calle Dr. Pariente, 11500 El Puerto de Santa Maria, (Cadiz) Spain
Incirlik, Turkey: Yenimahalle 33 Sokak No. 31 TR-01340 Incirlik, Turkey
Izmir, Turkey: Doganlar Mah. 1417 Sokak TR-35040 Bornova, Izmir, Turkey
The following overseas VPCs will be vacated by AAL on April 30, and then closed for all but emergency drops-offs with IAL on May 1 and 2. The facilities will be open on May 5 for all vehicles. To aid in the transition, SDDC urges customers to reduce traffic and provide the additional time needed for the contractors to transition responsibilities:
Chievres, Belgium: Chievres Air Base, Bldg 46, Belgium 7950
Shinnen, Netherlands: 254th BSB Shinnen,
Borgerweb 10, Bldg. 27 RM 102, 6365 CW
Schinnen
Baumholder, Germany: Gebäude 8716, Raum 1-3 Smith Barracks AM Bahnof/Bldg. 8716, 55774 Baumholder, Germany
Böblingen, Germany: Panzer Kaserne Bldg. 2931, 71032 Böblingen, Germany
Grafenwöhr, Germany: U.S. Grafenwöhr Base, 322 Shiloh Avenue, 92655 Grafenwöhr, Germany
Kaiserslautern, Germany: Kapaun Air Station Bldg. 2806, 67661 Kaiserslautern, Germany
Schweinfurt, Germany: Conn Barracks Custer St., Bldg. 35, 97421 Schweinfurt, Germany
Spangdahlem, Germany: Spangdahlem Air Base, Bldg. 222, 54529 Spangdahlem, Germany
Wiesbaden, Germany: Mainz Kastel Housing, Area Bldg. Wiesbadener Str. 78, 55252 Mainz Kastel, Germany
Livorno, Italy: Leghorn Army Depot, Gate 27, Bldg. 5138 Depot Via Aurelia Tombolo Pisa, 56128
Livorno, Italy (pending contract mod)
Naples, Italy: Naval Support Activity Bldg. 2081, Contrada Boscariello 81030, Gricignano di Aversa (CE), Naples, Italy
Sigonella, Italy: Basee Navale USA/NAS II, Strada Statale 417, Catania-Gela 95030 Piano d'Arci/Sigonella (CT)
Vicenza, Italy: Via Strada Della Pelose, Bldg. 928, Entrance 8, Torri Di Quartesolo, 36040 Vicenza, Italy
Guam: COMNAVMAR Naval Base, Bldg. 3179, Santa Rita, Guam 96915
Seoul, South Korea: Camp Kim, Bldg. C1244-68, US Army Garrison Yongsan, Korea, APO AP 96205-5333
Taegu, South Korea: 20th Support Group Bldg. 1415, Camp Henry, Korea APO 96218-0562
Honolulu, Hawaii: 1601 Sand Island Parkway, Honolulu, HI 96819
VPC closures
Eight of the current 46 VPCs will permanently close May 1 in both U.S. and overseas locations. VPCs slated for closure in the U.S. are located in Edison, N.J; New Orleans, La; Orlando, Fla; and Oakland, Calif.
VPCs overseas that have closed, or are slated for closure, include Mannheim, Germany (closed); RAF Croughton, England; RAF Menwith Hill, England; and Seville, Spain.
"It is important to note that American Auto Logistics will still be on hand at these eight VPC locations until Aug. 1 to service already processed vehicles until each VPC becomes empty," said Craig McKinley, supervisory transportation management specialist for the Personal Property directorate. "These eight VPCs on the closure list will not accept new vehicles for processing after April 30."
Additionally, AAL's website — www.whereismypov.com — will remain active until all vehicles in their possession have been delivered.
For more information, service members are asked to either contact their transportation office/personal property office, or starting May 1, customers desiring to ship their POV or make an appointment at an VPC with IAL should call:
• For U.S. domestic appointments: 1-855-389-9499
• For appointments in Germany: 0800-227-7447
• For any other locations: 00800-227-7447
Each year, about 68,000 POV shipments occur throughout DOD, of which, about 8,500 vehicles require storage.