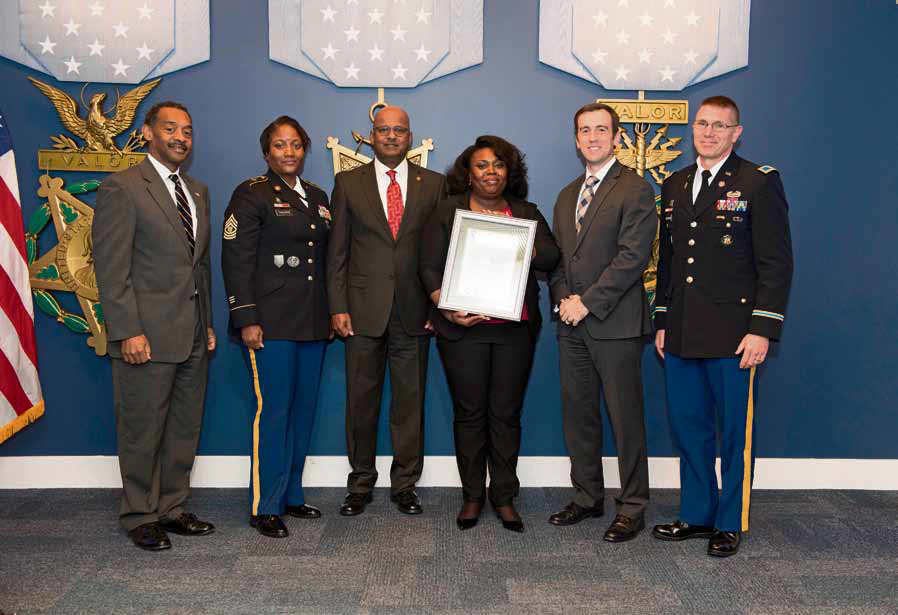 By Terri Moon CronkDoD News, Defense Media Activity
The military installations honored for their anti-drug program successes represent excellence, Dr. Jonathan Woodson, assistant secretary of defense for health affairs, said at the Defense Department's 25th annual Community Drug Awareness Awards ceremony in the Pentagon's Hall of Heroes today.
Woodson and Daniel P. Feehan, principal deputy assistant secretary of defense for readiness, honored an installation from each service and a military-affiliated youth organization for the best drug awareness and outreach programs in the past year in advance of the 25th annual DoD Red Ribbon Week, observed Oct. 23 to 31 this year.
Woodson said the DoD recognition honors the programs that set themselves apart in an environment where substance abuse affects national security and readiness.
"You understand that readiness is more than a concept," he told awardees. "Readiness is about our preparedness for life, [and] the readiness to assist others."
Woodson also noted that drug-positive rates in the services have averaged 0.9 percent in the past several years, which he said is well below DoD's goal of two percent.
The military needs service members to perform at their optimum mental and physical capabilities, he said. "We need them to be healthy. We need people who are resilient when facing adversities and … [when] operating in foreign environments."
Family members, both adults and children, also must be strong, he noted.
Leadership is Key
"Leadership means doing the right thing, even if you are in the minority, and as the department recognizes you today, you should bask in this recognition and know that your individual and organizational commitments have made a difference," Woodson said.
"It's a complicated world out there, and there are a number of things our service members have to be ready for," Feehan said, noting that some young troops are "impressionable and high-risk individuals."
Drawing on this year's Red Ribbon Week theme — "Respect Yourself. Be Drug Free" — Feehan said there is a "clear commonality with the idea that if you have a drug-free life while in uniform, you are set up for a successful life thereafter."
2015 Awards
This year's DoD Community Drug Awareness Awards were presented to:
— Army Substance Abuse Program, Army Garrison Stuttgart, Germany;
— Drug Demand Reduction Program, Marine Corps Air Station Miramar, California;
— Drug Education for Youth, Naval Computer and Telecommunications Area Master Station Atlantic, Norfolk, Virginia;
— Demand Reduction Program, 319th Air Base Wing, Grand Forks Air Force Base, North Dakota; and
— Substance Abuse Program, 5th Regiment Army, Maryland Army National Guard, Baltimore.
The 2015 Fulcrum Shield Award, which recognizes independent military-affiliated youth organization for its top anti-drug work in the community, was presented to the Drug Demand Reduction Program, Young Marines of the Marine Corps League.
"Today isn't a declaration of victory; but a reminder that you are doing the right things,"Woodson told the awardees. He also praised them for encouraging service members and families to renew their pledges to remain drug-free. "They need people like you to stress this positive message," he added. "They are listening, … and you are succeeding."