A message from the Stuttgart Health Clinic June 29, 2016:
Children at two childcare centers on Kelley Barracks were noted to have rashes while in care. Local pediatricians and the Medical Director at the Stuttgart Army Health Clinic have determined that it does not appear infectious. Main signs and symptoms are reddened, flat/raised, and itchy bumps on skin. The affected children show no signs of systemic symptoms such as a fever, changes in behavior, or inability to participate in normal child play activities.
A caterpillar found in this area (Oak Processionary Caterpillar) is the likely source (as in past years at this time of the year) although the exact source may not be found. U.S. Army Garrison Stuttgart's Directorate of Public Works Environmental personnel are investigating the childcare centers for a possible cause as an additional safety measure. It is commonplace that a specific cause for rashes is not ascertained. The discovered rashes can take several weeks to resolve. Rashes with non-specific causes may continue to be prevalent throughout the summer season.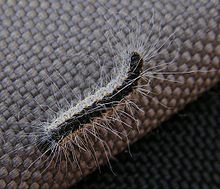 Preventing exposure from Oak Processionary Caterpillar consists of the following:
Avoid oak trees and blocked forests
Keep kids away from caterpillars and nests don't touch them!
Restricting outdoor activities
Wear protective clothing to cover exposed bare skin
Changing your clothes after outdoor activities a washing is required
Closing windows in your home
All Stuttgart Child Development Center facilities follow strict cleaning and sanitizing protocols daily including hand washing, cleaning/sanitizing toys, play areas, linen, etc., to decrease risk of spreading communicable diseases.  If you notice a rash on your child, routine care is recommended such as, watching for sign and symptoms of infection, worsening of rash, and providing comfort measures with over- the-counter (OTC) medications that soothes itchiness.
If you or your child are experiencing rash-like symptoms and itching, and over-the-counter remedies are not working, please contact your local health care provider for an appointment for further evaluation.
The Stuttgart Health Clinic appointment line is DSN: 590-2900/civ. 06371-9464-2900, or visit their website at http://rhce.amedd.army.mil/stuttgart/.