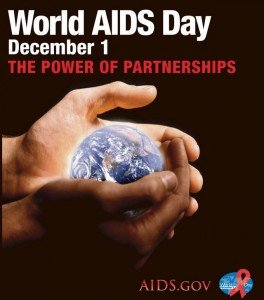 U.S. Africa Command is making headway in helping militaries across Africa confront the HIV/AIDS epidemic through a program focused on prevention, care and treatment, a senior command official reported last week.
"The whole focus is to reduce the incidence of HIV in foreign militaries," Mike Hrshchyshn, chief of humanitarian and health activities for AFRICOM's Security Cooperation Programs directorate, said during a web chat commemorating World AIDS Day earlier this month.
The office oversees the strategic direction of the Defense Department's HIV/AIDS Prevention Program in Africa. Of more than 70 nations that participate in the DOD program, 45 are in AFRICOM's area of operations, Hrshchyshn reported.
HIV and AIDS represent a potential threat to Africa's regional security and stability, he said. The disease weakens national governments and economies and erodes the readiness of their militaries.
That degrades their effectiveness, not just within their own countries, but also in their ability to provide peacekeeping forces that support regional stability, he explained.
"Without militaries that are able to discharge their missions … security starts to degrade," Hrshchyshn said. "And not only does it have an impact on that specific country but also on a regional basis, beyond their borders."
This vulnerability could provide opportunities for others to exploit in destabilizing ways, he said.
Since AFRICOM's standup five years ago, it has focused heavily on regional outreach through its Partner Military HIV/AIDS Program. The program's goal is to help regional militaries reduce the incidence of HIV and AIDS within their ranks.
The effort, provided with strong support from the Naval Health Research Center in San Diego working in lock-step with embassy country teams, has been highly successful in increasing awareness about HIV/AIDS and ways to prevent it, Hrshchyshn reported.
The effort has reached nearly a half-million troops and their family members with educational programs about prevention and treatment, provided about 4,000 healthcare workers trained in HIV/AIDS care and treatment, and provided support to about 75,000 people living with the disease.
But Hrshchyshn said the impact goes far deeper, with every person who receives education and training amplifying the message through their daily personal and professional interactions. "They become force multipliers in reducing the transmission of HIV/AIDS," he said.
Recognition of the consequences of the disease — and successes in confronting it — makes nations eager to work together to confront it, he noted. Partner nations share state-of-the-art developments regarding HIV and AIDS during biennial conferences sponsored by DOD's HIV/AIDS Prevention Program. The most recent one, hosted by Mozambique in 2012, attracted representatives of 70-plus militaries from around the world. "That reflects the large global interest," Hrshchyshn said.
That outreach is bearing fruit. "We have made considerable progress," Hrshchyshn said. He noted one country that was losing two to three soldiers a day to AIDS at the program's inception. Today, that figure has dropped to about one loss every 10 days.
"That gives you an idea of how dramatic the impact [has been] in reducing mortality," he said. "The impacts have been considerable, across the board."
Although the extent of the problem may be diminishing, Hrshchyshn said it's too soon for AFRICOM to declare success. "This is an area of focus we won't take our eyes off of," he said. "It will take a while, but I think we are on a solid path."
As the United States assists African partner nations, its ultimate goal is "to build up the capacity and capability of our partners so they can take this issue on," he said.
"They are best positioned in terms of sustainability," he said. "So it is important that, whether it is on the military side or the civilian side, that they have been able to take the tools, the techniques, the technical assistance that we have provided [and] to mold that to their own cultural environment and then to … effectively design services to their citizens."
Those efforts will pay off through "ready, able, healthy and well-trained African militaries that can do their part on the continent to provide a safer and secure environment" to support peacekeeping efforts and to reduce the likelihood of conflict, he said.