Running a profitable small business is a tough job. When that business is an overseas Army arts and crafts operation, it can be even more challenging. 
No one knows this better than Kelly Sarles, the U.S. Army Garrison Stuttgart Morale, Welfare and Recreation Arts and Crafts director. No one is better at it, it seems, as evidenced by Sarles' recent honor as the 2013 Department of the Army Recreation Employee of the Year.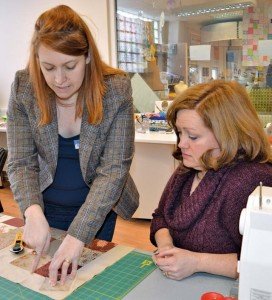 The award is presented to an employee across the Family and MWR Command who best exemplifies superior achievement as an Army community recreation professional.
In Sarles' case, she has taken a community support program that is partially supported with appropriated funds and made it profitable without those funds … in other words, without taxpayer dollars.
"It's not all about profitability, but being profitable means we can continue to provide the service, and the appropriated funds originally designated for Arts and Crafts can go to other programs that can't generate revenue, such as the fitness centers or libraries," said Greg Holzinger, the USAG Stuttgart Directorate of Family and MWR director.
"Kelly is the example for many other programs in the Army that are challenged with budget cuts," he added.
For Sarles, a self-sufficient program is a matter of survival.
"I wanted to make sure that if the day came that there was no more [appropriated fund] money in support of arts and crafts programs, this one would be able to stand. I tell people all the time, I want to be the last one standing," said Sarles, who hails from Colorado City, Texas.
Sarles said the success of the program is based on teamwork.
"We work really, really hard. It's a huge combination of everything: it's the classes that we offer, our instructors, the products we sell in the store, the quality of the frame shop, the fantastic woodshop on Kelley … everything goes into that," said Sarles, who has directed the operation since  2005.
Staying relevant means keeping a finger on the pulse of the do-it-yourself craft and hobby industry.  Sarles and her staff are constantly conducting online research, listening to their customers and searching for instructors.
A good example of this is the Rainbow Loom, a plastic loom used to weave rubber bands into bracelets.
"People coming in from the States keep talking about it. Kids were showing us the bracelets they had made," Sarles said. "We started carrying that product and as soon as it came in, it was gone. We're already reordering."
Canvas and Corkscrews is another. The wine and paint party, based on a similar program in the States, took a couple of years to come to fruition while the arts and crafts staff searched for an instructor.
Last year, Marta Niemann approached Sarles about teaching painting. "She just has a gift,"
Sarles said.
The program started off small in the craft store. "We wanted to add the "corkscrew" element, so we partnered with the Patch Community Club … the program took off," Sarles said. Now, Canvas and Corkscrews classes can be found on all USAG Stuttgart installations.
In addition to fine arts, classes for adults and children are offered in sewing, quilting, fiber arts, glass, metal working and digital arts. Staff members and contracted instructors teach dozens of classes each month.
"We have a lot of people who want to share their passion," Sarles said. Class sizes are very flexible, many times only requiring a couple of students.
One exceptionally popular class, Tween Night Out, targets 10-12 year olds. "We feed them pizza and drinks, and we work on a craft for three and a half hours. Every month we do something different. In January, we did Minecraft crafts. We made paper collages of the characters and framed them," Sarles said.
For those less inclined to take a class, craft parties are an option. "We do a lot of parties. Anything we teach, we can run as a party," Sarles said.
While there are plenty of successes, not everything Sarles touches turns to gold.
Sarles, a quilter and a seamstress, said she loves making her own clothes. "For me it is so rewarding to sit down and make a garment that you can then wear," she said.
Classes of this sort, however, never took off. "That was a big disappointment for me. It's something I'm passionate about and wanted to share, but I really couldn't get any traction," she said. "Not every class is a win."
But you can bet Sarles will be on the lookout for other "wins" this year by offering several new activities.
In April, Arts and Crafts will host its first crafter's flea market where people can sell craft supplies that they no longer want or need. In the fall, a Canvas and Corkscrews art exhibition of student works is planned. She also hopes to add an embroidery service by acquiring an embroidery machine from a closing installation.
For more information about Stuttgart Arts and Crafts program, visit www.stuttgart.armymwr.com.