By Holly DeCarlo-White
USAG Stuttgart Public Affairs Office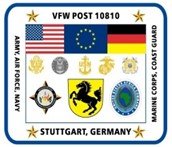 The Veterans of Foreign Wars (VFW) Post 10810 Veteran's Day Ceremony and Vietnam War 50th Anniversary Commemoration took place, Nov. 11, 2015 at 11 a.m. in Washington Square on Patch Barracks with guest speaker, RADM Kovacich, director of strategy, plans and programs (J5) at U.S. Africa Command.
Veteran's Day, which is observed Nov. 11 each year, commemorates the sacrifices of our nation's veterans, and is the anniversary of the armistice which ended World War I.  The ceremony honored all veterans of military service while commemorating the Vietnam veterans for their service in an unpopular war which divided the nation.
In addition to U.S. Army Garrison Stuttgart leaders including Col. Dickenson, garrison commander, and Heidi Malarchik, deputy, Soldiers, civilians and family members attended the ceremony from all branches of service.
The ceremony was opened by SGT Eric Johnson of Armed Forces Network Stuttgart, followed by the posting of colors by Stuttgart High School Junior Reserve Officer Training Corps color guard for the National anthem. LTC Ferris, USAG Stuttgart deputy garrison chaplain, lead a powerful invocation before speakers were introduced. Stories of service, dedication, honor, thanks, and a common key statement of freedom echoed from each speaker.
"The freedom we enjoy today is not free…thanks to those serving far away from family and friends, and those who have served before us to preserve our freedom, " Veterans of Foreign Wars "All American" Post 10810 Commander, John Leffler said.
Kovacich, who comes from an Air Force family, began with his personal background of service from family members past and present, including his son who also currently serves. "Every day I serve, and on this day in particular, I stand on the shoulders of giants, both professionally and personally, " Kovacich said.
VFW Post 10810, American Legion Post 6 and the Clan Motorcycle Club each placed a wreath before the trumpet played Taps. As the benediction completed, the JROTC retired the colors, closing the Veteran's Day ceremony.
To view the photo album from the Veteran's Day ceremony, click here.