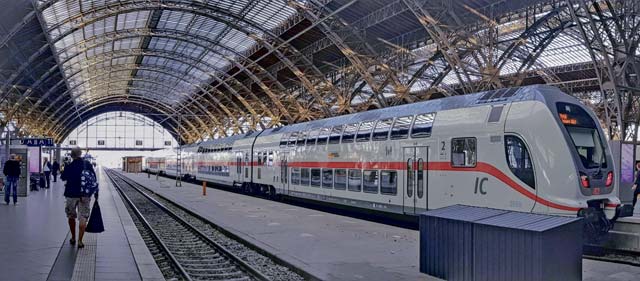 USAG Stuttgart Public Affairs
Public transport is the ideal way to travel in Germany and throughout Europe. With many forms of transit and a vast network of stops across the country, you don't have to travel far to find a connection.
Buying tickets can be done at stations, from a bus driver, or through a mobile device. The SSB Move, VVS Mobil, or DB Navigator mobile apps, for example, are all easy to use and fully functional in English. Setting up an account with one or more of these apps (storing your credit card information) allows you to purchase tickets on the go. After purchase, the app stores a bar code which can be shown to ticket checkers on request as proof of purchase. Once the ticket is downloaded to your phone, you will not need a data connection to retrieve it; just be sure to keep your phone charged while you're on transit. A mobile ticket for a single journey is slightly less expensive than a paper one (equivalent to the price of a four-pack of tickets).
While many station ticket machines have a touch screen interface, some older ones have codes to enter to determine your required zones and buttons for the ticket type (more on navigating zones below).
Ticket machines at S-Bahn and long distance train stations not only sell tickets, but also offer information about schedules, delays and services available. Travelers can also print a travel itinerary free of charge. Not all machines accept credit cards reliably, so it is always recommended to carry euros, or use a mobile app which links to your credit card.
German rail and public transit effectively operates on the honor system. Travelers purchase tickets and step onto the train without a gate or an attendant checking the ticket upon entry. Passengers with multiple-use paper tickets must stamp their ticket on the bus or U-Bahn, or at the station platform or entrance to the train station when taking S-Bahn or regional trains. Not having a valid ticket will result in fines.
Conductors periodically check for tickets and the fines for riding without one can be hefty. It is important for travelers to make sure they have valid tickets for every trip, no matter how short.
The various levels of transit services combine to connect nearly every city, town and village in Germany. Stops and stations may be served by one or more agencies and types of transit, including S-Bahn lines, U-Bahn lines/Strassenbahn (streetcar) and bus lines. The "Verkehrs- und Tarifverbund Stuttgart," or VVS, coordinates operations between all transit companies in the greater Stuttgart area so that one ticket may be used across all available modes of transport.
Ticket machines may occasionally be inoperable, so aside from using the mobile app, you can buy a few four-pass paper tickets to keep on hand, especially when visitors are in town.
Deutsche Bahn (DB) operates the national rail service, as well as the S-Bahn. You can book long distance travel through a Bahn office using a VAT form, or online without a VAT form (the tax on train tickets is 7%). DB operates several levels of rail service ranging from local commuter trains to express trains that cross the country in a matter of hours.
S-Bahn trains connect Stuttgart with closer outlying areas, with more stops and greater frequency closer to the city center. An S-Bahn train is a no-frills commuter train without toilets or concessions.
A Regiobahn (regional) train, also red, reaches further within a region and can be very cost-effective. This type of train has toilets and often two levels of seating.
The white IC (InterCity) and ICE (InterCity Express) trains are for long distances, to include neighboring countries. IC and ICE train seats may be reserved, including specifics like having a window seat with a table or a quieter compartment. Most ICs and all ICEs will have a bistro or dining car, and ICEs will have Wi-Fi connectivity.
Navigating the transit systems
Transit line maps are available at station platforms, online and within the mobile apps. Local transit travel is broken down by circular zones radiating outward from downtown Stuttgart; zone maps are also available in the same locations. The number of zones you travel through during your journey, including start and end stations, determines how many zones you need on your ticket. Inputting your start and end points (stop to stop, or even door to door) into one of the mobile apps will allow you to see exactly how many zones you will need.
Examples traveling to downtown Stuttgart:
From Böblingen (Near Panzer Kaserne): 3 zones

From Vaihingen (Near Patch Barracks): 1 zone

From Möhringen (Near Kelley Barracks): 1 zone

From Robinson Barracks area stations: 1 zone

From downtown Stuttgart, Hauptbahnhof (main station) to the Stuttgart Airport: 2 zones
Not all tickets are created equal
The key to car-free adventures is knowing your options and how to get the local deals.
A 4-pass paper ticket is available at machines. This ticket is good for four journeys (you will choose the number of zones desired). Unstamped portions are valid indefinitely — until the next systemwide price adjustment, then one year after that — and transferable to anyone
A short-trip ticket is for passengers travelling within three bus or U-Bahn stops, or one stop in the S-Bahn (up to 5km).
A day ticket, available on all local transit within a selected zone(s), is good until 7 a.m. the following day.
A group day ticket is good for up to 5 people in the selected zones, also until 7 a.m. the next day.
Though it sounds easy enough, when combined with the zone system and the language barrier, simply buying a ticket may seem overwhelming. When all else fails, ask someone to help you.
The Bahn office is located at the Stuttgart main station downtown, and also in the stations in Vaihingen, near Patch Barracks and Boeblingen, near Panzer Kaserne. Agents there can help you find the best fares for travel. You can also purchase weekly, monthly and yearly local transit passes. The Bahn offices accept VAT forms, which are best used when booking costly or multiple trips. There is a small fee for purchasing in-person, but could be worth it considering the potential savings of a VAT form.
BahnCards
BahnCards can be a great deal for travelers who use the train frequently and might even pay for themselves on the first purchase. Before purchasing a ticket to travel outside of Stuttgart, ask about how getting a BahnCard 25 or 50 would affect the price. Note that they must be canceled in writing at least six weeks before the renewal date, or they will be automatically renewed with payment due (and without VAT savings). Cancellation can be as easy as submitting a form letter to the DB website, and it can be done as early as desired. Providing this notice simply advises DB not to renew the card; it will still be valid through the expiry date.
With a BahnCard 25, travelers get 25 percent off all "Flexpreis" and "Sparpreis" fares. Flexpreis tickets are refundable and not bound to a specific train or itinerary, while "Sparpreis" tickets do have these restrictions and offer greater savings at the cost of flexibility. Booking earlier offers lower-priced Sparpreis tickets.
With a BahnCard 50, travelers receive 50 percent off all flexpreis purchases and 25 percent off saver fares. As the BC50 doesn't offer any additional savings on the saver fare tickets, this card is best for travelers who prefer flexible tickets or who travel more spontaneously.
DB often publishes trial offers, like a card that is valid for three months (or similar promotions you can use to test out) if buying a card for the year is worth it to you. Remember to cancel any trial card on time.
Although there's no substitute for good advance planning, many of the standing ticket offers through Deutsche Bahn provide flexibility for the spontaneous traveler. Taking the train offers several benefits and can even be a viable, inexpensive option when traveling in a group.
Baden-Württemberg Regional Ticket
BW tickets apply to regional transit, not IC or ICE trains, and your usage must begin after 9 a.m. on weekdays; it is valid all day on weekends and German holidays. This ticket is perfect for day trips on regional trains and the S-Bahn/local transit for solo travel or with a group of friends within Baden-Württemberg (going outside the VVS service area). Make sure your train will arrive before the ticket expires. The official DB Navigator app has an option to route your journey only through regional transit to ensure that you only use services that are included.
Quer-durchs-Land Ticket
The Quer-durchs-Land (across the country) ticket offers unlimited regional train travel for one day throughout Germany. Like the BW Ticket, it can good for up to five people. This type of ticket does not include travel on true "long distance" trains like the ICE – traveling to Berlin on this ticket, for example, would take 10-11 hours and multiple changes.