By Elizabeth Celtrick
U.S. Army Garrison Stuttgart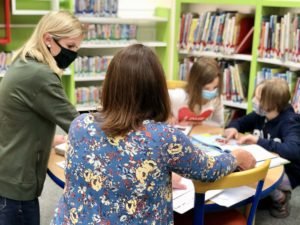 At this point in the coronavirus pandemic, community members are coming to grips with some harsh realities: postponed vacations, canceled sporting events, and no sign in sight of the final season of "Better Call Saul."
In the time of COVID-19, books remain a true joy, a reminder that emotions are universal, that the human experience is a shared one, and that there is indeed very little that's new under the sun.
There's a world at one's finger-tips and it's easy to procure in many different formats. Patch Library can help you find that perfect read.
"Regular readers are more active than ever, but we're also seeing a lot of newcomers and first time visitors," says Library Technician Raechele Butler. Children's picture books and series have been flying off the shelves and patrons seem to have the time now to invest in that eight-part non-fiction series, or audiobook they've been meaning to get around to.
People are prone to reading the same type of book again and again, but reading habits and genre preferences can change during periods of stress.
"Call it escapism, but I've been reading a lot more SciFi and supernatural themed books since COVID"
"Call it escapism, but I've been reading a lot more SciFi and supernatural themed books since COVID," shares Butler. "Right now I'm reading "Emily Eternal" by M.G. Wheaton, which is about a sentient A.I. grad student contending with the sun's death and the inevitable end of the world. In addition to navigating the dynamics of her research team and secret crush, of course!"
Butler encourages people to give reading another try if their only experience has been dense, uninteresting material from school or work. Reading should not feel like a chore. The right book can make all the difference and open up a whole new world she added.
Tips for building a reading habit
Create a reading ritual around a cozy spot in your home with few distractions, good lighting, comfortable seating, and a favorite drink within easy reach.
Set time aside just for reading, once a day or even just once a week. Consider setting an alarm or stopwatch as a gentle prompt.
Start with fun and engaging material. Ask a librarian for suggestions or use an online recommendation resource like Novelist.
Find a friend or join a virtual book club to share with others what you're reading.
For those struggling with concentration, start with an audiobook. Listen while you exercise and start to work off those quarantine 15.
"Novelist is another one of the library's online resources and is perfect for people wanting to build a stronger reading habit," says Butler. The online tool makes recommendations based on what you have enjoyed in the past, much in the way other media streaming services do.
Many have found the current restricted lifestyle to be a great opportunity to read and explore different topics, either to learn new things or to provide a sense of escape.
Patch Library has a robust selection of online resources available through the Army Europe Libraries system and participates in the fast and efficient Europe-wide interlibrary loan program. These resources are free and available to anyone with a registered library account. Everything from e-book and audiobook downloads, to video streaming services, to test prep and language learning and even genealogy programs are available.
One resource particularly helpful to families at the moment are the Scholastic learning programs.
"They're a great complement to home school curricula and virtual schooling and offer fun material learning for grades K-6," says Butler. Tutor.com is another program really helpful to students as a lot more learning becomes self-propelled and home based.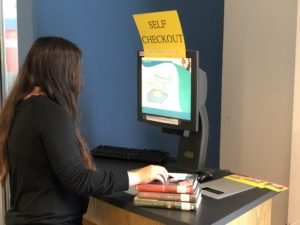 Community member Charlotte Riley takes advantage of the library's resources to supplement home-schooling and appreciates having access to the building and books.
"We try and come at least every other week to show the children how to use and enjoy the library," said Riley.
To keep everyone safe and healthy, visitors are required to wear a mask, sanitize their hands, and sign in and out at the door. Once inside, patrons receive a card to hold on to for the duration of their visit (limited to one hour each) as a way of tracking the number of people in the building at any one time. For social distancing purposes, patrons are encouraged to utilize the self check-out station, but a librarian is always on hand to assist if needed.
---
What's on the new arrivals shelf?
The library is constantly refreshing its stock of books and one of the more frequented areas of the library is where staff shelve the newest arrivals. Temporarily relocated, the new arrivals bookcase is now located near the audiobooks and DVDs, directly across from the video games (yes, the library has those too!) in the nonfiction section.
FICTION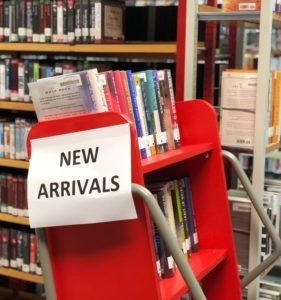 • Such a Fun Age, Kiley Reid
• Friends and Strangers, J. Courtney Sullivan
• Numbers Game, Danielle Steele
• Lone Jack Trail, Owen Laukkanen
• Journey of the Pharaohs (The Numa Files series), Clive Cussler
• The Angel of the Crows, Katherine Addison
• Peace Talks (The Dresden Files series), Jim Butcher
• Sad Janet, Lucie Britsch
NONFICTION
• On the Bright Side: Stories About Friendship, Love, and Being Yourself, Melanie Shankle
• Yoga for the Inflexible Male, Yoga Matt
• AOC: The Fearless Rise and Powerful Resonance of Alexandria Ocasio-Cortez, Lynda Lopez
• A Furious Sky: The Five-Hundred Year History of America's Hurricanes, Eric Jay Dolin
• Six Days in August: The Story of Stockholm Syndrome, David King
For more information visit stuttgart.armymwr.com/programs/patch-library.