School is almost out and you may be wondering how to amuse the kids. Before boredom settles in with those dog days of summer, check out Germany's take on amusement parks. From an afternoon spent with Shrek to a Lego lover's paradise, these fantasy worlds will satisfy thrill-seekers of all ages and tastes.
Movie Park Germany
Explore Bikini Bottom, take a wild water ride with Dora the Explorer and meet SpongeBob for an afternoon of fishing at Movie Park Germany. This park, in Bottrop-Kirchhellen, features characters from Nickland," Ice Age" and" Shrek," as well as from other movies and television shows. In the Wild West section of the park, saloons and barber shops create a replica of a Hollywood movie set. 
The park also includes several shows, such as the "Shadows of Darkness -The Van Helsing Show" and "Back to the Movies," where visitors can travel back in time to experience movie highlights of the past decade.
Entrance prices run from €29 for children ages 4-11 and €35 for adults. 
For more information, including extended opening times and prices, visit www.movieparkgermany.de.
Europa Park 
Europa Park, located in Rust, about 175 kilometers southwest of Stuttgart, is divided into 15 different areas, mostly modeled after European countries. Each features the architecture, landscaping, food, shopping and attractions of the country it represents; visitors can ride a London bus in England, or face Poseidon on a water ride in Greece. 
The park is home to 10 roller coasters, including one of Europe's highest and largest, the "Silver Star." The park also offers musical, laser and ice shows, and a 4D cinema.
The park's newest addition is "Arthur in the Minimoys Kingdom," where three themed areas are transformed into an adventurous journey through nature where visitors will "feel like the brave hero Arthur in the world of Minimoys," according to Europa Park's website, www.europapark.de.
 Taking a ride on "Wodan Timburcoaster," Europa Park's first wooden roller coaster, also promises quite an experience. There are carousels, bumper cars, a beach playground and a water world for youngsters.
Entrance prices range from €36 for children ages 4- 11 to €41 for adults.
For more information, visit www.europapark.de.
Tripsdrill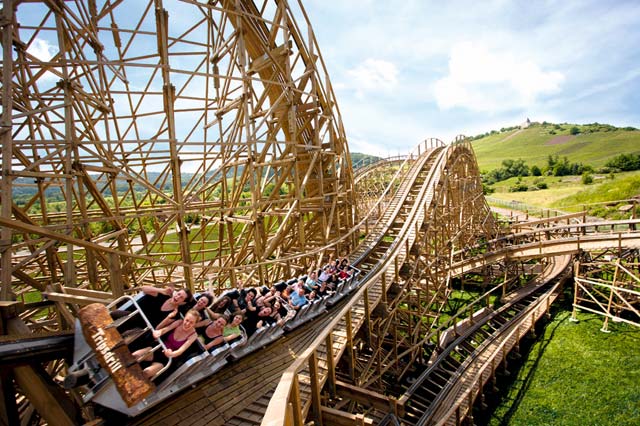 Tripsdrill is the oldest amusement park in Baden-Württemberg. The park is located in Cleebronn, just 30 kilometers from Ludwigsburg. 
In the past 80 years of operation, the park has developed into a major tourist destination with 100 different attractions. Tripsdrill offers water slides, carousels, dancing tea cups and more.
The "Vinarium," or wine cellar, and wine museum, where visitors can taste local wines, symbolizes the park's main theme: wine production. After tasting the wines, visitors can also take a spin in the "Lustige Weinberg," a vineyard keg ride.
The main attractions, however, are the "Mammoth" roller coaster, the largest wooden roller coaster in Germany, and a wild water rafting tour.
For those who want to take a break from the crowds, a 47-acre wildlife park is located next to the amusement park.
Entrance fees start at €23 for children age 4-11 and €27 for adults. 
For more information, visit www.tripsdrill.de.
Legoland Germany
More than 50 million individual Lego blocks were used to build Legoland Germany. Rides and attractions, as well as one of the largest Lego stores in Germany, await visitors.
One of the latest attractions is the "Tempel X-pedition" ride at Legoland's Pharaoh Empire theme park. Visitors can experience an adventurous ride through the darkness during an interactive treasure hunt.
Tickets cost €36 for children ages 3-11 and €40.50 for adults, but visitors can save money by booking online.
For more, visit www.legoland.de.