By Wendy Payne
Editor's Note: Wendy Payne is a freelance writer, blogger and photographer for Military in Germany. She is a military spouse and lives with her family in Stuttgart, Germany.
I've had a lot of visitors this summer and maybe you have too. The challenge for me, and I think many of us that are stationed here in Stuttgart, is we end up going back to the same places over and over. I decided to shake it up a little bit and add a few day trips that my visitors would love, and I could investigate and share with you. Here is a blog on visiting three countries-in-a-day for people in the Stuttgart area. It may sounds exhausting, but I promise, it is worth it and unforgettable for everyone who goes along.
How to visit three countries in one day from Stuttgart: Switzerland, Austria and Germany
First things first, when traveling through other countries surrounding Germany, you have to do a little preparation.
In Switzerland and Austria you will need vignettes. Vignettes are toll fees/permits you must affix to your front windshield to legally travel through these countries. The yearly vignette for Switzerland is €38.50 and a four-day Austrian vignette is about €8. Vignettes for both countries can be purchased at an ADAC office or at gas stations right before you cross the borders. Do not leave this to chance because if you miss it, it is a very hefty fine. The fine for Switzerland can be about €160-200 Swiss Francs, plus the cost of the vignette.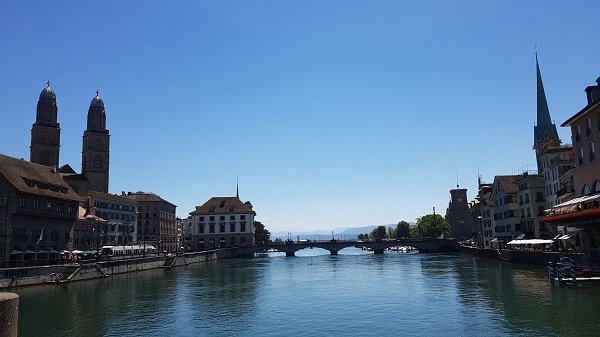 (1) First Stop – Zürich, Switzerland
The trip to Zürich is beautiful from Stuttgart. On your way through the Black Forest, you will see the wonderful landscape that is just breathtaking.
Tip: You'll want to fill up before crossing the boarder into Switzerland or Austria. Gas is "uber" expensive.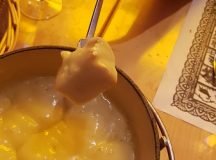 Of course, Swiss cheese fondue was on the menu. We chose a hotel on Rosengasse Strasse in Zürich and parked at the Urani Park House. From there, we were able to walk across the beautiful bridges along the promenade to the old city of Zürich. Making reservations were very easy online and we arrived with time to spare.
After very full bellies of fondue, what better to follow than some Swiss chocolate. On the recommendation of our waiter, we discovered Sprüngli. At this amazing chocolate store/restaurant/eatery, we were able to sample each chocolate delicacies.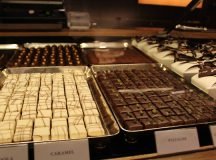 Normally, I am quite hesitant visiting Switzerland because of the price tag. However, we were able to enjoy lunch and have a little chocolate, and not spend a fortune. My daughter and I split our fondue and a salad. With a few bottles of water on the very hot day, we spent about $70 total. At the chocolate shop, we all split a 200 gram chocolate box giving us about three chocolates each, averaging out to about 2 CHF or $3 per person. They were definitely worth every bite.
(2) Next up – Bregenz, Austria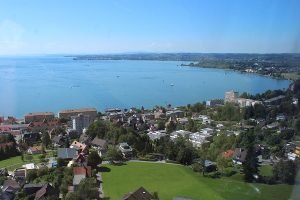 If you have lived in Stuttgart for a while, you've probably heard of the Lake Constance (Bodensee). This marvelous, immense body of water is shared by the three countries Austria, Switzerland and Germany. My friend recommended seeing it from the Pfänderbahn (cable car) in Bregenz. With the panoramic cable car on the way back to Germany, it made for a perfect stop to see all of the alps. At the top of the mountain (Berg) there is a restaurant open during the summer, a kiosk for ice cream, and an interactive Alpine nature park and zoo.
It was about €12.50 for a round-trip ticket, but it included entrance into the nature park. It looked like there were hiking trails up the mountain if you prefer this to the cable car as well. We didn't stay too long at the zoo because we still had one more stop in Germany. However to find out more about this region, check out this article on the Bregenzwald in Austria.
(3) Final stop – Ravensburg, Germany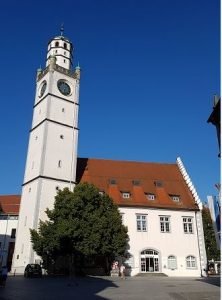 Having visited the beautiful puzzle town of Ravensburg this past year, I knew what to expect and found it easy to walk through and retrace my steps for my family. Opened from 10 a.m.to 6 p.m., the Ravensburg Puzzle Museum is interactive and fun for children for all ages.
The quaint city is lively with lots of architecture, free museums and towers to investigate. To park within walking distance to the old town and the closest to the museums, click here.
The Blue Tower is one of the most famous sites in Ravensburg. Up until the last twenty years, the tower would ring daily to announce the beginning of the day. And if you would like to climb the tower, you would have to time your arrival accordingly; it is only open a few hours during the day.
Whether you decide to make Ravensburg your first stop on the three-countries-in-a-day tour, or your last, it is a great place to visit with lots to see.
Our total driving time was about five hours and 45 minutes with only a little bit of traffic coming back in Germany.
Note: We went on a Wednesday, so traffic was lighter than it might have been on the weekend.
The content of this article is for informational purposes only, no Federal endorsement implied.