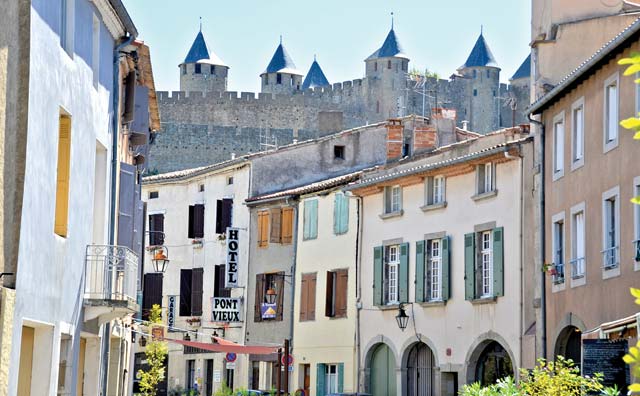 By Karl Weisel
U.S. Army Garrison Wiesbaden Public Affairs Office
Take the bike and tent to explore the back roads at your own pace.
Hot air balloon passengers soar over the rising sun on their way to picturesque villages and extravagant chateaus in the Loire Valley. Herons, osprey, swans and gulls squawk as they settle in for breakfast on the broad, gently flowing river. Campers emerge from tents and trailers to heat coffee on portable stoves as the morning dew sparkles on the surrounding greenery.
It's another day of vacation in southern France. With an incredibly diverse physical landscape, amazing cuisine and a rich culture and history, this is one European country that seems to make everyone's list of travel musts.
One great way to save a little money and explore the nooks and crannies of the country is to combine a biking and camping holiday. Camping opportunities range from sleeping in a tent or fully equipped cabin in one of the holiday camps along the Mediterranean or Atlantic coasts to camping out on a grassy pasture along the Ardeche or Loire Rivers. Miles of marked biking trails in many of the popular tourist areas provide the ideal way to leave the car parked while venturing out and staying fit.
A day's drive from the Rhein-Main Region takes one into the heart of the Massif Central and Provence — lavender country where impressionist and expressionist artists were inspired to create enduring masterpieces. Campers will want to spend time exploring the gorges of the Ardeche, diving off the cliffs under the Roman aqueduct at Pont du Gard before heading farther south to the likes of Avignon, Aix-en-Provence and into the Camargue region where flamingos and white horses roam over the white sands and marshes separating the sea from coastal villages.
A quick visit to the library offers travelers a wealth of informative literature and maps when planning a trip to France. Guides such as the Fodor, Rough Guides and Lonely Planet books provide tips, historical background and useful details on places to visit.
If one has the time and inclination, combining a beach and biking vacation is easy. Paved biking trails all along the coast in the Camargue take cyclists through this sandy marshland where water fowl gather and tourists flock to enjoy beach holidays and fishy feasts in marina-dominated coastal villages such as Grau Du Roi and Stes-Maries-de-la-Mer. Campgrounds, many offering direct access to the broad sandy beaches, are plentiful, with several featuring activities for children, grocery stores, restaurants and other amenities.
Like most regions in France, vineyards are never far from sight in the Provence — and wine is plentiful — including being offered in huge casks in the Camargue campground stores where patrons are welcome to bring in their own containers to fill themselves.
The Atlantic Coast of France likewise offers bikers and campers a wide range of opportunities. But be sure to make a stop at the medieval city of Carcassonne on the way across the Languedoc region. Spires and turrets beckon from high over the new section of town welcoming visitors to the old city enclosed within the massive stone walls of the fortress. Like Heidelberg's Castle, it is an extremely popular travel destination, but still a must-see along the route.
Continuing on to the Atlantic Coast, head up to Bordeaux and the nearby town of Arcachon. This comfortable beach resort, set amidst the hundreds of kilometers of sandy beaches on the Cote d'Argent, welcomes scores of pleasure craft and beach-goers who seeking solace on the miles of beachfront and in the cafes and restaurants along the Arcachon Basin.
One of the main attractions of the area is the Dune Du Pyla just south of Arcachon — a giant dune that stretches for several kilometers and offers paragliders the perfect launching pad for a soaring ride out over the waves of the Atlantic. A host of campgrounds are set among the pine trees that are slowly being swallowed up by the shifting sands of the dune. Marked bike trails lead visitors all along this spectacular coastline and into the pine forest where picnic grounds and an inviting zoo summon visitors to while away the hours.
Be sure to join the locals in sampling a plate of Moules et frites — a large bowl of fresh mussels cooked in white wine with onions or cream — and served with a heaping helping of fresh fries. Wash it down with one of the region's famed Bordeaux wines.
Before heading to your next destination, browse through the guidebooks and try to decide how much time you'll have for the next stop before heading home. From the Atlantic Coast, Brittany, the Dordogne and various other noted travel hotspots are within a half-day's drive.
A good place to round out a French holiday might be to spend a little time in the Loire Valley. Campgrounds along the river offer direct access to various well-marked bike trails along the Loire River, through sunflower fields and flower-bedecked villages and to dazzling chateaus.
While there are any number of outstanding places to start exploring this World Heritage Site, the town of Blois offers an ideal biking and camping starting point at the Camping du Val de Blois a Vineuil (about four kilometers up the river from town). While simple (there's no store), the camp is set in a grassy park area along the river and has hot showers, washing machines, wireless and electrical hookups at the camp sites.
Blois, itself, is worth spending time to get to know. The Chateau de Blois — once home to kings, royal assassinations and a host of political intrigues — provides a grand view of French history and architecture.
Not far in either direction on the Loire, bikers have their choice of chateaus to visit. About 20 kilometers west of Blois lies the Chateau De Chaumont-Sur-Loire. This fairy-tale-like palace overlooking the Loire from atop a hillside features regular art exhibitions, an expansive garden and a collection of portrait medallions ,including a couple of Benjamin Franklin who was supported by Jacques-Donatien Le Ray de Chaumont during Franklin's mission to France during the Revolutionary War.
Heading east and slightly away from the Loire at Saint-Dye about the same distance on the bike takes one to the massive Chateau of Chambord. Intended as a hunting lodge to serve King Francis I but not completed until after his death, Chambord is an extravagant showcase of whimsical Italian Renaissance architecture. With hundreds of rooms and staircases, visitors are invited to spend hours strolling through chambers and climbing out onto balconies, to boat on the adjacent Cosson River or to wander through the expansive Parc de Chambord — one of Europe's largest game preserves — where wild boar and deer can be spotted.
The chateau grounds also feature a host of eating choices from a full-course French set menu at the Chateau restaurant to various fast-food varieties such as cold, vegetable porridge and an open-faced sandwich (Tartine) served with a goblet of French beer.
A few tips for driving in France: When using the paid freeways, stick to the marked speed limits (never more than 130 kilometers per hour) as radar traps are common; make sure to get in the correct lane when exiting the freeway (the one that accepts currency, rather than a European bank card — look for the euros sign); and same with gas stations — check to see if you can pay with cash in advance or make sure that they accept your credit card (many stations have no attendant on duty). Also, practice a few French phrases before setting out — it will be greatly appreciated by a population that seems to avoid speaking anything but French whenever possible.
France, like the United States, is a vast treasure-trove offering visitors a lifetime of diverse sights, settings and historical sites to explore. Make sure to venture out beyond Paris to discover something unique to satisfy your tastes and sense of adventure.