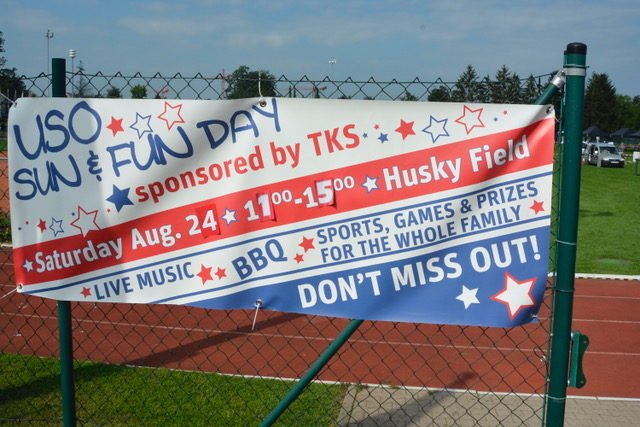 Story and photos by John Reese
USAG Stuttgart Public Affairs
The 2019 USO Stuttgart's "Sun & Fun Day 2019" had both title elements to make it a great event, Aug. 24.
Unlike last year's chilly, rainy day, this year's annual event on Patch Barracks' Husky Field was hot and sunny. Hundreds of Stuttgart military community members, especially kids, strolled about the field, pausing to enjoy games, run obstacle courses, climb and slide on a giant inflatable, and fill up on complimentary burgers, dogs, cake, popcorn and snow cones.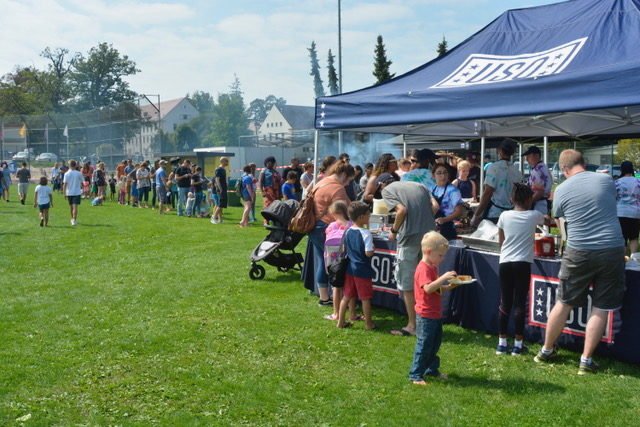 Two long but fast moving food lines served up the hot stuff, while the snow cone line stretched back about 50 times what it was in 2018.
Students about to being the 2019-2020 school year dug into a mountain of supplies, including book bags/backpacks, offered by a popular community service organization, while the American Red Cross team tended to wasp stings and sunburns.
[slideshow_deploy id='46687′]
The MPs and canines of the 100th Military Working Dog Detachment drew a big crowd as they demonstrated just how smart their German Shepherds are, running them through an obstacle course and setting them after simulated bad guys wearing bite suits.  Across the field, the MPs of the 300th MP Brigade from Fort Riley, Kansas, currently force multipliers for USAG Stuttgart, let youths try some of their equipment, use lights and siren in an Army police car, and "deputized" them with silver replica MP badges.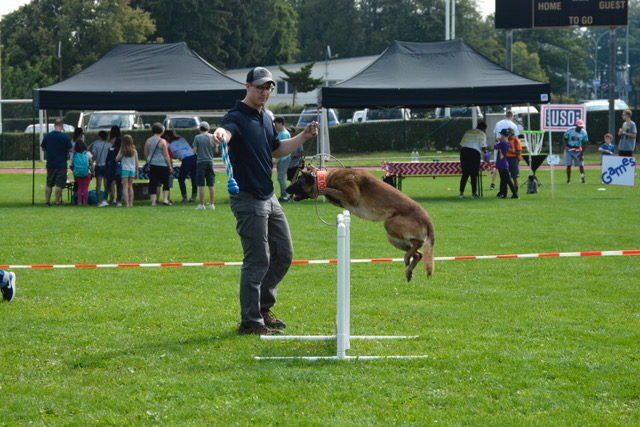 The talent show that followed increased the audience size, as community youth sang, danced, juggled and performed magic. Judging was done by three community volunteers, with the duet of Zoe Perry and Annabelle King performing "Lovely" by Billie Ellish for first place. Two other messy contests–watermelon and pie eating–concentrated spectators in thick around the culinary gladiators.
The USO finished up the program with drawings for some very real prizes, including roundtrip airfare for two for an active duty entrant.
There was no cost for anything on Husky Field that day. Once again, USO Stuttgart made this a community where peoples say they're glad they live here.