The annual Stuttgarter Frühlings-fest, or spring festival, typically runs from mid April through the second week of May at the Cannstatter Wasen fest grounds in Bad Cannstatt.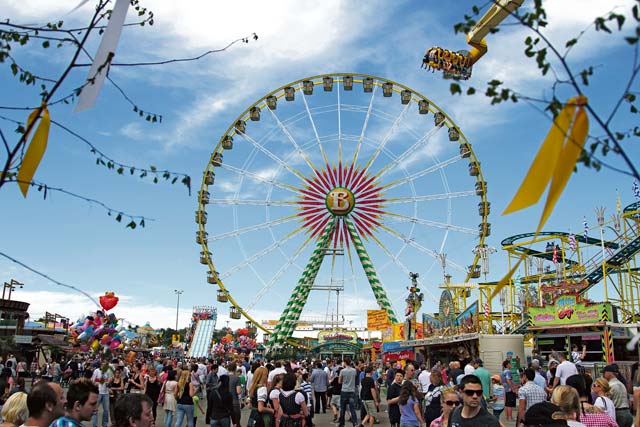 The festival, one of the largest spring fests in Europe, offers various rides such as wild water rafting, bumper cars, carousels, haunted houses, a Ferris wheel and roller coaster, as well as pony rides and merry-go-rounds for children.
Besides the rides, the Frühlingsfest features food ranging from hearty Swabian meals to Asian, Italian and Greek cuisine, along with festival goodies such as cotton candy and chocolate-covered fruit.
Three beer tents — "Göckelesmaier," "Grandl's Hofbräu Zelt" and "Zum Wasenwirt" — will offer grilled chicken or "Göckele," freshly brewed fest beer and live bands, which will entertain the crowds with "Volks-musik," or German folk music, party, country and rock tunes.
Each fest tent also has a beer garden where visitors can enjoy food and drinks in the sun.
A reconstruction of a typical Bavarian-Austrian alpine village, the "Almhüttendorf," is set up in the middle of the Cannstatter Wasen fest grounds.
It is considered one of the festival's main attractions. Here, visitors can find rustic booths offering "Schweinshaxe" (pork shank) or a "Jause," a snack consisting of bread, cold cuts, radishes and cottage cheese. This type of snack is normally served in huts throughout Bavaria and Austria while people take breaks during hiking trips.
Since the Frühlingsfest is a family-oriented event, special family days are also offered on Wednesdays. Families are invited to enjoy a day at the fest with reduced entrance fees.
For a quiet shopping experience at the Frühlingsfest, patrons can stroll along the variety market, which offers jewelry, leather wear and clothing, as well as fine herbs, spices and tea.
For more information on the Stuttgart Frühlingfest and tickets, visit www.stuttgarter-fruehlingsfest.de.