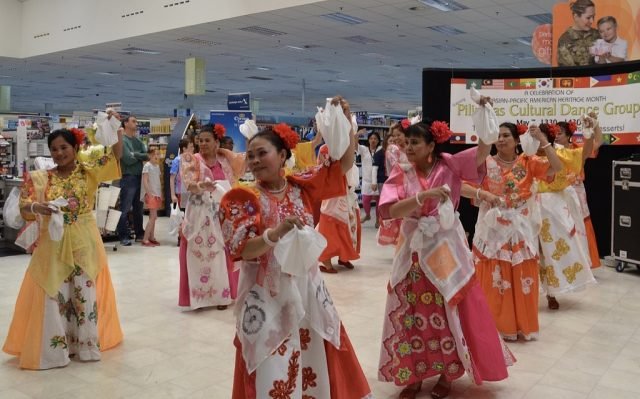 Story and Photos by Holly DeCarlo-White
USAG Stuttgart Public Affairs Office
U.S. Army Garrison Stuttgart celebrated Asian American Pacific Islander Heritage Month in partnership with the Exchange, May 7 on Panzer Kaserne with entertainment, an art exhibit and dessert samplings.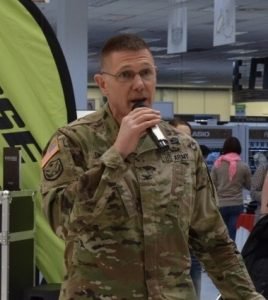 Col. Glenn K. Dickenson, USAG Stuttgart commander, kicked off the observance by first sharing important statistics with the audience: more than 67,575 Asian Americans and Pacific Islanders currently serve in the U.S. military; over 56,200 are enlisted, while about 11,375 are officers. Approximately, 28,265 serve as Department of Defense civilians.
During the month of May, garrisons across the globe hold observance events to celebrate Asians and Pacific Islanders in the U.S. A rather broad term, Asian-Pacific encompasses all of the Asian continent and the Pacific islands of Melanesia (New Guinea, New Caledonia, Vanuatu, Fiji and the Solomon Islands), Micronesia (Marianas, Guam, Wake Island, Palau, Marshall Islands, Kiribati, Nauru and the Federated States of Micronesia) and Polynesia (New Zealand, Hawaiian Islands, Rotuma, Midway Islands, Samoa, American Samoa, Tonga, Tuvalu, Cook Islands, French Polynesia and Easter Island).
Attendees enjoyed an artwork exhibit, with traditional heritage costumes on display provided by the Philippine American German Association.
With three traditional dance performances, led by the "Pilipinas Dance Group," dressed in colorful costumes, the entertainment was the highlight of the event  enchanting the crowd of all ages. The history and meaning behind each dance was introduced, and at the final dance, the group happily encouraged eager audience members to join in to learn the steps.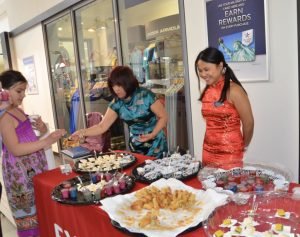 Exchange staff member and event organizer, Cynthia Jack, who is of Filipino descent herself, shared that hosting a cultural event like this one for military families is important to bring awareness to the traditions and heritage of so many personnel. In fact, one of the dance group performers is an active duty service member.
The event concluded with traditional Asian dessert samples for all Stuttgart community members to taste.
To view the photo album, Click here.
To volunteer for future observance events, contact the Equal Opportunity office at DSN: 430-7945/civ. 07031-15-7945.