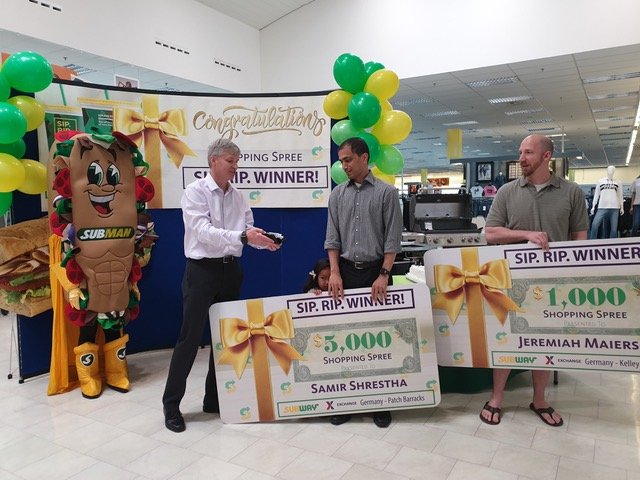 Public Affairs
Army & Air Force Exchange Service
SharePoint engineer and New York-native Samir Shrestha bought a drink with his Subway meal only after the cashier told him about the Sip. Rip. Win. sweepstakes. He walked away with a $5,000 shopping spree at the Army & Air Force Exchange Service.
Shrestha, an Army contractor, wanted to follow up his daily run with a healthy lunch, and the Patch Barracks Subway seemed like the best option. While cleaning up his desk at the end of the day, he remembered the prize tab and peeled it.
"I expected it say 'sorry, try again,'" Shrestha said. "My coworkers had to confirm that I'd won. I couldn't believe it."
Shrestha was honored during a celebration at Patch Barracks June 7 when Exchange General Manager Michael Ryan presented the winnings. Shrestha wasn't the only winner at Patch Barracks as Marine Veteran Sgt. Jeremiah Maierson also received his prize, a $1,000 Exchange gift card.
The Subway Sip. Rip. Win. sweepstakes ran from Jan. 24 to May 15 at overseas Exchanges. Two $10,000 Exchange shopping sprees have been redeemed at Camp Humphreys in South Korea. A third was redeemed at U.S. Army Garrison Bavaria, and a fourth was redeemed at an installation in Okinawa, Japan. Four $5,000 shopping sprees have been awarded at installations in Germany. A fifth was redeemed at an installation in Okinawa, and a sixth was awarded at Camp Humphreys.
More than 75,000 other prizes, ranging from a $25,000 Exchange shopping spree to a free Subway cookie, were also up from grabs.
Shrestha, his wife and their two daughters have been in Stuttgart for more than two years and often turn to the Exchange to meet their needs.
"The Exchange has good items at a good price," Shrestha said. "Things that you would buy in the US, you can easily find at the stores."
He plans to share his winnings with his family, splurging on furniture and items for the kids and his wife.
"I'm looking forward to the Exchange shopping spree," Shrestha said. "My wife more so than I am!"