Stuttgart Theatre Center
USAG Stuttgart
The US Army Installation Management Command-Europe Entertainment One Page Play Festival and Community Showcase will be held over the Columbus Day weekend, Oct. 11-13, at the Stuttgart Theatre Center on Kelley Barracks.
Since its inception in 1995, the mission of the annual theatre festival is to encourage individual and group excellence at Army and U.S. Forces Europe community theatre programs.
The festival and the entertainment program enhance Soldiers' and family members' resiliency and readiness by providing educational opportunities to enhance life and team skills; offering positive and supportive recreational activities and events; and offering a home away from home and a sense of family.
The Stuttgart Theatre Center was selected to host the 2019 festival as it was the 2018 US Army IMCOM Europe One Act Play Festival "Best Show" award winner. As "Best Show," the Stuttgart Theatre Center's production for "Kaleidoscope" represented the US Army at the 2019 American Association of Community Theatre National Festival last June in Gettysburg, PA. The production garnered several national awards and recognition.
"We wanted to honor Stuttgart and its outstanding theatre program by holding this year's festival there," said Dane Winters, IMCOM Europe Entertainment Program Manager.
The One Page Play Festival brings together Army Entertainment volunteers and staff from across Europe to collaborate, write, cast, direct, rehearse and produce new one page plays.
At past One Page Play Festivals, more than 20 new plays were written and 12 were fully produced and staged.
"Some of these new plays have been picked up by copyright houses and produced in the US," Winters said .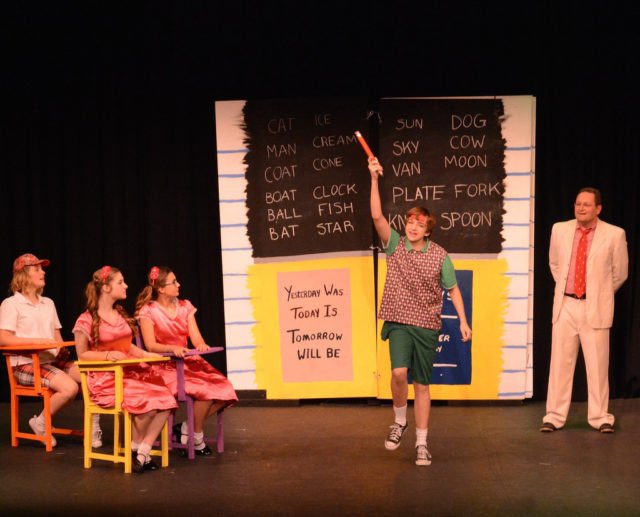 Alan Buxkemper, Stuttgart Entertainment Director, feels the festival offers Soldiers, family members and entertainment staff more than just the chance to write new plays.
"Not only does the festival show off the creative nature of the entertainment volunteers, it allows them see other facilities, meet other volunteer participants, and to share creative ideas. Since the last One Page Festival, volunteers have started travelling more to different garrisons to see their new friends in shows," Buxkemper said.
He felt this collaboration was a benefit for the entertainment staff as well.
"Entertainment staff members rarely see each other over the course of the year due to coinciding production schedules as well as distance between the various communities," Buxkemper explained.  "This annual festival gets the staff in together to discuss what works; what doesn't; how do you do this particular thing in your community; etc.  This allows us to learn from each other's vast wealth of knowledge and experience and to better serve our volunteers and communities."
Dan Lamorte, director, SHAPE Entertainment,  first attended the One Page Play Festival in 2017.
"I was happily surprised with my whole hearted enjoyment with this great theatre weekend!" Lamorte said. "The One Page Play Festival puts the focus on the process of creating theatre beginning with the development of the play itself and then within a very short period of time you are casting the play, conceiving the production design and rehearsing the actors all in the same day.  I found the event to be entertaining, educational and inspiring."
The weekend also includes community showcase presentations featuring the best from each garrison entertainment program. These showcase presentations, only 15 minutes in length, can be a musical number, a scene from a show, skit or performance piece. Winters says these showcases are an excellent way to feature new directors, highlight talent and encourage participation.
Along with the One Page Play Festival and the community showcase, the weekend includes workshops in all areas of theatre arts taught by professionals from around the world.
"We have professionals teaching workshops in acting, auditioning, singing, dancing, stage combat and technical production," Winters said. "It is an incredible opportunity for our volunteers to work with some high-powered leaders in their fields."
Participants also compete in a monologue competition. A professional theater director based in England coaches each one individually to prepare them to compete for best monologue awards.
Prizes will be presented at an awards ceremony, Oct. 13.
The festival is open to all U.S. military personnel, family members, DoD civilians, and bona fide guests stationed overseas. All events, workshops and performances are free to the public. Complete details and schedules can be found on the US Army Europe Entertainment MWR website (link above).
More information is also available at the Stuttgart Theatre Center, Bldg. 3320, Kelley Barracks and by calling 421-3055 or 0711-729-3055.