Story and photos by Thomas Warner
AdvantiPro contributing writer
Now more than 70 years since the close of the last world war and 50-plus years since it's inception, Lorraine American Cemetery endures as a must-see site in this portion of Europe.
Dedicated in 1960 as a resting place for thousands of U.S. military war casualties, the cemetery stayed true to its mission and has always been a spot for reproach, respite, remembrances and tranquility.
Lorraine American Cemetery is one of 14 cemeteries throughout the free world operated and maintained by the American Battle Monuments Commission. More than 10,400 service members with ties to America are buried at Lorraine and over 210,000 are buried altogether at American Battle Monuments Commission cemeteries.
Family members of the deceased often visit from afar, wandering through the rows of bleach-white headstones. Most are cross-topped, but the Jewish graves are marked with a Star of David and each headstone carries with it a separate and unique story.
Covering a range of approximately 113 acres, Lorraine American Cemetery is specifically grand in appearance with nine large tracts unique in their symmetrical structure, stretching outward from the expansive visitor center and chapel monuments at the foot of the property.
"Myself, the superintendent and anyone who works here have the two most important missions," said LAC Assistant Superintendent Melanie Resto. "We are to make sure the stories of all the service members buried here are told and that they are never forgotten."
Along with the 10,487 headstones on the cemetery grounds is a Wall of Missing, with names of people who were never accounted for. A small brown rosette is affixed by the name if the remains were at some point found.
When this has happened, personnel with the Joint POW/MIA Accounting Command came to Europe to contact next-of-kin and put the repatriation process in motion.
Situated just 20 miles inside the northern cusp of France, the town of St. Avold was under German control at various times before and after World War II. It became part of a new German empire after the Prussian forces defeated the French and took control of this region around 1870.
Following completion of each of the world wars, the region again belonged to France and today the region is so overly patriotic that it is not uncommon to see U.S. flags at many spots and at numerous celebrations throughout the year to celebrate towns being liberated or recreations of past wartime events.
"Initially there were four cemeteries in this area where American military members were buried," said Resto, one of three administrative curator personnel who staff the cemetery. "They were at Limey, Andilly, Hochfelden and here at St. Avold."
Following the war, France deeded a large tract of land at St. Avold to the United States perpetually and a consolidated resting place was planned.
That gift from France happened near the end of 1948 and early 1949 so families of each service member were given the choice of whether to keep the remains of their loved one at a cemetery here, or to have the remains brought back to the United States for reburial.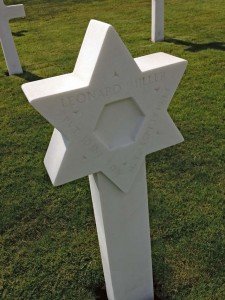 Initially, there were almost 30,000 burials of U.S. service members at the four-area cemeteries combined, but that number decreased to just over 10,000 when many families chose to bring their loved ones' remains back for interments in the United States.
There were detailed records of everyone who had been buried here in Europe and it was a diligent process to give each one their proper attention during the repatriation, and the final work done to create Lorraine American Cemetery between the close of World War II and the eventual 1960 dedication.
The link to that particular land on the northeastern edge of France, being chosen as grounds for a cemetery, related to continuous fighting that took place there when Allied forces sought in late 1944 to push the Germans out of nearby Metz and other towns, back across the historic German stronghold known as the Siegfried Line.
St. Avold was a central and strong piece of the German infrastructure during the halcyon days of the Third Reich.
"A lot of fighting took place here, but not all the people buried here actually died here," Resto said. "The remains have come from as far west as near Paris and eastward all the way to Czechoslovakia, or south to Sicily."
Most of the 22 staffers at the Lorraine are involved with the immaculate landscaping detail at the memorial. This work is never ending and helps to create a sense of lasting honor for visitors and those interred here.
The cemetery is staffed at all times by someone in the visitor center and is open every day of the year except for Dec. 25 and Jan. 1. For more information, call (00) 33-3879-20732 or visit www.abmc.gov.