By Bardia Khajenoori
U.S. Army Garrison Stuttgart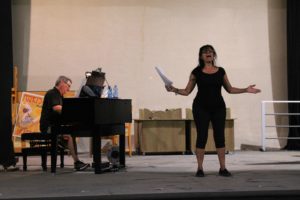 Fresh off a season which ended prematurely and abruptly due to the onset of COVID-19, the Stuttgart Theatre Center is back with a program that aims to provide opportunities for normalcy and escapism for the community.
"The way the season is now structured is truly based around COVID mitigation," said Artistic Director Richard Roberts, noting that shows with smaller or more easily-distanced casts start the season while productions with larger ensembles or tighter staging come toward the end, months away.
The season kicks off with 'Jerry's Girls,' a revue drawing from the works of legendary Broadway composer-lyricist Jerry Herman. Featuring recognizable songs from classic musicals such as 'Mame,' 'Hello Dolly!,' 'La Cage Aux Folles,' and more, the show is "purely fun," said Roberts. "Jerry Herman was the poster boy for the good, old fashioned showtune. When you left one of his shows, you were always humming at least six songs."
When you left one of his shows, you were always humming at least six songs.
'Jacob Marley's Christmas Carol' is this year's holiday production, with a funny and irreverent take on a familiar tale. February brings the youth show, 'Xanadu Junior,' based on the Tony Award-nominated musical and its 1980 film adaptation. The Agatha Christie mystery classic, 'Murder on the Orient Express' opens in March, in which detective Hercule Poirot investigates a curious homicide on a luxury train.
And finally, 14 months after its originally planned opening, 'The Hello Girls' will give it another go. The musical was an early COVID casualty, postponed indefinitely on the eve of its opening night in March 2020. It tells the story of women serving on the frontlines of World War I as telephone switch-board operators for the U.S. Army Signal Corps.
Physical distancing measures in the theater will limit audience capacity to roughly a third of what the 170-seat facility could normally accommodate, said Roberts. Parties will be separated as much as possible, but it will be up to patrons to decide their comfort level on the proximity of those joining them.
"We're going to have to ask people when they call and order tickets, 'Are you a family, or friends already in close contact? Should you be seated as a group of four, or two and two?' It's going to be a little more complicated than usual," said Roberts. In line with Host Nation guidance, patrons must wear masks inside the facility except when at their assigned seats.
As a result of the attendance limitations, extra shows have been added on Thursday nights, meaning this season's productions will be performed several times more than usual.
Ticket reservations are taken from Tuesday-Friday, 12:30 p.m. to 5:30 p.m., at (0)711 729-3055.
Editor's Note: Since publication of this article in September's print edition of the Citizen, the theatre has added an additional production: "The Whole Shebang," which serves as the Stuttgart Theatre Center's entry into the annual IMCOM-Europe One Act Play Festival.
The show is directed by Martin C. Jelonek, and local performances are October 1 and 2.