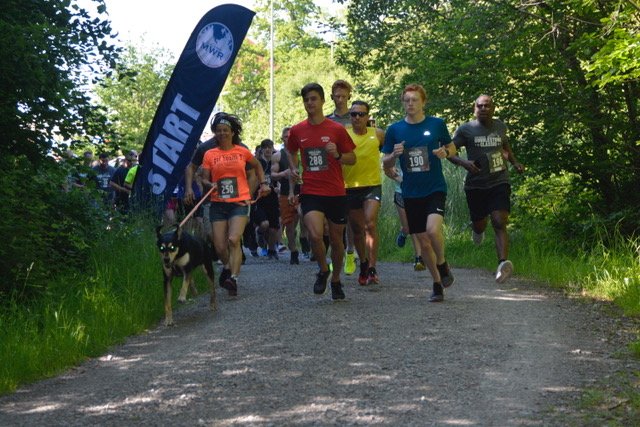 Story by Anne-Marie Harcrow
Fitness Coordinator
Community Recreation Division
USAG Stuttgart Family and MWR
The USAG Stuttgart Family and MWR fitness program is rejuvenating with new classes, special events and annual runs. The fitness program offers an array of ways for service members, civilians and their families to unleash their inner athletes, improve mental and physical health all while meeting new people.
The exciting lineup of group fitness classes is ever evolving and caters to a large audience of participants, including cardio-based classes such as indoor cycling, step and Zumba are sure to put a smile on your face and get your heart pumping.
For the high intensity and strength seekers, the fabulous team of instructors have put together a great mix of high intensity interval training), "Boot Camp," and "Muscle Pump" classes.
Or, catch your breath and carve out time for mindfulness with one of the yoga classes. Think yoga is just yoga? Think again–yoga comes in numerous styles and the yoga instructors have you covered. Another exciting new addition that began May 1 is a monthly yoga class, 11:30 a.m., at the Robinson Barracks Fitness Center, and continuing the first Wednesday of every month.
Regardless of what they teach, all group fitness instructors do an excellent job at offering modifications and encouraging participants to perform to their own individual ability, making all classes appropriate for all levels of fitness. For those just starting their fitness journey, "Learn to Lift" is a perfect place to begin. This class that began in April meets at 9 a.m., Tuesdays, at the Panzer Fitness Center.
If group fitness isn't your thing, a team of expert personal trainers are standing by with individualized training plans and large doses of motivation. They offer training to individuals, partner training or small groups. Some trainers have specialized coaching skills, such as boxing and running.
For sore muscles, achy backs, or just some self-care, let the massage therapists work their magic and make you feel like a rockstar. Whether you need full body or a specific area, the team of certified massage therapists offers a variety of services. Ask for more information on massage therapy and personal training at one of the garrison fitness centers.
With all of these opportunities to be active, get out there this summer and get fit!
Click for fitness
For more information on Stuttgart Family and MWR class schedules, cost and descriptions, please check out Sports & Fitness on stuttgart.armymwr.com.