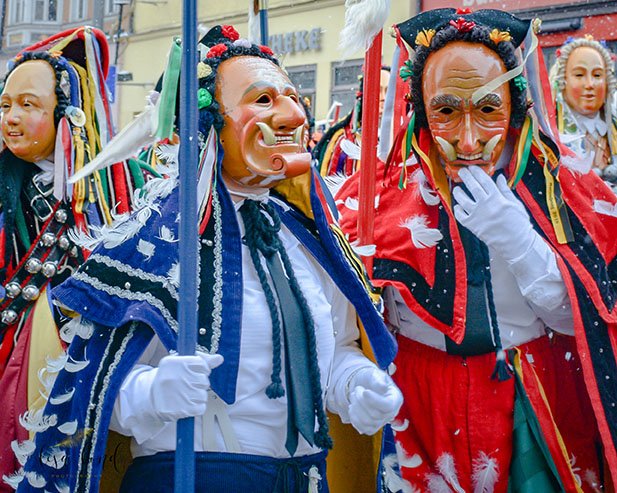 By Teri Weiss and Carola Meusel
USAG Stuttgart Public Affairs
Fasching will be celebrated Feb. 28 ­– March 5, with fests, parades, music and many "foolish" events. For most Germans, it's a time when citizens let off steam and live it up during the week before Ash Wednesday, when the 40-day Lent before Easter begins.
The main events and parades peak during the traditional Fasching week, starting on Schmotziger Donnerstag (Greasy Thursday) or Weiberfasching (women's carnival).
On Weiberfasching, women have the right to freely cut off men's ties with scissors and kiss any man they wish to during the day. It's also an opportunity for women to enjoy a girl's night out and symbolically take control for a day.
The Swabian word schmotzig means lard or grease and refers to the opulent food eaten during Fasching, such as Fasnetsküchle (Fasching doughnuts).
The remainder of the Fasching week is Fasching Saturday and Sunday, Rose Monday and Fat Tuesday.
During the evening of Fat Tuesday, the "Fastnacht," represented as a witch in southern Germany, is buried in a casket and the wild days end at midnight.
This year's Greasy Thursday/ Women's Fasching will be celebrated Feb. 28.
Bad Cannstatt's Kübelesmarkt Fasching guild will set up the Narrenbaum (fool's pole) at 6:30 p.m. downtown at the Marktplatz, followed by a parade starting at 7 p.m.
Neuhausen celebrates Greasy Thursday with the Hexentanz (witch's dance), Feb. 28 at 7 p.m. at Schlossplatz. During the event, Neuhausen's Fasching fools storm the town hall and force the mayor to hand over the keys to the city. In order to celebrate this symbolic event, a huge fire is lit.
During the various Fasching parades in Southern Germany, Narren (Fasching fools) with wooden masks in the images of witches, devils and grotesque animals can be seen in many towns. In Swabia and Southern Germany, the costumes are called Häs. Be on the lookout for Narren, who either ruffle your hair, paint your face, take away a hair band or give you a piece of candy.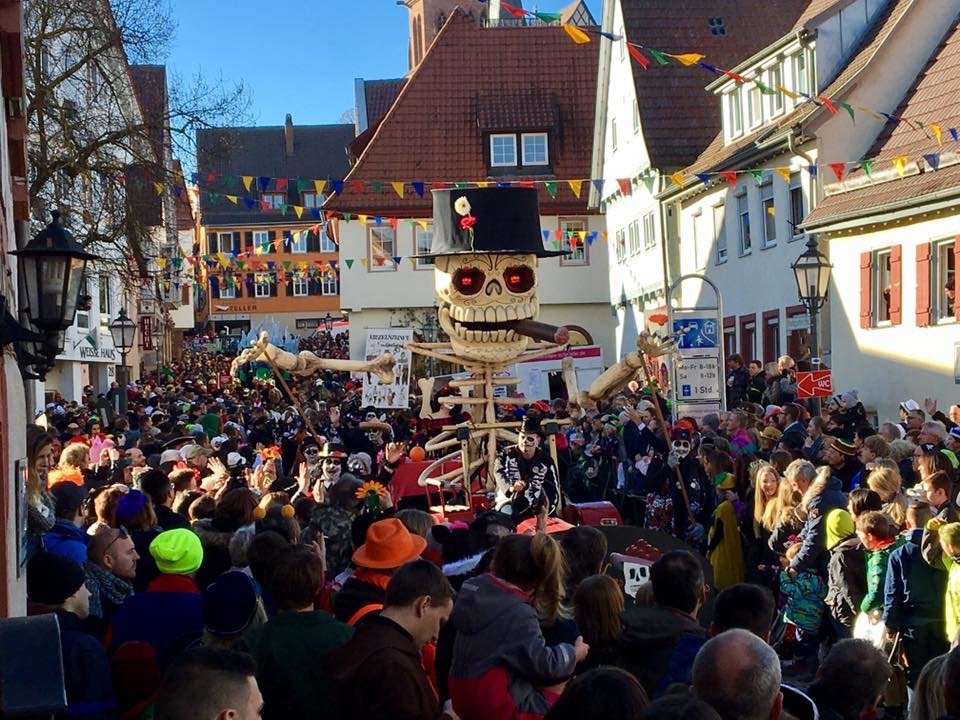 This year, most street parades will be held between March 3 and 5.
Fasching Parades
• Böblingen: March 4, 1 p.m.
• Rottenburg am Neckar: March 3, 1:30 p.m.
• Neuhausen: March 3, 1:30 p.m.
• Weil der Stadt: March 3, 2 p.m.
• Hechingen: March 5, 1:30 p.m.
• Rottweil: "Narrensprung" (fool's jump) March 4 at 8 a.m.; and March 5 at 8 a.m. and 2 p.m. (at Rottweil's historic downtown area).
• Stuttgart: March 5, 2 p.m.
• Hofen: March 5, 1 p.m.
Other events
• Bad Cannstatt: "Närrischer Wochenmarkt" (weekly market with Fasching entertainment and music), Feb. 28, 10 a.m. to 1 p.m. at Marktplatz.
• Bad Cannstatt: "Rathaussturm," Fasching fools storm the historic town hall, Feb. 28, 6 p.m.
• Bad Cannstatt: "Kübelesrennen" (Fasching marathon with "fools" of the "Kübelesmarkt" Fasching guild), Feb. 28, 7:30-9 p.m. at Marktplatz. On Feb. 28 ("Schmotziger Donnerstag"), various restaurants and bars in downtown Bad Cannstatt offer music and Fasching parties until 2 a.m.
• Stuttgart: "Monster-Guggen-Konzert" (concert), March 4, 5:30-10 p.m. at Rathausplatz in front of Stuttgart's city hall (Rathausplatz, 70563 Stuttgart).
• Bad Cannstatt: Närrisches Tribunal (Fasching Fools' Tribunal) / Schnurren Schnitzelbänk on Marktplatz in Stuttgart and Bad Cannstatt, March 4, 5:45 p.m.
• Bad Cannstatt: Geizigrufen at Marktstrasse, March 5 at noon, followed by a children's parade at 2:30 p.m. through the downtown area.
The procession to end the Fasnet, or Fasching time, will start at 11:45 p.m. with Fasching fools taking the straw puppet Hesekiel, symbolizing the Fasnet, or Fasching, from Marktstrasse to Wilhelmsbrücke to burn and drown the puppet. This tradition is called "verbrennsäuft" in the Swabian dialect.