By Carola Meusel
USAG Stuttgart Public Affairs Office
Looking to get to know the city, explore its museums, admire the arts, listen to music or party the night away? You can do all of this and more during Stuttgart's "Lange Nacht der Museen," or Long Night of the Museums, on March 14 from 7 p.m. to 2 a.m.
The evening features over 90 events located in and around downtown Stuttgart, such as exhibitions, concerts, performance art, boat trips on the Neckar River, theater performances and parties.
Not only will the main museums, such as the Kunstmuseum (Art Museum), Landesmuseum (Württemberg State Museum), Mercedes-Benz and Porsche museums, offer tours, hands-on activities and concerts, but many smaller institutions, to include galleries, archives and art studios, will feature programs and entertainment during this long night out, according to Daniela Raab, the event organizer from "Lift" Stuttgart (city magazine).
"Many things make Long Night of the Museums a memorable event and one of these certainly is the excitement in visiting various locations, normally only open during the day, at night. It makes for a glamorous atmosphere," Raab said.
Every year, new cultural outlets are added to the program. This year, one of them includes the Wasserwerk Berg, Stuttgart's former water plant (shuttle bus "Tour Neckar," Poststrasse 43, Stuttgart-Ost). The historic water plant is more than 100 years old and was closed in 1998, according to Raab. The plant will open exclusively during the event and patrons can learn all there is about water supply, the history of the plant and take a look at historic pipes, tanks and pumps, or find out where their own water originates from. Note that all tours will be in German only.
Stuttgart's Neues Schloss, or New Palace (U-Bahn stop Schlossplatz), was built between 1746 and 1807 by the dukes and kings of Württemberg and is one of the last city palaces in southern Germany. Located on Schlossplatz Square next to the Alte Schloss, or Old Castle, it marks Stuttgart's city center. Today, the palace is mainly used for receptions and events of the state government.
During Long Night of the Museums, visitors can tour the historic building, to include the Marmorsaal, or Marble Hall, and the Runde Saal, where the council of ministers meets every week. The castle will be open from 7 p.m. to 1:30 a.m.
After touring Neues Schloss, car enthusiasts may want to sojourn at the palace's courtyard where classic cars will be displayed as part of the Rollende Museum, or rolling museum, of the Württemberg Automobile Club. Visitors can also take a ride in the "old timers" to get from Schlossplatz to the Mercedes-Benz and Porsche museums between 7 p.m. and midnight.
"Many locations that are typically not open to the public offer looks behind the scenes during Long Night of the Museums," Raab said.
One of these locations is the Atelierhaus Brückenstrasse in Bad Cannstatt (shuttle bus "Tour Neckar," Brückenstrasse 10, Stuttgart Bad-Cannstatt). The former distillery now is home to more than 12 artists and their workshops, where they present paintings, graphic reproductions, video, animated film, art installations and performances.
After exploring the art studios, Raab recommends that visitors tour the Sektkellerei of wine producer Rilling. Its sparkling wines are stored in underground cellars more than 400 years old. Many artifacts from the Roman era have been discovered there. Tours will be held every 30 minutes from 7 p.m. to 1 a.m.
For an offbeat adventure on the Neckar River, visitors should stop by the Stuttgart industrial harbor. A video painting and virtual graffiti show will illuminate the entire harbor. Light artists and students of the Akademie der Bildenden Künste, or academy of fine arts, will present new forms of light art. Graffiti and paintings will be projected on the walls of warehouses along the industrial harbor area, making for a dazzling experience.
Light show performances will run every 30 minutes from 7 p.m. to 2 a.m. Boats will take off from 7 p.m. to 2 a.m. from Mittelkai (shuttle bus "Tour Hafen" stop am Westkai 5, Stuttgart-Wangen).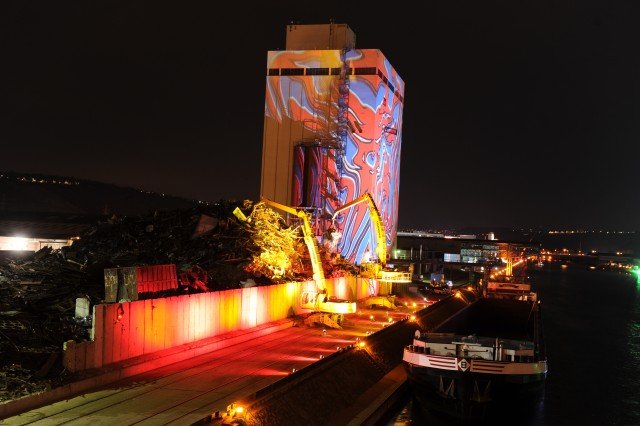 After World War II, the bunker hotel below the Marktplatz (shuttle bus stop Karlsplatz, Marktplatz, U-Bahn stop Rathaus) offered its guests heated rooms, bathrooms and a reading area. The bunker hotel closed in 1985. During Long Night of the Museums, people can tour the bunker from 7 p.m. to 2 a.m.
The New Palace, the Rollende Museum and the bunker hotel are the top attractions during the Long Night of the Museums. Visitors should expect long wait times, sometimes as much as 90 minutes or more. But other venues, such as the industrial harbor, while busy, are accessible. At the harbor, for example, vendors offer food and drinks, making the short wait painless.
"The multifaceted program features endless activities for everybody's taste. Art lovers, for example, can explore galleries and art studios, while newcomers to Stuttgart can simply spot the city. There's something to discover for locals and visitors alike," Raab said.
Adam Sanders, a visual information specialist with the Training Support Center Stuttgart, can relate to this. Only two weeks into his Stuttgart assignment, a colleague took him to Long Night of the Museums last year.
"It was a great way for me to see what's going on in the city culturally to then later come back and explore more sites and landmarks," Sanders said. "If it wasn't for that night, I would have never learned about the bunker below Marktplatz. During this year's event, I would like to tour the bunker and also visit the museum in the Old Castle," he added.
According to Raab, Long Night of the Museums also offers many events for children starting at 4 p.m. At the "Stadtlabor," (Kriegsbergstrasse 30, Stuttgart-Mitte), children (8 years or older) can experiment with bamboo and build stairs, towers, arches or create their own art works with the plant from 4-7 p.m.
The Porsche and Mercedes-Benz museums, as well as the Kunstmuseum, Linden-Museum (State Museum for Ethnology), and the Weissenhofmuseum, located at the "Le Corbusier House" at Stuttgart's internationally acclaimed Weisenhofsiedlung housing area, will also offer various tours, workshops and hands-on activities for children.
"This makes for a great family event and visitors don't need to solely focus on the children's program, since there will be many activities offered for children and teenagers throughout Long Night of the Museums," Raab said.
Another highlight for children and adults alike will be the "Museum am Löwentor," the Stuttgart State Museum for Natural History (shuttle bus "Tour Nord," Nordbahnhofstr. 177, Stuttgart-Nord). Currently, the museum is working on its next exhibition, which focuses on the Ice Age period and its giants, such as mammoths and dinosaurs. During Long Night of the Museums, visitors will have the chance to see how the displays are coming together and get a sneak preview on the concept, and talk to museum personnel and experts about putting an exhibition like this together.
Art lovers will find modern era and contemporary art — paintings, sculpture and graphics — at "Galerie Valentien" located in the former Bonatz mansion (shuttle bus "Tour Ost," Gellertstrasse 6, Stuttgart Ost). The works of Marc Chagall, Pablo Picasso, Otto Dix and Will Baumeister, as well as a special exhibition displaying works of Sabine Reuter, will make for a highlight, according to Raab.
"Long Night of the Museums is an amazing event and a fantastic opportunity to experience German culture. The different settings make for experiencing history in a more unique way. It's also great to meet and interact with like-minded people from the area," said Sgt. Ian Morales of American Forces Network Stuttgart.
"Personally, I truly enjoyed touring the bunker hotel. I'll definitely go back this year."
Tickets cost €17. Children 14 years old or younger cost €4. Children 5 years old or younger are free.
To purchase tickets, call civ. 0711-6015-444.Tickets can also be purchased the night of the event at all participating locations.
The ticket price includes transportation and admission into every venue. Shuttle buses will run all night from the Karlsplatz and Schlossplatz bus stops.
Beside the buses, underground train U6 will transport patrons to various event locations until 2 a.m., allowing for more flexibility. All forms of public transportation within the Verkehrs-und Tariverbund Stuttgart are included in the ticket price.
For more information, visit here.