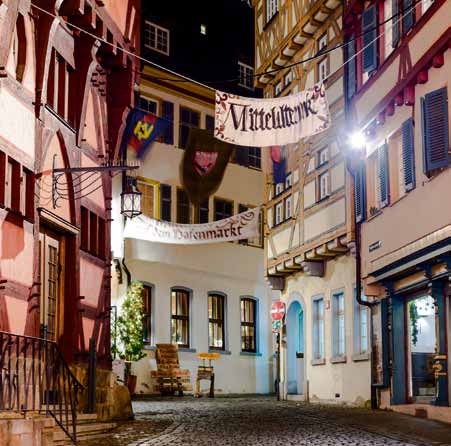 By Carola Meusel
USAG Stuttgart Public Affairs Office
Esslingen's me­dieval Christmas market features over 180 booths and huts in the city center. Costumed vendors offer arts and crafts, food and drink, plus there's plenty of entertainment, such as jugglers, fire-breathers and jousting.
Visitors to Esslingen are often impressed by the city's medieval character and feel connected to days long gone.
During the holiday season, they can see those medieval days come back to life — including traveling minstrels, craftsmen selling wares, and roasted pig on a spit — during Esslingen's "Mittelaltermarkt," or medieval market, and the Weihnachtsmarkt, or Christmas market.
The traditional Christmas market is located at Marktplatz, or market square, while the medieval market winds its way from the old town hall to Hafenmarkt.
The medieval market features arts and crafts, homemade food, entertainment and hands-on activities recreating the way of life in the Middle Ages.
During the Christmas market, the clock in Esslingen is turned back in time for about 600 years to enter Esslingen's medieval era, according to Esslingen's Stadtmarketing and Tourist Office, which is responsible for organizing the Christmas market each year.
The market aims to be authentic for visitors to truly experience the Middle Ages. That is why all vendors, artists and craftsmen wear the typical medieval garments approaching visitors using the language of medieval times.
Visitors will have the opportunity to witness the 3,000-year-old art of glassblowing, which peaked during the late Middle Ages. Another highlight will be the blacksmith's shop, where people can find silver jewelry, lanterns, swords and decorated boxes.
The letterpress was revolutionary during the Middle Ages, and visitors can learn more about the process of printing at the "Druckerey" (printing shop). They can also purchase hand-crafted baskets, furniture, woven scarves and many other medieval-inspired products.
"The market is an adventure. People can truly see and experience what everyday life was like during medieval times," said Sgt. Ian Morales of American Forces Network Stuttgart.
During the market, visitors will be able to watch the craftsmen conducting and offering their work, and they can also participate and get the hands-on experience by creating their own handmade piece of art.
"Personally, I enjoy looking at the blacksmith doing his work," Morales said.
The medieval market also offers colorful entertainment: fire-breathers, jugglers, music and medieval dance performances. Visitors can also forge their own sword or play roulette with a live mouse.
"It's the most impressive Christmas market I have ever seen in Germany. I like the historic setting since it perfectly matches the medieval theme of the market which truly takes visitors back in time," Morales said.
"It's also interesting to see people wearing the traditional period costumes. The vendors are coming from all over Europe and that's great to experience as well," he added.
People who lived during the Middle Ages also had a penchant for eating. Therefore, visitors will find a variety of food ranging from hearty meat dishes, brats and soups to oriental, organic and vegetarian delicacies. For dessert, they can try a baked apple covered in vanilla sauce with raisins and nuts.
"I really like the delicious 'medieval hot pockets' filled with bacon and cheese," Morales said.
The typical medieval honey wine, or "Met," an alcoholic drink made out of honey, water, fruit juices, spicy herbs and yeast — also known as "viking's blood" — is served in clay mugs.
People who are still not warmed up after drinking this medieval brew can stop by the bathing house, for a hot bath in a wooden tub.
From the sights and sounds to the tastes of food and experiences, visitors to Esslingen's medieval market will feel as if they've been transported back in time.
This year's medieval and Christmas market runs through Dec. 22. The market is open daily from 11 a.m. to 8:30 p.m. For more information, visit www.esslingen.de.