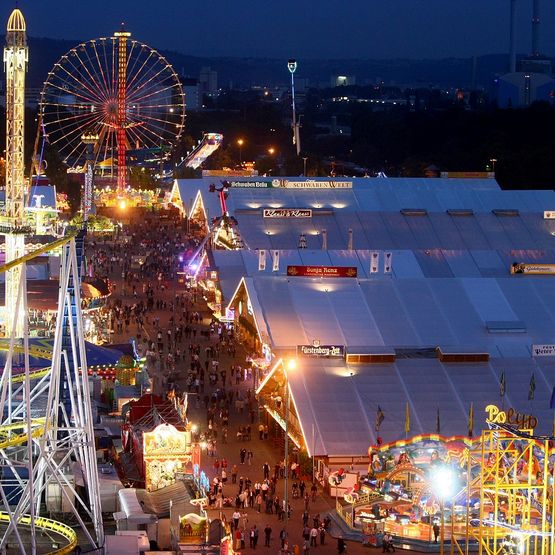 Public Affairs
USAG Stuttgart

Stuttgart's 2019 Cannstatter Volksfest began Sept. 27 and continues until Oct. 13.
For more than 200 years, the fest has enjoyed enormous popularity and annually attracts about four million visitors from near and far to the state capital of Baden Württemberg. People are captivated by the special atmosphere of the wonderful funfair coupled with beautiful festival tents, a colorful flea market and many spectacular attractions.
Rich in tradition, the Cannstatter Volksfest is not only the biggest festival in Baden Württemberg but it is also has one of the biggest funfairs in the whole of Europe. About 320 showmen, beer tent landlords and market traders all spoil the fest guests. The lively atmosphere on the Wasen is an attraction for the whole family and the beer tents are the scene for boisterous celebrations accompanied by oompah music. Public transportation for those who wish to imbibe is easy to use and highly recommended.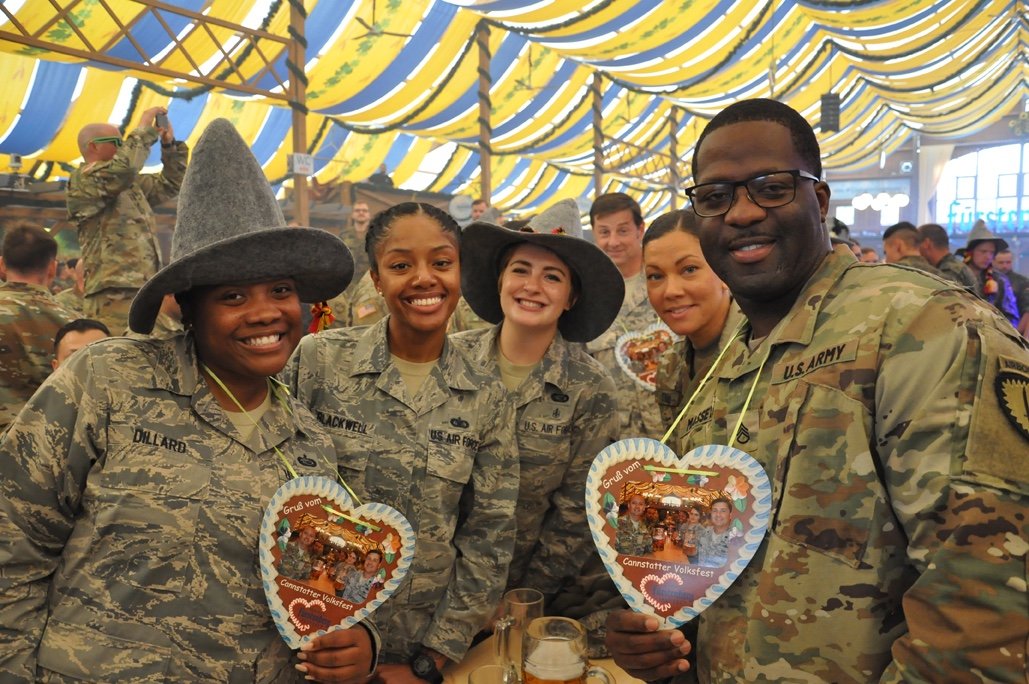 On Sept. 30, soldiers of European countries were joined by U.S. service members to take part in Soldierfest, an annual tradition on the first Monday of the Cannstatter Volksfest since 1975.
Oktoberfest 2019 in Munich: A traveler's guide
Public Affairs
USAG Bavaria
The 2019 Oktoberfest in Munich runs until Oct. 6 and fest-goers can expect to see stringent security measures again, according to the official website.
The heightened security plans include a secured perimeter, a significant police presence with up to 600 police officers of the Bavarian Police, 200 police officers of the German Federal Police, 3,000 law enforcement forces, a multi-language loudspeaker system for crisis communication, standby emergency phones and restrictions on festival entry, according to official news releases.
The 100-acre plot of land, nestled in Munich's central Ludwigsvorstadt-Isarvorstadt district, will be fenced off — including the open area along the Theresienhoehe — to enable 100 percent control of festival access, according Munich police officials. Barriers can be dismantled in seconds for quick escape, however, city officials assured.
All backpacks and large bags, or anything with a capacity of more than three liters, are strictly prohibited at the festival, Munich police said. Exceptions may be made on a case-to-case basis for justified reasons, such as support for handicapped people. Small handbags and other belongings will be checked at all entrances, the police said. Other prohibited items include glass bottles, spray cans and any items that can be used as a weapon. Strollers and buggies are allowed, except on Saturdays, German Unity Day on Oct. 3, and all other days after 6 p.m.
Despite tightened security and the general concern of random violence, the two-week Bavarian festival is expected to attract large crowds, city officials said, with nearly half a million visitors each day.
Important notes
Whether it's the Cannstatter Volksfest or Oktoberfest, here's some pointers for a safe and enjoyable experience.
Be aware of pickpockets and keep your personal belongings in secure location.
Don't take beer mugs outside of the fest tents. It is a criminal offense and violators will pay a heavy fine. Official mugs may be purchased as souvenirs from vendors.
Don't stand or dance on tables. Standing on benches is allowed.
Avoid disputes. Parties involved in physical fights may be arrested and use of a beer mug as a weapon is considered assault with a deadly weapon by German law.
Fest beer has a high alcohol content. A one-liter Mass has about the same alcohol content as a six-pack of American beers.
Don't smoke inside the tents. Smoking is permitted at designated outdoor smoking areas only.
For more information about the Cannstatter Volksfest, click here; for more about Oktoberfest, click here.