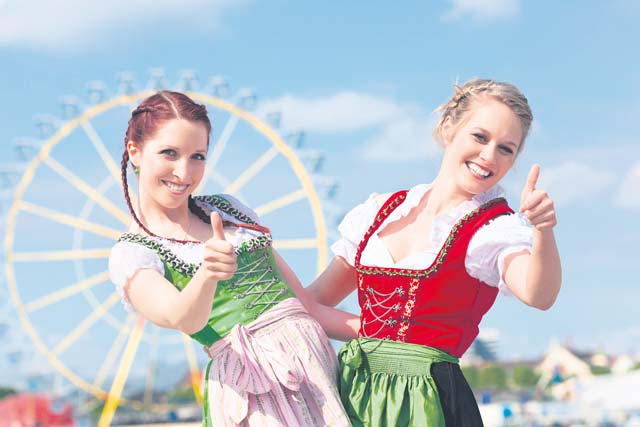 'Get ready to fest:' Cannstatter Volksfest starts Sept. 22
By Carola Meusel
USAG Stuttgart Public Affairs Office
With Munich's Oktoberfest and Stuttgart's Cannstatter Volksfest both beginning this month, it's time to start thinking about what you're going to wear. Why not do as the locals do and don the traditional dress, or "Tracht," consisting of a "Dirndl" for women and "Lederhosen," or leather breeches for men.
The word Tracht is a form of the Old High German word for "wearing," according to Olaf Schulze, chairman of the Pro Alt Cannstatt Association and historian.
While many people typically wear Tracht in Munich during Oktoberfest, the trend to dress up for the Cannsttater Volksfest has grown in popularity over the last five years.
Fact is that traditional dresses were and still are worn throughout various regions in Germany, as well as Austria and Switzerland. Every country or region features various designs embedded in history, tradition and local customs, according to Schulze.
It was in 1818 when the Volksfest, or people's fest, was held for the first time at the Cannstatter Wasen fest grounds. Following a three-year period of bad harvesting, King Wilhelm I of Württemberg hosted the event as an agricultural fest for his subjects.
Back then, it was common to visit the fest in the traditional dress of the various regions of Württemberg. As for Cannstatt, that mainly meant farmers and vintners who either wore their everyday wear ("Alltagsstatt"), or "Sonntagsstaat," meaning a more festive interpretation of the traditional dress, Schulze said.
Back then, the traditional outfit consisted of leather knee breeches, mainly for fishermen and tanners, or woolen shorts for vintners and farmers. Depending on the region, the short breeches also were designed to protect against heat, water and cold.
The Dirndl mainly served as working garments for servants and farmer's wives. It was a simple garment typically made of coarse cotton. The Dirndl was also worn by the lady of the house – with a slight difference – her dress was made of finer materials, such as linen or lace.
The basics, however, remained the same: the Dirndl consisted of the bodice, blouse, skirt and apron, according to Schulze.
Today's tradition of wearing Dirndl and Lederhosen mainly to fests and special occasions changed its historic context, since it was originally intended for everyday life and work, according to Schulze.
Dominik Henne, managing director of Krüger Dirndl, one of Württemberg's largest traditional dress outfitters, can relate.
"Today's Dirndl and Lederhose can be considered a fashionable outfit borrowing from tradition," Henne said.
"People are very flexible in their personal taste and ways to wear their Dirndl and Lederhosen," he added.
Dirndl basics
Typically, the skirt starts at the waist. The traditional skirt is full and long. However, women can choose between various lengths pending fashion and personal taste, according to Henne.
The bodice is usually separate but also can be sewn to the skirt. It comes in various styles: high or low, round or square necklines, embroidered with ornaments or decorative ruffles and lace. Typically, it's fastened with ribbons, buttons or hooks.
The blouse is short, usually ending above the waist. In most cases, the sleeves are short and puffed. The blouse can be worn on or off the shoulder depending on one's taste.
The apron, formerly worn to protect the skirt, is now a decorative accessory, according to Henne. They come in all colors, styles and fabrics: linen, cotton, silk and lace.
According to Henne, the apron color should always compliment the respective Dirndl, or make a fashionable contrast. Typically, aprons are sold with the Dirndl outfit, but can also be bought separately for mixing and matching.
"When it comes to colors, red, pink and blue can be considered a classic," Henne said.
Trends also consists of floral prints and patterns, as well as corresponding hats to go with the Dirndl. The hats are decorated with rhinestones and feathers. Lederhosen or heart–shaped handbags, as well as colorful satin ribbon necklaces with pendants in various shapes – hearts, pretzels or deer antlers – also are a favored accessory. If the weather gets cold, cardigans can also be worn with any Dirndl, Henne said.
As for tights, nylons or cotton tights work. For fashionistas, high heels or ballet slippers make for a trendy appearance.
Lederhosen basics
As for Lederhosen, the length varies between above or below the knee. The pants are mainly made of goat or deerskin, the latter being the pricier version. The embroidery varies between green, beige or red. The fashion conscious may prefer the latest trend: breeches made of treated leather that mimics decades of wear.
Leather suspenders with a chest strap are a traditional accessory, as are woolen hunter's hats in gray, black or green with boar bristle tassels, feathers and pins.
The checkered shirt comes in various colors, such as red, blue, green, orange, pink or brown.
The current trend features white shirts with collars turned up and the top three buttons left open. The shirts feature the traditional checkered fabric on the elbows and inside the collars. Prints and embroidery applications are also popular, according to Henne.
As for shoes, Henne recommends the traditional "Haferlschuh," a robust leather shoe with a heavily treaded sole traditionally worn by workers in the Alpine regions. The shoes are worn with cotton or woolen socks or calf warmers.
A "Janker" jacket, or woolen vest, can also be worn with any Lederhosen outfit.
Dirndl:
It's recommended to take the entire ensemble to a dry cleaner. If washing by machine, ensure all ribbons, hooks and accessories are removed. For best results put the blouse, bodice, skirt and apron in a laundry washing bag and use the delicate or hand wash cycle.
Lederhosen:
To preserve and protect your new Lederhosen, treat them with waterproofing spray before ever wearing them.
Lederhosen should never be dry cleaned or laundered. Experts recommend brushing the leather with a soft brush. If you must, spot cleaning with baby shampoo is recommended. Use a wet cloth – warm water – with a small amount of baby shampoo and lightly dab.
After each wearing, especially after being in a smoked-filled tent, make sure to properly air your breeches. Hang them outside in a protected area, so the fresh air can do its magic. Stay away from Febreeze.
How to tie your apron: Women… it's all about the bow
Tying the apron on your right side signals that one's taken – either married or in a serious relationship.
• Tying the apron on your left side signals that you are unencumbered.
• If the bow is tied at the back, this means the wearer is a widow.
• If you're an "innocent" girl, tie the bow in front, centered.
Where to buy fest wear
TK Maxx
• Königstraße 18, 70173 Stuttgart
• Wolfgang-Brumme-Alle 27, 71034 Böblingen
Krüger Dirndl City Store – Calwerstrasse 41, 70173 Stuttgart
Krüger Factory Outlet Store – Antoniusstrasse 21, 73249 Wernau
Angermaier – Eberhardstrasse 8, 70173 Stuttgart
Dirndlwunder Trachten Outlet – Kronenstrasse 6, 72555 Metzingen
Trachtenmode Breuninger Department Store – Marktstrasse 1-3, 70173 Stuttgart (shoppers using VAT forms will pay the full amount for their purchases at any cash register and must take their VAT form to the customer service center, 4th floor, to be reimbursed the tax)
Galeria Kaufhof Department Stores (shoppers using VAT forms can only pay at the "Hauptkasse," or main cashier)
• Königstrasse 6, 70173 Stuttgart
• Eberhardstrasse 28, 70173 Stuttgart
• Badstrasse 8-12, 70372 Stuttgart-Bad Cannstatt
C & A Department Stores
• Königstrasse 47, 70173 Stuttgart
• Milaneo Shopping Mall Mailänder Platz 7, 70173 Stuttgart
• CARRÉ Bad Cannstatt, Daimlerstrasse 65-75, 70372 Stuttgart
All stores accept Value Added Tax forms, except for Dirndlwunder and all Krüger Dirndl stores.