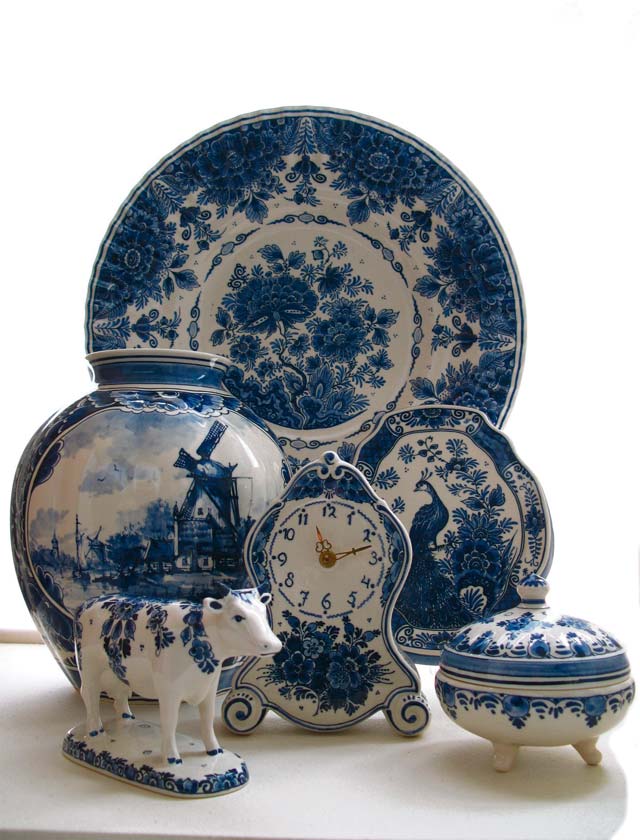 By Karin Flick
AdvantiPro contributing writer
Photos courtesy of Nico van Nieuwenhuijzen, Delft Pottery
Situated halfway between Rotter-dam and The Hague is Delft, a charming town with many links to its historic past. The city is well known as an important manufacturer of Delft blue pottery, but was also the hometown of Johannes Vermeer, one of the most celebrated Dutch artists of the 17th century. His most famous works include "Girl With a Pearl Earring" and domestic interior scenes such as "The Milkmaid."
The town of Delft has played a particularly important role in Dutch history because it was where William of Orange, the founder of what became the Netherlands today, met his end when he was brutally murdered by Balthazar Gerards in 1572.
William of Orange, "Father of the Fatherland," was laid to rest in the New Church where his tomb can still be visited today.
The new church and across from it, the old town hall, occupy pride of place in Delft's Market Square which ranks among one of the most popular tourist attractions in the Netherlands.
The market square is the beating heart of a remarkably well-preserved city centre which is highlighted by the medieval structure of its canals and streets. Take a stroll through the center, enjoy the old mansions with their gables, the quaint boutiques and the pleasant, relaxed ambience.
A trip to Delft would not be complete without a visit to the original Delft Pottery. It's the perfect opportunity to get behind the scenes and look at the meticulous production process, which even today, relies entirely on handwork; a tradition that began at the start of the 17th century.
Nowadays, almost all the Delft Pottery that is sold in souvenir shops is not hand-painted anymore, but rather printed and mass-produced. 
However, the family-owned Delft Pottery, "De Delftse Pauw," and their renowned artists, keep the rich tradition alive by painting every single piece entirely by hand. This precise process results in individual pieces of art, not only unique in style, but also in color and shape. De Delftse Pauw is situated along an idyllic canal in a typical Dutch setting in Delft-Noord, just near the border of Delft and Rijswijk.
The centuries-old pottery factory treats its visitors to a private tour through the ateliers where during the week painters can be observed working, paying attention to even the smallest details of the decorations. During the tour, visitors discover how, during the first stage of production, the initial shapes are produced by pouring fluid clay into molds. The second part of the production process involves the painting with a mystical black paint. A look at the process demonstrates why the pottery is known for its personal approach and authenticity.
Another "must-see" is the Delftse Pauw showroom and shop, which exhibits the company's entire range of products. The factory also offers worldwide shipping, and you can be sure that each of your purchased items will come with the Delft Pottery certificate of authenticity. For details, visit www.delftpottery.com.