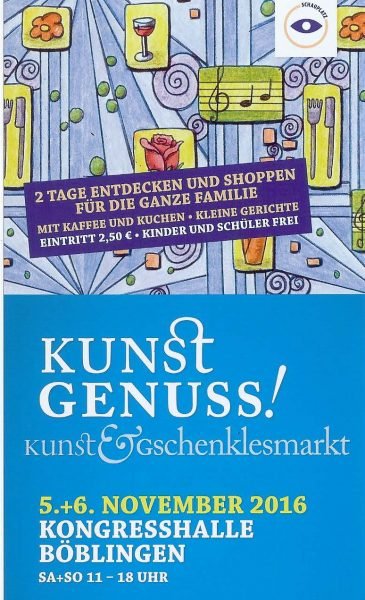 By Laura Cambiago Spangler
USAG Stuttgart Community Relations Office
The colorful, creative market and show "KunstGenuss & Gschenklesmarkt" is back at the Kongresshalle Böblingen, Nov. 5- 6 with artwork, handcrafted decorations, unique gifts, workshops, lectures and sewing demonstrations offered by the Black Forest Quilt Guild of Stuttgart.
Now on its 7th edition, the Böblingen arts and crafts exhibit has become a cherished fall appointment for local lovers of unusual ideas and creative skills.
"Whether made of glass, metal, fabric, ceramic or edible ingredients, the products put on show and up for sale here are all made by the exhibitors themselves," explains Ingrid Zodl, the event's founder and organizer.
Zodl is an artist herself and paints unique and bespoke patterns on umbrellas of all sizes. While showing her work in many venues in Germany, she created a network of like-minded artists, and organized the first local exhibit in the courtyard of the Schönbuch Brewery in 2009. Soon the area became too small, so Georg Summer, director of the Böblingen Congress Center, offered to host the show.
The mission is to bring together, and to the public's attention, the widest range of artistic expressions and handcraft mastery. Craft diversity and passion for unique and individual pieces are the key words for all selected exhibitors – more than 60 this year – who will offer decorations for the home and garden, fashion accessories and unusual gift ideas for family and friends. Among the most popular attractions is the Berlin-style "suitcase market" as well as homemade food specialties like almond biscuits, jams, juices, liqueurs, fine spirits, and other seasonal treats to tickle attendees taste buds.
But visitors of "KunstGenuss" will find more than just beautiful things of all sorts.  They can discover great ideas to boost personal creativity and bring out their inner artist. A rich fringe program offers something for all tastes – from the professional gardening advice of Dr. Michael Ernst of the State School of Agriculture Stuttgart-Hohenheim, to tap dance performances, and workshops for the whole family, to interesting lectures on the history of the Böblingen's wartime airfield.
For the first time, members of the U.S. Army Garrison Stuttgart community will participate in the show, making it even more special and intercultural.  The Black Forest Quilt Guild will exhibit some of its best masterpieces and provide information on their traditional American craft. The guild will also offer live quilting demonstrations to all visitors.
When: November 5 and 6, from 11 a.m. to 6 p.m.
Where: Kongresshalle Böblingen
Cost: 2.50 Euro. FREE for children and U.S. military card holders
Parking: Underground parking available at the Congress Center
Additional information at:  www.schauplatz-veranstaltungen.de, www.cc-bs.com