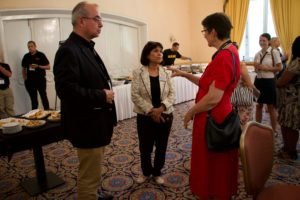 By Geoffrey Morris
Stuttgart Citizen volunteer
In a Navy housing unit in Mississippi, a young Mary Knef used to roam around whistling and singing 'like a bird' her mom used to say. Her musical habits earned her the moniker: "Tweedy". 
As a child of a Sailor, Tweedy moved around more than the average American. Most of her childhood was spent in Hawaii and California, with San Diego being the answer to the question hated by most military brats, "where are you from?"
Although Tweedy spent her childhood on various military installations, she didn't know the full scope of resources and opportunities that the Morale, Welfare and Recreation organization offers to the military community.
"Naivete I guess," said Tweedy, "It wasn't until I started to work for [MWR] marketing that I learned the real scope of what they do."
Tweedy began her career with MWR Marketing 15 years ago when she moved to Stuttgart with her husband, who was an active-duty Navy Chief. Prior to that she was a self-proclaimed stay at home spouse, but according to those who know her, that was a joke because Tweedy was never home. She was an avid volunteer who helped regularly in a variety of organizations. She worked nearly full-time on the Carole Kai Bed Race in Hawaii, which raised funds for children with special needs.
Tweedy's work ethic has helped her move up the ranks from her first position in 2006, to her current title as the Commercial Sponsorship and Advertising Manager for MWR. In this position she recruits and works with sponsors like BMW and Service Credit Union, to create investment and advertising opportunities within the community, which usually means awesome prizes or funding for big events like the 4th of July.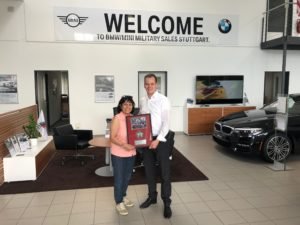 Although Tweedy is paid for her work now, she still can be found volunteering frequently within the Stuttgart military community. Her children have also joined the proud family tradition of volunteering, or as Tweedy says, being "voluntold" to help out. 
"Events like Independence Day, those were her days," said her oldest daughter, Michal Knef. "She goes out to work with these sponsors and the community and we all get to reap the benefits."
Michal enjoyed volunteering alongside her mom and developed an interest that would lead to her own career with MWR, in business operations. The family further dove into the MWR world when Tweedy's husband retired from the Navy and took a job with Child and Youth Services.
Tweedy's commitment to bettering the community around her has rubbed off on more than just her family. Her supervisor and acting MWR marketing manager, Brittany Mbuyamba, said Tweedy's attitude and dedication to her job is inspiring.  
"She is probably one of the most passionate MWR employees I've ever met," said Mbuyamba. "If you have ever wondered where all these amazing prizes are coming from, remember the world of commercial sponsorship and advertising, and the little lady named 'Tweedy' who makes it all possible."