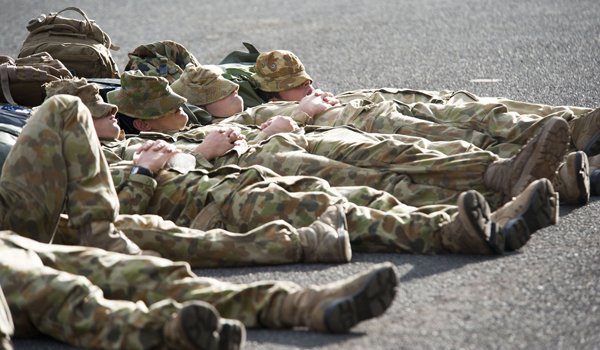 Rachel Markwald
Naval Health Research Center
Sleep disruption is common among military personnel; often unavoidable during deployments, up-tempo operations, and other evolutions critical to mission success. Several studies indicate a large portion of military members do not routinely get the recommended seven or more hours of sleep each night. This increases the risk of developing insomnia and other sleep disorders.
Scientists at the Naval Health Research Center's (NHRC) Sleep and Fatigue Research Laboratory are studying the sleep concerns warfighters face. Their research addresses sleep throughout the continuum of military service; from the new recruit to the transition back to civilian life.
There is currently no available ambulatory sleep monitoring device that is operationally-practical and capable of accurate, real-time auto-assessment and user feedback within operational settings. This capability gap has been identified at military workshops and meetings as a major obstacle to identifying sleep issues and managing fatigue. The availability of such a device would also allow for reliable at-home monitoring and the ability to gain awareness of how behaviors impact sleep quality before and after operational engagement.
To address this gap, the NHRC sleep research team is evaluating new consumer-available technologies in order to determine which, if any, perform well against the gold-standard methods of laboratory-based polysomnography and mobile wrist actigraphy for assessing sleep.
NHRC is also conducting studies with colleagues at the Naval Medical Center San Diego (NMCSD) Sleep Clinic to determine if emerging sleep assessment technologies and smart phone applications can be used to help flag suspected sleep disorders and/or supplement the treatment of insomnia at clinics.
It is important to test the effectiveness of these technology packages as stand-alone products, either as a prevention or screening tool or as a first-line intervention.
NHRC is also collaborating with the NMCSD OASIS program, a residential treatment facility for patients with combat-related PTSD, to test the effect of a brief, manualized behavioral treatment program for insomnia.   Interventions that target behavioral change have been shown to be effective and long-lasting for many different patient populations experiencing poor sleep.
Overall research findings suggest that inadequate levels of sleep when sustained over time increase the risk of physiological disease (including metabolic diseases such as obesity and diabetes), may decrease testosterone levels, and lower immune system functioning, allowing greater susceptibility to illness. These are just some of the physiological effects poor sleep can have over time.
Tips for getting good sleep include:
Avoid too much alcohol before bed. In general, alcohol may put you to sleep faster, but it will rob you of good quality sleep, leading to increased awakenings during the night and changes to the structure of your sleep stages.
Don't exercise intensely too close to your bedtime—it can delay your ability to fall asleep partly through increases in core body temperature. We feel tired and sleep best as our daily rhythm in core body temperature begins to naturally lower before habitual bedtime.
Avoid large meals within two-three hours of bedtime. The physiological process of digestion can interfere with sleep, especially after consuming foods high in fat, protein, and spice.
If you're hungry, have a light snack. Intense hunger can keep you awake too. When your stomach is growling, a light snack can take care of the hunger pains without disrupting sleep.
Skip the caffeine six hours before bed. Caffeine taken too close to bedtime can also interfere with your body's ability to fall asleep and obtain restful sleep, more so if you are sensitive to the effects of it.
Create a sleep environment that is quiet, dark, and not overly hot. Whenever possible, this includes limiting potential interruptions from pets, roommates, and street noise. Fans, white-noise generating machines and earplugs can help with unwanted noise interruptions.
Avoid exposure to bright light at night—this includes overhead lights and light exposure from TVs and handheld electronic devices. Light can impact your ability to fall asleep at your desired bedtime by delaying your body's internal clock and propensity to fall asleep until a later time.
Set a time for going to bed and waking up that is as consistent as possible from one day to the next.