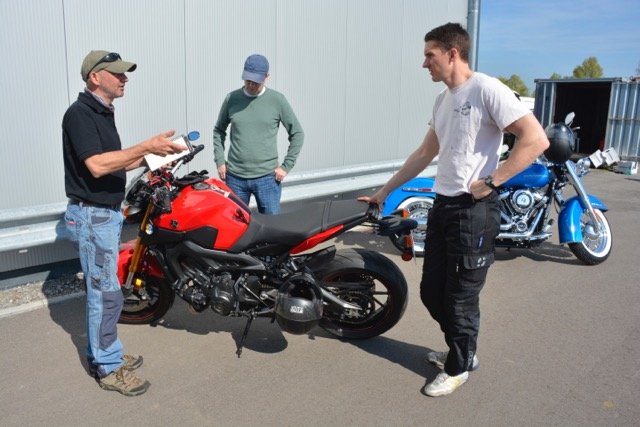 Story and photos by John Reese
USAG Stuttgart Public Affairs
It always makes for a better motorcycle ride when your bike functions the way it's supposed to, which is why a pre-ride inspection is important for safety and avoiding hassles.
Motorcycle Safety Foundation courses are required prerequisites for military personnel, and MSF created a trademarked system called T-CLOCS as a way to check your ride before mounting up. The acronym stands for tires and wheels, controls, lights and electrics, oil and other fluids, chassis, and stands.
"A motorcycle will continue to ride like new if it is properly maintained and routine inspections become part of its maintenance cycle," reads the MSF Rider Handbook (a copy of the handbook is provided to service members who attend the garrison's MSF courses, and a T-CLOCS inspection sheet is included).
T-CLOCS is fast and easy, not taking more than a few minutes once you get the drill down.
Beginning with the tires and wheels, you check the air pressure, treadwear, cracks and dents, bearings and brakes. Air pressure is easy, but many motorcycles run into a problem using the air pumps at the Exchange gas stations because the newer, longer air nozzles can't get past the disc brakes. The FMWR Auto Skills Center (currently in transition from Panzer to Kelley Barracks, reopening July 8) has a detachable nozzle head with pressure gauge that fits most motorcycle wheels. If your motorcycle has laced wheels, check the spokes; loose spokes can make the bike's handling feel like you've got a flat tire, causing swerving and a mushy feel.
Different bikes with different controls means maintenance will vary between makes and models, but some controls are universal, such as clutch and brake levers. Check the levers for ease of use and lubricate if your owner's manual calls for it. Flick the assorted switches, such as the horn, high/low beam, kill switch, turn signals and starter. Inspect all cables to ensure there's no rust, kinks. Look over your hoses, as they dry and crack over time. Lastly, check your throttle for ease of turning and ensuring it doesn't stick.
Check all of your lights, not just your headlight. If your bike is against a wall, checking the front and rear brake lights is easy from in the saddle. It's slightly harder in bright sunlight, even when checking while dismounted.
Not all bikes have an oil warning light, but just like in a car, don't wait for the warning light to come on. Regularly check your oil using the dipstick or viewing window. Also check hydraulic fluid and fuel level. Motorcycle fuel gauges aren't the most accurate instruments. If you do switch to the reserve fuel, you should know how far you can go before you run out of gas. While  you're checking the O in T-CLOCS, look at your engine and the ground where your bike is parked for leaks.
For the chassis, you'll want to check your suspension and drive system. Smaller motorcycles usually have a chain drive, while larger modern bikes have a belt or driveshaft. Chains need to be frequently lubricated to avoid rust and sticky links.
Finally, check your kick or center stand. Check the tension and wear on the spring that holds the stand in place; you don't want it dropping when you're moving at speed or failing so your shiny motorcycle falls over. Extra tip: be careful when parking on asphalt on a hot day, as side stands can sink into heat-softened asphalt, causing the bike to fall. Even a parking fall can be expensive to repair as levers, mirrors break easily, paint jobs and chrome get ruined, etc.
"If done before every ride, it can help you identify changes before they become a problem," the MSF handbook reads.