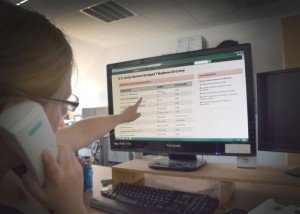 If you are someone who normally relies on the phone book for contact information, you realize that it can be frustrating picking up the phone to make a call, only to find out the number is not in service or for another office.
Summer seasonal employees, or summer hires, in the U.S. Army Garrison Stuttgart Public Affairs Office are working this summer to ensure the official garrison website phone book has up-to-date contact information for garrison offices and services to better serve community members.
The summer hires are calling to verify every single listing in the phone book, are updating numbers that have changed and are adding to the current listings.
This is an extremely time consuming task; the summer hires spend two to three hours each business day calling and verifying every phone book listing.
"The phone book being correct at all times … makes a difference to community members on tight schedules." stated Martha Povich, a longtime member of the Stuttgart community.
The updated phone book is expected to benefit the community by offering more reliable contact information to the community, which should allow quicker access to needed services and information.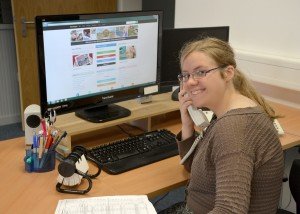 "For the most part, most organizations have the right information listed. There have been changes and additions made to some important organizations such as Tricare and Army Community Service." said summer hire Hannah Pascoe.
The garrison phone book with the newly updated contact information is expected to be available to the community in late August.
A link to the phone book can be easily found at the top of every page of the garrison website at www.stuttgart.army.mil
Help us help you! If you notice anything listed in the current phone book which needs to be updated or added please contact the Public Affairs Office at DSN 431-3105 Commercial 07031-15-1400/3105 or you can send us an email usarmy.stuttgart.imcom-europe.mbx.usag-stuttgart-media@mail.mil.