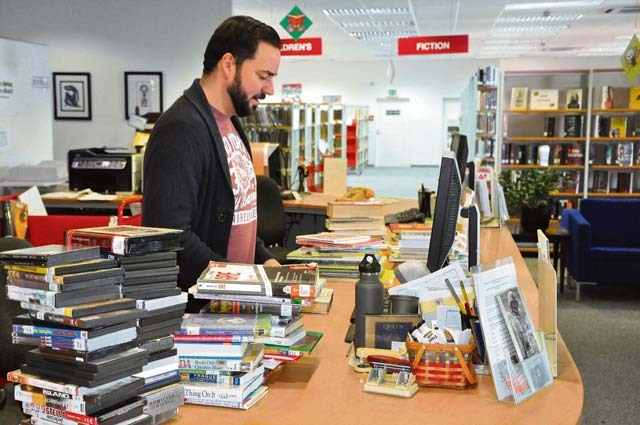 In just three months, customers from the Stuttgart U.S. military community checked out more than 40,000 items including books, movies, television shows, video games, audio books, music, manga and various types of digital downloads, making the Patch Library the most popular Army library in the world for that particular quarter.
Located in Building 2343 on U.S. Army Garrison Stuttgart's Patch Barracks, the Patch Library provides a wide range of services and materials for checkout, from traditional books to computers with Internet access.
The variety and availability of materials and services is provided by Family and MWR specifically to serve the needs of the community.
"This community relies on their libraries," said library technician Ryan O'Neill.
In addition to items for check out, the library staff also offers services and support, like help finding research materials or searching for other types of information.
"I help make sure people don't leave here empty handed," O'Neill said.
The library's relatively small staff consisting of two librarians, two full-time library technicians, four part-time library technicians and community volunteers stay busy keeping up with the community's voracious appetite for information.
Library staffers manage collections, help patrons find books and spend lots of time just processing the items that flow in and out of the library every day.
Volunteers are also a valuable part of the library team, providing support for many of the library's operations, including a regular story time for young children at 11 a.m. Thursday mornings.
Non-traditional content such as Blu-ray discs, manga and down-loadable content are becoming more and more popular with library patrons.
"We do so much more than just books. We also have audio books and e-books that customers can download to their favorite e-reader or media player," said Librarian Natalie Camp.
Free, downloadable e-content is available to authorized library patrons from anywhere they have an Internet connection and the library's e-content collection is constantly being updated and expanded to meet demand.
Deployed service members and U.S. government civilian employees can take advantage of the library's deployed services, including requesting physical materials or downloading digital content.
The Patch Library is open Monday to Thursday from 10:30 a.m. to 7 p.m., closed on Friday, and open 10 a.m. to 6 p.m. Saturday and Sunday.
The Robinson Barracks Library in Building 151 is closed on Sunday and Monday. It is open Tuesday and Thursday from 11 a.m. to 7 p.m., Wednesday and Friday from 11 a.m. to 6 p.m., and Saturday from 11 a.m. to 4 p.m.
For more information about USAG Stuttgart's libraries, visit the Stuttgart Family and MWR website at www.stuttgart.armymwr.com.