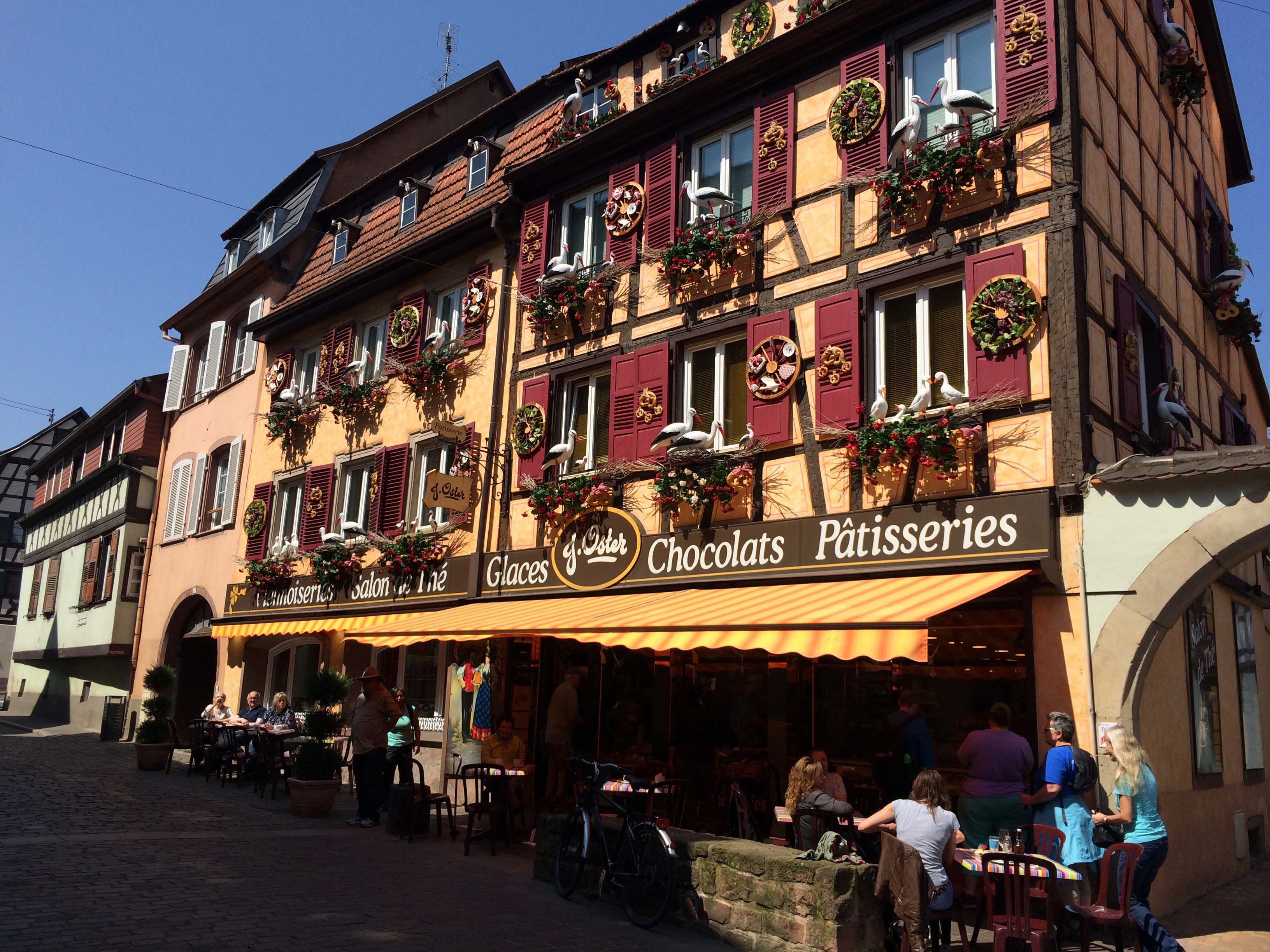 Stuttgart German-American Wandering Club
News Release
The Stuttgart German-American Wandering Club's trip coordinators, Hans and Sylvia Vogt, outdid themselves with a fantastic trip to Strasbourg and Barr, a lovely and historic part of Alsace, France, May 5-6.  
The 24 members and guests boarded the Très Grande Vitesse train in downtown Stuttgart and enjoyed snacks and beverages during a ride to Strasbourg that took just over an hour.  Next, they transferred to a regional train and by mid-morning they'd arrived in the ancient town of Barr, nestled in the Vosges Mountains. The town has a Stuttgart connection, since it was liberated on Nov. 28, 1944, by Gen. Alexander "Sandy" Patch, for whom Patch Barracks is named.
The wanderers met their local guide, Michele, at a nearby pastry shop, where they sampled local confections and purchased start cards for the 11 km permanent walk. Soon they were winding thru narrow streets and then through the vineyards that stretched down to town.  
The club hiked up a series of hills and walked on level paths in a deep woods. Occasionally, they caught a glimpse of castle ruins in the distance. One section of trail was blocked by trees left by logging operations, so they had to climb up and around the barrier.  
Near the end, they visited a forest restaurant where they ate fresh, hot Quiche Lorraine and presented guide Michele with thank-you gifts.  Afterwards, the group returned to town for a wine tasting. After viewing the hand-dug wine cellars, and sampling the wines, they returned to the hotel for an authentic Alsatian dinner with wurst, sauerkraut and all of the trimmings.  
The next day they returned to Strasbourg, and took an interesting and long tour of the old city.  With a guide who showed them every attraction. The wanderers had a few hours of free time to enjoy a leisurely lunch in a cafe along the river or to browse cute shops, and then returned to Stuttgart in time for dinner.
Wander with the SGAWC
Adventure with the club on these upcoming Volksmarches:
June
16-17: Mühlacker-Enzberg, Wertheim-Dörlesberg, Karlsruhe

24: Ittlingen

30 and July 1:Malsch
July
1:Lichtenwald

7-8: Schömberg, Neuhausen-Holzheim /

14-15: Dürrn, Göschweiler

21-22: Schorndorf-Weiler, Ebhausen-Rotfelden, Sinsheim-Reihen
There are several trips each year, the club's website for more information, to include flyers, driving directions and public transport information. Listen to the SGAWC on AFN, Thursdays, 7-8 a.m., and visit them at www.sgawc.org.