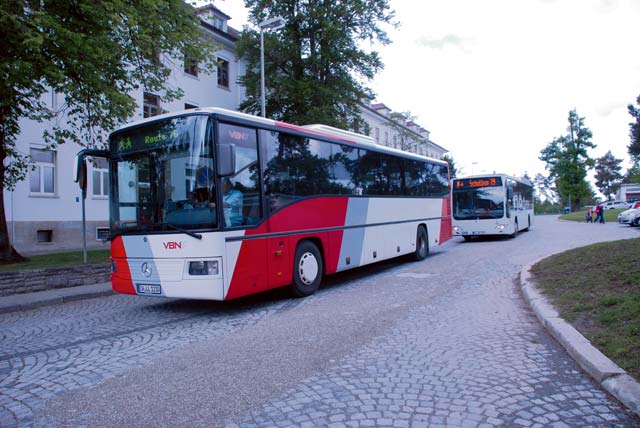 Managing 83 bus routes to safely move 2,000 students from well over 50 villages and towns to four schools spread across three military installations is no easy task, and that weight falls on the shoulders of the five employees of the Stuttgart school bus office.
A part of the Department of Defense Dependents Schools, the school bus office is responsible for managing the school buses for the entire Stuttgart military community, and according to transportation specialist Steve DiMundo, he knows he's done his job well when nobody really notices his work at all.
"It's like when you go to a play and it goes off without a hitch," he said. "The audience says, 'That was nice,' without really thinking about all of the many hours upon hours of practice and rehearsal that go into it."
The hours and hours of preparation that the bus office does includes planning routes, coordinating with the contractor, coordinating with the schools, and most of all, serving as the customer point of contact. The personnel manning the three offices are the customer service agents for parents signing their students up for buses or who have questions or concerns regarding school bus services.
What the office staff offers parents is more than just registering their students for buses; they also advise the parents as well. Since some of the bus routes can be as long as an hour and the buses only serve a limited area, it is important for incoming families to choose the right village in which to live. Choosing poorly may put the family outside the bus zone or in a village with a very long bus commute.
Because the buses stop for passengers in multiple villages, a drive that is 20 minutes to base by car, may take a bus close to an hour.
According to the bus office supervisor, Karen Matlock, bus service availability and commute time should definitely be a factor for families when choosing an off-post location in which to live.
The school bus office staff can advise parents on the commute times for the various villages the buses serve. Taking the time to visit the bus office before signing a rental contract could save a lot of stress.
"If families come in here, we can certainly sit down with them and let them know how long the bus ride will take from the village they are looking in," Matlock said. "And it may just save them a good bit of heartburn in the long run."
Another thing families can do to help themselves is to register their students for buses early. Registration for buses is a completely separate process from school registration, and it is important for parents to make sure they complete both.
"We do try to get the student information from the schools and
predict which students will need bus service," Matlock said. "But it is a completely separate step, and we need parents to know that and to come in and register their students."
Parents are advised to register their students at least two weeks before the start of school. This allows the bus office time to re-route the buses if needed and make sure stops are planned properly. According to the contract, the school bus office must give the bus company at least three business days notice before making any changes.
In addition to the main office on Patch Barracks, there are also satellite offices at the Böblingen Elementary/Middle School on Panzer Kaserne, and at the Robinson Barracks Elementary/Middle School. Both of these offices provide the same customer as the Patch Barracks office.
Before school starts, parents should take time to talk to their children about safety, according to DiMundo. Traffic laws are different in Germany, and cars do not stop for buses that are letting students off or on. Students must be careful when crossing streets near buses and always wait for the bus to leave before crossing the street.
"We recommend parents walk with their students for at least the first few days until they get used to it," said DiMundo, adding that kindergarten and first-grade students must be escorted by parents at all times and will not be released off of a bus unless a parent or guardian is there to pick them up.
Finally, parents are advised to have the students at the stop five minutes before the bus is scheduled to arrive.
"The buses are on a tight schedule and they will not wait," DiMundo said. "You don't want to be that parent coming at the last minute and chasing after the bus as it pulls away."
For more information, or to start the process of registering students for a school bus, call 430-9497/civ. 0711-680-8497.