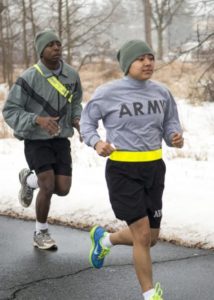 Human Performance Resource Center
Nearly 50% of adults set resolutions, but it can feel overwhelming to stay motivated to reach those big goals. Still, you can make things happen by focusing less on big life changes and more on forming daily, manageable, automated habits. For example, resolving to lose 50 pounds this year can feel daunting, but focusing on eating less and moving more might seem doable. Keep the following in mind as you create new habits.
Connect habits to everyday situations. A habit is something you do every day without putting much thought into it. You can build new ones by leveraging or replacing habits you already have. For example, if you're trying to increase daily steps, pack your sneakers when you pack your lunch—something you do every day—and commit to taking a walk before lunchtime.
Repetition matters. It takes thought and intention to start something new, but the more you do it, the more automatic and effortless it gets. So take action regularly.
Think and act like you've already succeeded. When you set future goals, train your mind "as if" you've already attained that goal. How would someone at a healthy weight think? What would he or she choose to eat? Putting future aspirations into present tense makes it easier to form daily habits that contribute to the goal.
Practice compassion. It's a myth that new habits take 21 days to form. The truth is they take much longer. In the process of "sticking with it," you'll likely experience some setbacks. Instead of marking setbacks as failures, be kind to yourself. But get back on track as soon as you can.
The beginning of a new year is a great opportunity to mentally wipe the slate clean and plan new goals. But remember: What you do every day matters more than what you do once in a while. Work on small habits so you can reach your big goals.
Resources to Help Meet Goals
Compiled by Holly DeCarlo-White
USAG Stuttgart Public Affairs Office
U.S. Army Garrison Stuttgart offers following services, available to all U.S. ID cardholders to help you meet your New Year's resolutions and goals, all year long:
Health and Fitness
Fitness Center & Programs Orientation
This free orientation is held every 2nd Tuesday of the month from 11:30 a.m. – 12:30 p.m. at the Patch Fitness Center Conference Room.
The orientation includes:
Overview of fitness center: gym layout, equipment usage, facility operating hours, and gym etiquette
Overview of fitness programs: fitness classes, massage therapy, special events, fun runs, and much more
Overview of unit level sports programs
To sign up, contact DSN: 430-7136/civ. 0711 680 7136.
Wellness Center
Located on Patch Barracks within the Health Clinic in Building 2337, services offered include: Blood Pressure Screening and Education, Healthy Heart Classes, Civilian Fitness Program, Core Four Weight Management Program, Fitness Assessments, Nutritional Counseling, Meditation Education Classes, Menopause Education classes, Tobacco Cessation Program, Unit Briefings (upon request), Metabolic Testing (appointment only), and VO2 Max Testing (appointment only). Free massage chair sessions available.
To make an appointment, contact DSN: 590-1601/civ. 06371-9464-1601, Mondays – Friday: 7:30 a.m. – 4:30 p.m.
Dietitian/Nutritionist
Along with regular clients and training sessions, Stuttgart's resident nutritionist works with health educators at the Stuttgart Health Clinic's Wellness Center to develop personalized food and fitness plans for individual lifestyles and goals.
Schedule a meeting through the appointment line at DSN: 590-2900/civ. 06371-9464-2900; or directly at DSN: 590-1744/civ. 06371-9464-1744.
Commissary Nutrition Guide Program
This dietician-approved Nutrition Guide Program (NGP), calls out key nutrient attributes of store products with color-coded shelf tags. The program is an easy-to-use guide for grocery shopping choices, highlighting the nutrition attributes of low sodium, low fat, whole grain, no added sugar and great source of fiber. The labels also highlight organic products.
For more information, visit https://commissaries.com/healthy-living/nutrition-guide.cfm
Army Substance Abuse Program (ASAP): http://www.stuttgart.army.mil/services-asap.html
Free Stress Management Classes at Army Community Service, Panzer Kaserne:
Get A Grip: Coping with Stress and Anger – The Family Advocacy Program teaches helpful techniques such as progressive muscle relaxation and guided imagery.
For information on all ACS/FAP classes and resources, contact DSN 431-3518/civ. 07031-15-3518.
Health Clinic Smoking Cessation Pocket Guide: https://www.stuttgartcitizen.com/blog/the-pocket-guide-to-a-tobacco-free-life
For assistance to quit smoking now, contact DSN: 590-2900/civ. 06371-9464-2900.
Travel
Outdoor Recreation:
In addition to offering a variety of day trips and tour excursions throughout the year, ODR offers sporting and camping equipment rentals, repairs, hunting and fishing programs, paint ball challenges and more: https://stuttgart.armymwr.com/europe/stuttgart/programs/outdoor-recreation
FMWR Travel Information Office – MWR Tours: Building 2915, Panzer Kaserne
SATO Vacations Europe: https://europe.satovacations.com/home.aspx
Career Development
Volunteer
Volunteer opportunities come with many benefits, including the gaining valuable experience on par with employment experience. Volunteer experience can help on college and scholarship applications, and employment resumes. Volunteers can learn new skills by exploring different careers, make new friends in the Stuttgart community and develop networking opportunities to jump-start careers.
The Volunteer Management Information System (VMIS) can aid in tracking volunteer hours for volunteer service medals and the annual volunteer recognition ceremony.
Contact DSN: 431-3362/civ. 07031-15-3362 or stop by ACS, Building 2915, Panzer Kaserne for details on volunteering within USAG Stuttgart's many registered organizations including:
United Service Organizations (USO)
American Red Cross Stuttgart Station
Better Opportunities for Single Servicemembers (BOSS)
Stuttgart Community Spouses Club
View the list of registered Private Organizations within USAG Stuttgart here.
Education
Panzer Education Center
The Ed Center in Building 2915 on Panzer Kaserne houses registration and classes for four universities as well as a variety of career advancement fields.
For information, visit http://www.stuttgart.army.mil/services-education.html.
Army Community Service Professional and Finance Classes:

ACS offers a variety of free classes to professionals including resume writing, dressing for success, and navigating USAJOBS.gov. ACS also provides financial planning guidance.
For a schedule of classes and information, contact DSN: 431-3362/civ. 07031-15-3362.
For more information on garrison services, visit the garrison website at www.stuttgart.army.mil or send a message to the garrison Public Affairs Office via Facebook (USAGarrisonStuttgart) to be directed to the best resource to meet your goals for 2017.