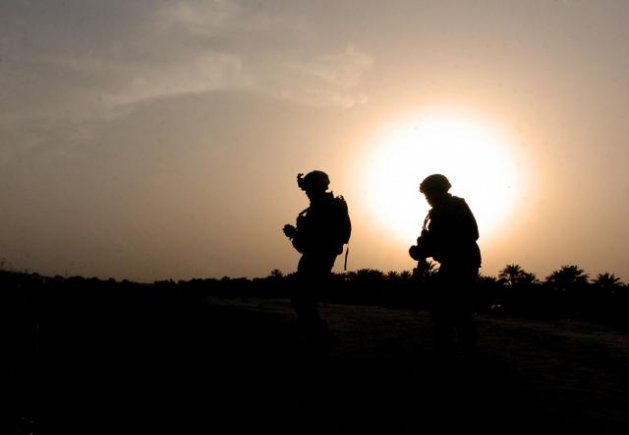 By Ihsan Abdur-Rahman and Capt. Donell Barnett
Army Public Health Center (Provisional)
Sam woke to gentle sunlight streaming through the blinds and turned to see his wife sleeping peacefully beside him. He heard their children playing nearby. A few months ago, he would have been eager to jump out of bed and get the day started. However, in the past weeks, his interest in daily routines and family life had diminished.
A year ago, Sam returned home from a second deployment to Iraq. During his 18-month tour, his children accomplished great things. His son made the Little League team, and his daughter took her first steps. Sam's family was eager for his return. At first, Sam seemed fine; he showed affection toward his family, excelled at work, and played basketball with his buddies in his spare time. However, as the days progressed, a dark feeling began to creep into Sam's mind, dulling other sensations. He found himself spending more time at work and less time on the basketball court and with his family. At a routine Troop Medical Clinic visit, Sam revealed he had been feeling "out of the norm" and having bouts of digestive problems. His doctor asked about feelings of irritability, isolation and withdrawal. Sam admitted to feeling those things and spending more time at work. The doctor suggested he may be suffering from depression.
Sam's story is fictional, but depression is quite real. Individuals cope with depression in different ways. Some may feel overwhelmed by sadness, guilt and helplessness. Some, like Sam, may try to find relief from symptoms by isolating themselves from family and friends, or overworking. One does not have to cope with depression alone. Depression is a treatable and manageable medical condition. Sam demonstrated resilience by seeking care and having an open conversation about his feelings with his physician.
Soldiers' careers carry expectations, responsibilities and stressful situations. Soldiers who demonstrate resilience during times of hardship find the tools to resolve challenging situations. Habits that build resilience are the same habits that may reduce the symptoms of depression: participating in physical activity, adopting a healthy diet, practicing healthy sleep habits, seeking care from behavioral health professionals and joining support groups. Resilience can be learned, preparing Soldiers for lifelong success in finding solutions to difficult situations. One program for building resilience in Soldiers and their families is the Comprehensive Soldier and Family Fitness, or CSF2 Program. CSF2 uses a systematic process to build mental strength, professional acumen and the Warrior Ethos.
If you or someone you know is experiencing depression, help is available from a variety of sources. Contact your local military treatment facility, TRICARE or a civilian community counseling facility.
Contact the Stuttgart Health Clinic, Building 2300, Patch Barracks, DSN: 590-2900/ civ.06371-9464-2900.